The St. Louis Blues knew they needed depth at the trade deadline this year to ensure they have enough high quality players ready for the long and grueling playoff run that's only a little over a month away. That's why picking up Olli Jokinen, Robert Bortuzzo, and Zybnek Michalek was essential for Doug Armstrong and this year's Blues' team. But did they make the right moves to ensure the deep playoff run they truly need this season, and do the new Blues' players fit into the lineup seamlessly? Only time will tell, but here's a look at why Army made these moves.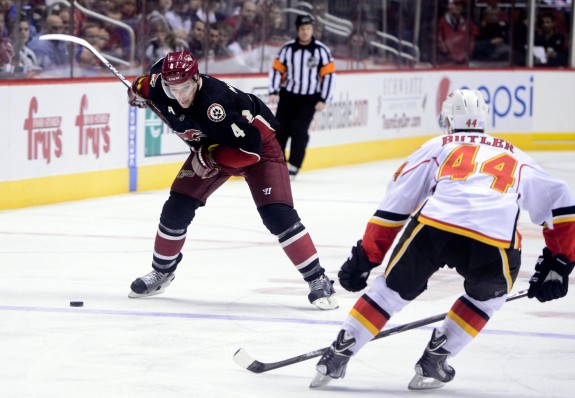 New Defensive Additions Do Provide Proper Depth
Though picking up 2 defensemen on a team that already has extra seems like an interesting move at the surface, Michalek and Bortuzzo bring some much needed grit and shot blocking prowess to the blue line. They will also give the bottom 4 defensemen a reason to step their game up every night to ensure they stay in the lineup (when Shattenkirk and Michalek return), which creates a healthy competition and is a good thing heading into the playoffs.
Here is the Blues projected playoff defense: Bouwmeester-Pietrangelo, Gunnarsson-Shattenkirk, Jackman-Michalek. Pretty good.

— Dan Rosen (@drosennhl) March 2, 2015
That being said, that competition could turn into a problem if players continue to shuffle in and out of the lineup throughout the playoffs, as the teams that keep their roster as set as possible throughout their Stanley Cup runs usually experience more success than those still shuffling. However in the Blues scenario, they should have just enough time to figure out who their everyday players will be on the back end to add the depth needed in case of the dreaded playoff time injuries that seem to plague the team almost every spring.
Bortuzzo & Michalek Fill Needed Roles Nicely
Though Bortuzzo will have a heck of a time getting into games on a regular basis once Michalek and Shattenkirk return, he is a big-body force on the back end that the Blues have needed throughout this season. He's got Gunnarsson's size and Polak's grit which means he'll be that physical force every time he's in the lineup. Will he aid the quick transitioning play that the Blues have adopted this season, not especially, but he will be that stay at home force to cut back on these odd man rushes that have become all too familiar with St. Louis hopefuls throughout 2015. Here's what GM Doug Armstrong had to say about adding Bortuzzo to the team at the deadline:
"I think we just want to be hard and competitive…We have to be prepared to match skill with skill but we also have to be prepared to match physical play with physical play."
That will be Bortuzzo's role with the Blues, and luckily it is also his strength. He will be that stay-at-home physical presence the team has lacked throughout this season. His new counterpart Zybnek Michalek, will provide a similar stay-at-home style with more of a quick transition upside, and a huge shot blocking boost to the back end (once healthy), which should answer the only other question mark the Blues face defensively (outside of special teams), too many pucks through traffic that end up as juicy rebounds or in the back of the net. With good shot blocking normally comes better gap closure, a skill that also gives the Note a more aggressive D-core and should aid the group's efforts to thwart the opposition's rushes before they can get set up in the Blues' zone effectively, which will also translate to less chances given up per game, and hopefully less goals against as a direct result. Michalek's veteran presence should also calm the younger D-core, and his 20 playoff GP (4 points) should help prepare the younger players for the grind that comes with the NHL in April.  
Olli Jokinen Will Make Berglund & Ott More Effective
When looking at the final trade Doug Armstrong made on deadline day that brought Olli Jokinen to St. Louis, fans may not know exactly where he'll fit in the lineup initially. Jokinen, alongside a recently healed Chris Porter, will likely provide that push Steve Ott and Patrik Berglund need to play better consistently, which will create more of that healthy competition mentioned earlier, to get the team truly playoff ready over this final month's push. Though Jokinen doesn't have the playoff prowess many fans hoped would come with a deadline deal, he is a true, crafty NHL vet (1,223 GP, 747 points) that knows what it takes to stay in this league and be effective long term.  
Jokinen is known for his defensive mind set, but can also be a force in front of the opposition's net and can even step up in big games, just look at his Sochi Olympic stats (2G, 2A, 4P, plus-3 in 5GP, Bronze medal). If he can bring that same intensity to the Blues roster for the rest of the season he will be a much needed addition to the forward depth, and if Bergy doesn't step up (although he has been looking good lately) Jokinen could even give Paul Stastny and Dmitrij Jaskin more room to make plays.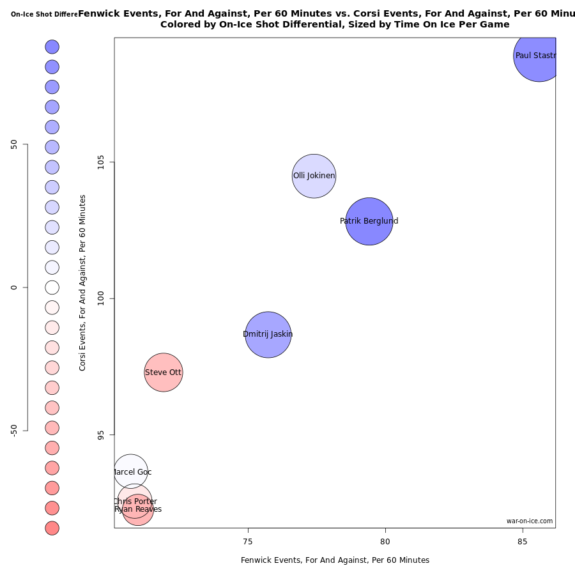 The above graph illustrates Olli Jokinen's impact to the Blues from a fancy stats perspective, and it shows that he is right in the mix of the 3rd and 4th lines in terms of positive play-making abilities for his team, meaning he'll help either line boost its production depending on the game and the opponent. It also shows that he actually ranks ahead of Berglund in Corsi events for per game, which means he creates more offensive chances than Berglund is able to, translating to more chances for Stastny and Jaskin to score.
What it also shows is that Jokinen is quite good at creating space for his teammates to gain those scoring chances, something the Stastny line has been better about lately, but will surely continue to improve upon now that Olli is in the Lou. The last thing this graph exposes is that Jokinen will be a positive force in eradicating those odd man rushes against the Blues, as the circles are colored based on shot differential (anything in purple means the Blues get more shots on their opponents than allow on themselves per game with that player on the ice).  
All in all, Olli Jokinen should be that missing power forward that will truly complete the team's top 3 lines and regain those high goals per game averages fans saw through the middle part of the season. When you add in a stalwart D-man like Bertuzzo and a solid transition defenseman, and shot blocking specialist like Michalek with Jokinen, it's plain to see that the Blues filled some gaps in their game just in time for that true playoff run. If the team can continue to regain their focus as they have over the last couple of games, they should mesh just in time for a great (and lengthy) playoffs despite their final division and conference ranking. Like what you've just read?
Follow me on Twitter:Follow @pep30
Mike has covered the St. Louis Blues and Tampa Bay Lightning in depth for The Hockey Writers since 2013. He is also a contributing writer for KSDK News Channel 5, the St. Louis area NBC affiliate, and has been a credentialed media member of the Blues since 2014. Follow him on Twitter @pep30.