The Arizona Coyotes are set to turn back the clock on Thursday night in Glendale when they don their black Kachina sweaters against the Vancouver Canucks. It will be the first time their old jerseys will be worn since 2003, back when the Coyotes still called downtown Phoenix home. To celebrate the occasion, a number of former Coyotes will be at Gila River Arena for a ceremonial puck drop, including NHL legend Jeremy Roenick. As the current Coyotes prepare to celebrate their history in Arizona, we look back on some notable players that wore the team's original sweater.
Nikolai Khabibulin
Long before Mike Smith, Ilya Bryzgalov, or Sean Burke stood between the pipes in Arizona, there was Nikolai Khabibulin. Khabibulin was with the original Winnipeg Jets when they relocated to Phoenix in 1996. During three seasons in Arizona, the Russian netminder racked up 93 regular season wins, eight playoff victories, and a pair of All-Star Game appearances. Along with Roenick, Teppo Numminen, and Keith Tkachuk, Khabibulin helped put Phoenix on the hockey map in the late 90s.
Krys Kolanos
Krys Kolanos may not have enjoyed longevity in the NHL (149 regular season games), but he arguably provided the best moment of the Kachina jersey era in 2002. In a late season battle with the then-defending champion Colorado Avalanche, Kolanos converted a critical penalty shot in the third period against legendary goaltender Patrick Roy. After the goal, the hall-of-fame netminder had a meltdown and proceeded to get ejected from the game. The Coyotes would hold on for a 5-3 victory over the Avalanche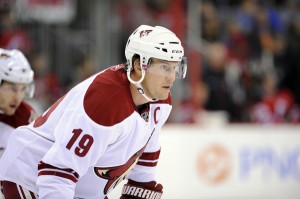 Shane Doan
With all NHL teams, the Coyotes have seen countless players come and go throughout the years. However, there has always been one constant since the franchise's first day in Phoenix: Shane Doan. Doan is the last remaining member of the original 1996 Coyotes team, which was his second year in the NHL after spending the prior year in Winnipeg. Although Doan had a rather quiet start to his career, the current captain holds several Coyotes records and has been one of the best players in the team's history.
Charles Woodall-Pike is a journalist who writes about the Arizona Coyotes for The Hockey Writers.