Follow Lukas on Twitter @LukasHardonk for more Maple Leafs coverage.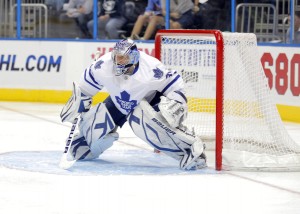 Everyone knows all about the Toronto Maple Leafs' struggles since 1967. Most notably, the Leafs have failed to win a Stanley Cup since then, making them the laughing-stock of the NHL to fans; Canadian fans in particular.
The Leafs' 44-year Cup drought though, makes the team's most recent run of poor performances look like nothing. That is, of course, the Leafs' six-year playoff absence.
However, taking things one step at a time, the Leafs must set their sights on the playoffs.
Heading into the 2010 training camp, I predicted that when the 2010-2011 regular season was all said and done, the Leafs would sit in seventh place in the Eastern Conference, meaning they would make the playoffs. Obviously, I was wrong.
The Leafs struggled for much of the regular season, that is until the arrival of James Reimer.
Last season, at the age of 22, Reimer was called up to the big club. He made his first start on New Year's Day in Ottawa; a 5-1 road win against the Senators. The Morweena, Manitoba native didn't look back from there, as he went 20-10-5 with a goals against average of 2.60 and a save percentage of .921, putting the rookie right up there with some of the best NHL goalies.
Other players who were up there with some of the best include Phil Kessel, Nikolai Kulemin and Mikhail Grabovski. The latter two played so well that they managed to crush their previous career highs in goals, assists and points. Combined, the trio contributed 91 goals and 179 points.
Throw Clarke MacArthur on the wing beside Grabovski and Kulemin, and you have a high-energy scoring line that surprised many last season.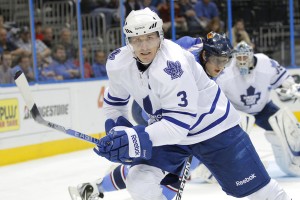 Other players that largely contributed to the Leafs' success down the stretch run include captain Dion Phaneuf, wingers Colby Armstrong and Joffrey Lupul, as well as minor-league call-ups Joey Crabb and Darryl Boyce.
However, as everyone knows, a team that failed to make the post season the previous year will repeat their performance unless they grow. So now, the question is, have the Maple Leafs grown and developed enough to make the playoffs?
Remember, when talking about a team, growing doesn't just mean the players become better and the team has more experience. Instead, one way that the Leafs have grown is by adding veterans and young talent to their roster, in Tim Connolly, Cody Franson and John Michael Liles.
Connolly, who will sport number 12 with the Leafs, is a former 65-point playmaker. There is very little doubt that he will be able to repeat those statistics if he plays in a full season of 75 or more games, possibly even helping Kessel reach 40 goals.
The problem there though, is that one word: "if."
Since the 2004-2005 lockout, Connolly has played in more than 70 games once, and has played in just 302 of a possible 492 games. Much of the time he has missed is due to various injuries. From concussions, to hip and back injuries, Connolly has experienced it all.
But the Leafs do have good depth at centre, meaning if Connolly goes down, there might be a perfect opportunity for either Nazem Kadri or Joe Colborne, both of whom are talented players who can put up points.
Where the Leafs have the most depth, though, is on defence. More than nine defencemen will compete for six spots, meaning the Leafs have multiple NHL-calibre defencemen that will not end up on the roster to start the season.
Mike Komisarek, Jeff Finger and Matt Lashoff are just three names that might not be listed on the Leafs' lineup card come October 6, but could still be very useful when called upon.
While depth is always very useful, perhaps the most useful thing is having players on your team who care enough to go down and block shots when the game is on the line, or step up to fight a heavyweight just to get your team going again.
Last year, the Leafs had one of those heart and soul guys.
Who will it be this year? Colton Orr, Mike Brown and Colby Armstrong all showed that they aren't afraid to step up for their team, but they were plagued by injury last season. I would expect to see all three play very competitively during the entire season, bringing good things to the Leafs.
With depth and talent on defence, as well as a developing netminder who has already posted outstanding statistics and a good group of guys who are willing to stand up for their team, the Leafs have certainly grown enough to make the playoffs.
But still, the question must be asked: Will the Toronto Maple Leafs make the playoffs in 2012?
For a second consecutive year, my answer is yes.
Every playoff team must have exactly what is listed above and the Leafs possess all of it.
Also, after coming close to the playoffs last season thanks to a team effort, there is no reason to think that the Leafs can't pull it off with an improved squad.
Twitter: @LukasHardonk | Email: lukas.hardonk@gmail.com | Lukas' archive
Check out Lukas' 2011 Toronto Maple Leafs Off-Season Guide.
Lukas, a student at the University of Ottawa, covers the Toronto Maple Leafs on a part-time basis for The Hockey Writers. Contact Lukas at lukas.hardonk@gmail.com or follow him on Twitter, @LukasHardonk.