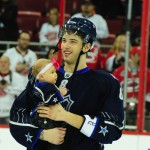 Mobile, offensive, top-pairing defenseman with size, grit and a bombs-away mentality from the blue line?  Check.  Speedy, playmaking two-way winger with the capability of netting 25+ goals and stepping up on the biggest stages?  Double-check.  Veteran third line center who can move up to the second line in the event of injuries and play a steadying role on special teams?  Triple-check.  Physical, stay-at-home defenseman to help shore up a statistically-poor penalty kill?  Quadruple-check.  Add to the farm team coffers?  Quintuple-check.
Doug Wilson had an off-season checklist of needs and filled them in methodical fashion, tweaking an already strong San Jose Sharks team into one that he hopes can take the long-awaited next step by advancing to the Stanley Cup Finals.  Bridesmaids the past two years after being swept by the Chicago Blackhawks in 2009-10 and losing in five games to the Vancouver Canucks last season, this year's Sharks team has the potential to be bigger, faster, tougher and better balanced than those previous editions.
The following is a synopsis of the club's major moves this offseason, as well as a subjective grade for each:
Brent Burns
Lost in the relative success of the club during 2010-11 was the transitional state of the defense.  Dan Boyle, although still near the top of his game, has seen his goals diminish in each of the past three seasons.  Niclas Wallin has seen his everything diminish in recent years, as age has steadily crept up on him.  On the other end of the spectrum, Jason Demers and Justin Braun are young and improving, but several years away from their full potential.  The Sharks needed a true top-pairing defenseman who could skate, lay the body as necessary and — most importantly — blast a booming slap shot on net.  Ideally, he'd be at or near his prime and not be subject to free agency inflation, which typically overvalues such a commodity.
San Jose and Minnesota found themselves to be ideal trade partners.  The Wild seem to be in perpetual search for legitimate top-six forwards, something practically coming out of the Sharks' ears.  Ultimately, a deal was struck:  San Jose traded right winger Devin Setoguchi, along with former first-round selection Charlie Coyle and their 2011 first round pick (28th overall — Zack Phillips) for Burns and Minnesota's second round pick in the 2012 draft.
Net result for San Jose:  Setoguchi, Coyle and their first was a high price to pay, but the Sharks have the offensive depth and firepower to absorb the losses.  Burns gives them exactly what they needed, a high-end offensive threat from the back line with size and speed.  In 2010-11, Burns scored 17 goals, third best in the league amongst defensemen.  To seal the deal, Burns will need to be re-signed during this upcoming season, and various subsequent moves freed up cap space to do just that.
Grade:  B+.  Offensive top-pairing defensemen in their prime are a difficult commodity to acquire, and although Setoguchi will be missed, he was San Jose's most expendable top-sixer, in large part due to statistical regression and inconsistency over the past two years.  Coyle is a solid prospect, but years away from the NHL, and although Phillips was a prolific QMJHL scorer, that's almost a triple-redundancy given the high-octane nature of that league.  San Jose's time is now, and with Burns in the fold, the team seems to have filled their greatest need.
Jim Vandermeer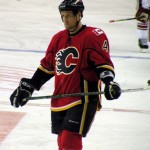 The signing of Vandermeer just eight days after the trade for Burns further signaled Wilson's top priority to upgrade the blue line.  In Vandermeer, the Sharks get a physical, defensive defenseman for the third pairing, who will more than likely see plenty of time on the penalty kill.  San Jose was just 24th in the league in that area last season, killing penalties at an abysmal 79.% rate.  Mobility isn't an asset, but toughness, leadership and willingness to sacrifice the body are certainly strong attributes.
Net result for San Jose:  Low-cost signing, a perfect fit for a good, veteran-laden team.
Grade:  B-.  He isn't going to be a difference-maker, but every contending team needs a few players exactly like him.
Michal Handzus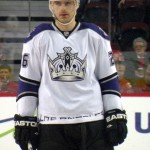 Missing "e" notwithstanding, Handzus is a warrior, another solid fit for a playoff-savvy team.  Although on the downslope of his career, he scored 20 goals just two seasons ago, and should be very comfortable on the Sharks' third line.  He will also likely earn time on both the power play and penalty killing units.  He may appear to be skating in oatmeal at this point in his career, but once he gets there, he's as smart as they come about taking advantage of opportunities on both sides of the ice.
Net result for San Jose:  Another good signing.  Handzus was bounced around on lines and with respect to ice time in Terry Murray's throw-a-dart offensive system while in Los Angeles; in a steadier role, his numbers could even bump a tad, despite the additional year under his belt.
Grade:  B.  See the comment directly above.
Martin Havlat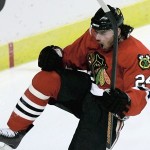 Probably the most controversial acquisition of the summer was the trade that sent elite sniper Dany Heatley to the Sharks' new best friend trading partner, the Minnesota Wild, for Havlat.  Heatley is a veritable household name; Havlat might occasionally be confused with "hazmat" in some ignorant circles.  From a firepower perspective, Heatley is a threat to pot 50 goals, whereas Havlat may not even net 20 in any given year.  However, there is more to the trade than meets the eye.  Heatley has been a playoff disappointment during his career, while Havlat has elevated his game.  Also, Havlat is signed for one year longer and saves the team $2.5 million against the cap, which no doubt will come in handy when it comes time to talk contract extension with Brent Burns.  Lastly, although not a slouch in the speed department, Heatley cannot hold a candle to Havlat, who is also considered a better defensive winger.
Net result for San Jose:  Undoubtedly a reduction in front-line scoring, offset by defense and cap advantages.
Grade:  B- on the ice, upgrading to a B+ if Burns re-signs.
The following is a quick breakdown on the Sharks' 2011 draft picks:
Matthew Nieto
A speedy, playmaking left winger, Nieto was selected 47th overall and has shown a knack for big goals at big times, helping Team USA win back-to-back gold medals at the IIFF World Junior Championships in 2009 and 2010.  San Jose definitely needed help on the left side in the draft, and got it here.
Grade:  B
Justin Sefton
A tall, strong, tough defenseman, Sefton won't wow anyone with his offense, but has the size and reach NHL general managers crave.  Played for the Sudbury Wolves the past two seasons, and drafted 89th overall by the Sharks.
Grade:  C+
Sean Kuraly
Another prospect with size, Kuraly is years away from potentially making an impact, but appears to have playmaker/two-way player written all over him at this point, and could grow into a net presence over time.  Drafted 133rd overall.
Grade:  B
Daniil Sobchenko
Too many "i's" notwithstanding, Sobchenko was selected 166th and is a versatile, strong-skating forward with excellent passing skills and soft hands.  He played for Yaraslovl Lokomotiv in the KHL each of the past two seasons.
Grade:  C
Dylan DeMelo
A smart, puck-moving defenseman with good two-way skills, DeMelo was taken in the 6th round (179th overall) and has upside potential from an offensive perspective.  Scored 27 points in his first OHL season.
Grade:  B-
Colin Blackwell
When you're selected 194th overall, it probably means a team is taking a flyer, which is the case here.  Blackwell is a quick, shifty centerman who scored 33 goals in 25 games for his high school team.
Grade:  C
Overall Offseason Grade
The Sharks made their big move by picking up Brent Burns.  Vandermeer and Handzus plug in nicely in their respective roles.  Havlat may be a risky acquisition considering the potential opportunity cost, but Wilson is betting that he has enough firepower as it is, and therefore needed speed, savvy, defense and perhaps most importantly — cap room.  Lastly, the draft added some promising bodies, although San Jose is unlikely to hit a home run with any of them.  On an overall basis, the Sharks earned a solid B for their efforts over the past few months.  If the various moves translate into a Cup, I'll gladly mix metaphors and say they hit a grand slam home run.