By Brooks Bratten
For an athlete, sport is a passion. An escape. A chance to be who they really are for a portion of the day. So if an athlete can't be all of these things in their natural environment, what's the point? The makeup of the athlete shouldn't matter. If they can play, then they can play.
Founded last fall, the You Can Play Project aims to showcase and celebrate athletes for who they truly are, including putting an end to homophobia in sports.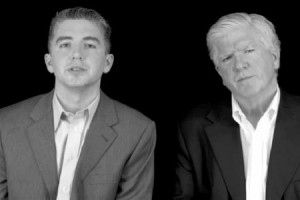 "For too long, athletes have been judged on things in addition to talent, skill, work ethic, and that includes sexual orientation," said Brian Kitts, co-founder of the project. "You Can Play is really interested in promoting athletes as pure athletes; stripping things down to the basics of your work ethic, your talent, your skill, and whether you can help your team succeed."
Kitts, along with Glenn Witman and Patrick Burke, developed You Can Play after meeting at an event in Denver. Witman, founder and president of G-Force Sports, an organization that aims to give a voice to the invisible LGBT athlete, and Burke, a scout for the Philadelphia Flyers and full-time student, collaborated with Kitts on a cause that is hugely important to all parties.
Patrick Burke, son of Toronto Maple Leafs general manager Brian Burke, lost his brother Brendan in 2010. Brendan, who was an openly gay manager on the Miami of Ohio University ice hockey team, was among the first to take a stance on supporting gay athletes on a large scale.
Kitts, a sports marketing professional, as well as part-time faculty at the University of Denver, says that through his involvement in sports came the realization that something needed to change.
"Anybody who has been involved in sports, whether you're gay or straight, is affected," said Kitts. "There's still a general lack of awareness that what you do is potentially hurting people around you, even if it's something like, and this is grown-ups saying it, 'you're so gay' or 'that's so gay.' It still happens."
Former Boston College forward and current assistant coach of the Princeton women's ice hockey team, Lee-J Mirasolo says that for her, getting involved in You Can Play was a natural fit. After attending a talk given by Patrick Burke, Mirasolo, who is openly gay, wanted to help anyway she could.
"Patrick made it sound amazing and it's exceeded my expectations without a doubt," said Mirasolo. "He had me captivated and I wanted to do anything I could to help out or be a part of it."
Also serving on G-Force panels in the past, Mirasolo believes that the project is headed in the right direction and is excited about its potential.
"Whether you're a gay athlete going through the coming out process, a gay athlete who's been out for a long time, a straight ally, or a straight person who might be uneasy about having a gay person on their team, it effects every person, regardless of who they are," said Mirasolo. "It's a huge deal, because it's going to have an effect on people's lives as individuals, but in addition to that, it's going to have an effect of the sports culture in general."
That effect has already begun to take place. Over 50 NHL players, including stars like Henrik Lundqvist of the New York Rangers and Zdeno Chara of the Boston Bruins, have filmed PSA's for the project, and expansion is on the horizon.
Kitts says that professional sports like soccer, lacrosse and basketball will hopefully be the next to jump on board with large amounts of followers. In addition to the pro ranks, collegiate crowd is looking to make a lot of noise.
"We've gotten really amazing response from colleges and universities so we're going to be doing some special programs," said Kitts. "University and college teams are making videos and I think that's going to start spreading too. That's one of those things that go across sports; it started out with hockey because that's where our contacts were, but we have had terrific response everywhere we've asked."
One man who will help to lead the charge on campuses across North America is Teale Stone, a former goalkeeper on the University of Denver soccer team.
"I don't have close friends who are gay or relatives who are gay, but this project has made me more apt to respect athletes in all capacities," said Stone, a straight ally in the project. "That's the ultimate goal." For Stone, being involved in a cause of this magnitude is something that he has thoroughly enjoyed.
"It's a great project with a bunch of great people who have strong beliefs about something that is a big issue in our society," said Stone. "What I get by seeing how much this can affect a 16 year old boy from Canada, or the 25 year old gay athlete, it's just really remarkable how positive the impact can be on them." Mirasolo has tremendous hope for the future of the project, and believes that it has already taken huge strides in what it hopes to achieve.
"Younger kids need to hear the message from an earlier age, and from there, they won't have those notions that gay athletes are not as good, or gay athletes can't be on our team, and all of those kinds of myths and preconceived notions," said Mirasolo. "To get it to the point where we can say 'ok, there's a couple of gay people on our team, it's not a big deal,' to the point where it's a non issue, that would be the ultimate goal."
The response for You Can Play has been tremendous, and along with the help of Witman and Burke, Kitts has high promise for what lies ahead. For now though, he couldn't be happier of what it has become, and what it will continue to grow into.
"If you've got a chance to make a difference in someone's life, if there's one kid that can play hockey or soccer or basketball without being afraid of what his or her teammates are going to think, it's worth it to me," said Kitts.
Whether a straight ally or an openly out athlete, all involved in the project could agree on one statement, no matter who you are.
"If you can play, you can play."