The Toronto Maple Leafs have traded Daniel Winnik to the Pittsburgh Penguins for centerman Zach Sill, a fourth-round pick in 2015 and a second-round pick in 2016. Sill has played in 62 career NHL games, and like Winnik, is also an impending UFA.
It's a good deal for Pittsburgh. It's a tremendous deal for Toronto.
Winnik himself took to twitter to confirm the trade.
Very excited 2 be joining the @penguins! Looking forward 2 having the opportunity 2 win a cup. It was an honour to play for the @MapleLeafs

— daniel winnik (@Danwinnik34) February 25, 2015
Considering the Maple Leafs signed Winnik on July 28th to a one-year deal at $1.3-million, Dave Nonis and Brendan Shanahan got a fantastic return for the 29-year old.
As recent as 24-hours ago, Toronto sports radio insiders didn't expect the Maple Leafs to get much for Winnik. One went as far to suggest that if the Leafs got a sniff of a second-round pick for the Mississauga native, the buds should pursue that deal hard.
With two draft picks in the top five rounds and a low-level prospect on an expiring contract, Toronto definitely comes out on top here.
Two picks and a low-end prospect for Winnik is like buying a five-dollar scratch ticket and winning $15,000. You're not rewarded with a life changing sum, but its likely far more than you would have expected to win when you first bought the ticket.
Maple Leafs management took a small gamble in singing Winnik. With the UNH Wildcat alum performing so well in such a challenging situation this season for Toronto, Shanahan and Nonis have turned that small gamble on Winnik into a nice little pile of assets for the future.
Winnik wasn't coming back to Toronto. For 29 other teams to have known that, Dave Nonis and Brendan Shanahan did a tremendous job in acquiring all that they did. 
Win-Win: Maple Leafs Stockpile Picks
Dave Nonis must have felt like a boss the past two weeks. Calls coming in from all over the league. Rival GMs thinking they can take advantage of Nonis, who must be feeling pressure from his superiors.
Well those other GMs took notice because Dave Nonis was cool and collected in making this trade.
Nonis knew he had multiple teams interested in Winnik. He played the field, worked up the value of Winnik, and eventually got Jim Rutherford to step up the ante.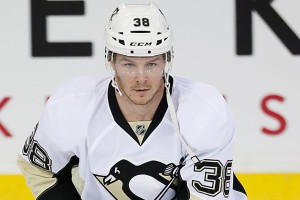 Tom Fitzgerald, former Maple Leaf and current Assistant GM to Jim Rutherford in Pittsburgh, spoke very highly of Zach Sill.
Fitzgerald was on TSN 1050 Radio and talked about Sill's work ethic. He spoke in detail on how the Truro, Nova Scotia native had to "earn his NHL contract and the right to play in Pittsburgh".
Fitzgerald went on to say that Toronto fans will love the style of play that Sill can bring to the Maple Leafs over the remainder of this season.
One aspect of this trade that both Leafs fans and Leafs brass can love is the two draft picks that Toronto received. 
During a conference call with Toronto media, Nonis spoke about the value of Sill and the two draft picks.
The Maple Leafs have publicly been talking about a total rebuild, and the Winnik-to-Pittsburgh trade definitely arms the Leafs with a couple of valuable draft day choices that will hopefully expedite the rebuilding process.
Win-Win: Pittsburgh get "Their Guy"
At age 29 and on pace for a career year, Winnik is a solid pick up for the Pens. He adds depth and grit. As we saw in Toronto, he has range in his play. In spot duty, he can provide top line minutes. At minimum, Winnik brings a greasy, well-rounded, two-way game every single night.
There is no quit in his play, and that has already endeared him to Pens fans.
The @penguins newest acquisition @Danwinnik34 had a "Gordie Howe Hat Trick" in his last game Saturday night pic.twitter.com/4EeXZL0N45 — Penguins PR (@PensPRLady) February 25, 2015
More effective as a bottom-six forward, Winnik would seem to be a natural fit at centre on the Pens fourth line.
It's hard to say where Winnik will find his groove with the Pens, but one thing is certain; Daniel Winnik will assimilate relatively seamlessly in a professional fashion, just as he's done so over his nine NHL seasons.
It's a good move for Pittsburgh, even if they did overpay. Pittsburgh probably could have acquire Winnik for less. At least public perception prior to the trade would have suggested that. But does that really even matter? Draft picks are valuable to every franchise, but Pittsburgh is eyeing a deep playoff run.
The Penguins are in buyer mode. Rutherford has been pursuing Winnik for sometime now, and it probably became clear to JR that if he wanted Winnik, he was going to have to overpay to get him.
Jim Rutherford has weighed the risks and clearly feels like he can afford to part with two draft picks and Zach Sill for Winnik, because Daniel Winnik gives his Pittsburgh Penguins a better chance to win now.
Aftereffects of the Trade
Ultimately Jim Rutherford is happy. And Dave Nonis is also happy.
As for other GMs seeking to bolster their rosters, they may have to sweeten a potential deal to get whatever players they're targeting.
That's just the cost of doing business at this time of year.
The Winnik-to-Pittsburgh trade doesn't necessarily set the market floor for the upcoming March 2nd deadline, but it definitely provides teams dubbed as sellers a bit of leverage during negotiations.
Teams bottoming out can now point fingers at this trade and say "Toronto got two picks and a prospect for Winnik, so we want multiple picks or multiple prospects for our guy".
The Winnik-to-Pittsburgh trade has definitely given sellers more incentive to sell.
Another potential offset of this Leafs-Pens trade, albeit an unlikely one, is the possibility of more transactions happening around the NHL because of the unexpectedly high return.
More Deadline Depth Trades?
It's unlikely we witness a big up kick in trades at the 2015 NHL trade deadline, but because the Leafs grabbed such a good haul for Winnik, the notion of increased trade action is more directly pointed towards depth players being moved.
Selling teams might now be actively shopping players they previously thought were worth keeping on the roster. Take Scottie Upshall in Florida as an example.
Not to suggest the Panthers are sellers, or are even considering moving Upshall, but there are some similarities between he and Winnik…both are expiring contracts, both have established themselves as serviceable NHL'ers, and both are more effective as third or fourth line players.
While Upshall hasn't been as productive as Winnik this year, if a playoff bound team like the Predators, Ducks, or Islanders were to call up Florida asking for Upshall, Panthers GM Dale Tallon would likely use this Leafs-Pens trade as a point of reference, if not as leverage.
Another player that could fall into this category is Roman Polak.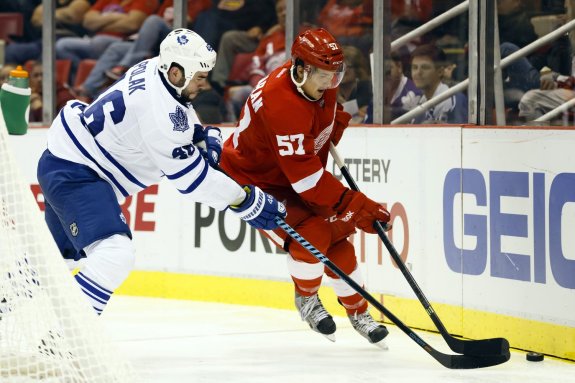 Polak is considered an asset both as a trade chip and as a character component in a team rebuild.
The Maple Leafs might want to keep Polak in the fold during a rebuild because of his leadership qualities and other intangibles.
But if Toronto were to receive a package of picks and/or prospects that trumps the one for Winnik, the Leafs brain-trust would certainly consider, if not accept, that kind of trade.
Embrace the Rebuild
Daniel Winnik was expected to be dealt, but virtually no one anticipated the return that Toronto was able to procure.
It's the return that makes this a particularly interesting trade, and it bodes well on both Nonis and Shanahan. All the other NHL teams were aware of Winnik's situation with Toronto, yet the Leafs management team still managed to get a buyer to overpay.
Zach Still and whoever these two draft picks turn into may not ever become impact Maple Leafs or NHL players. Nevertheless, Toronto Maple Leafs fans should feel good about this trade, because it signals a change in mentality from management.
For once, the Maple Leafs weren't the team overpaying to acquire a mediocre and aging player.