In mid-September, the OHL announced its hopeful 2020-21 Key Dates, including training camp, opening night, and more. The new season is a chance at normalcy in this crazy COVID19 world, plus a chance for the Windsor Spitfires to show last season's first-half was no fluke. It will take a team effort, including breakout seasons from a handful of individuals.
Related: How Much Do NHL Players Get Paid in the Playoffs?
In 2019-20, the Spitfires silenced critics by shooting up to third in the CHL Top-10 before Christmas. It was a welcomed surprise. However, as the season wore on, production dropped as did their place in the standings, finishing fifth in the Western Conference. Getting back to the top means everyone hits their stride and four individuals take the next step in their career.
Who are these breakout candidates? Let's take a look.
Earning the One Up
Goaltender – Xavier Medina
The future has arrived – finally.
Drafted by the Spitfires in 2018, goaltender Xavier Medina immediately found himself in a crease logjam. Instead of signing right away, he played 2018-19 with the Oakland Jr. Grizzlies. It proved to be the best decision for him.
After star goaltender Michael DiPietro was traded to the Ottawa 67's in December 2018, Medina saw his opening at the start of 2019-20 and signed with the Spitfires. He battled with Finnish goaltender Kari Piiroinen, who was supposed to be the next crease king.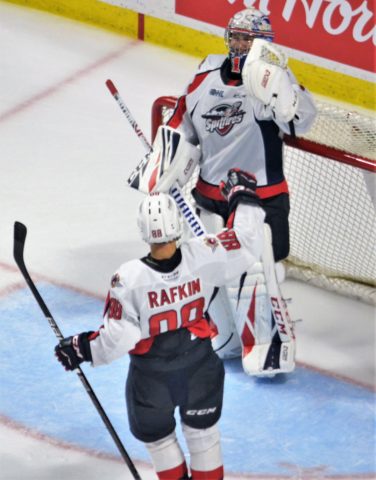 Medina fought tooth-and-nail, steadily improving, and showing poise and confidence that wasn't easy for a rookie. When Piiroinen joined Team Finland for the 2020 World Juniors, Medina took the starter's role and never gave it up.
While Piiroinen showed plenty of promise, he was too inconsistent and that allowed Medina to pass him on the roster. Once the season was done in March, Piiroinen left the Spitfires and is now with Tuto Hockey (Finland) for 2020-21.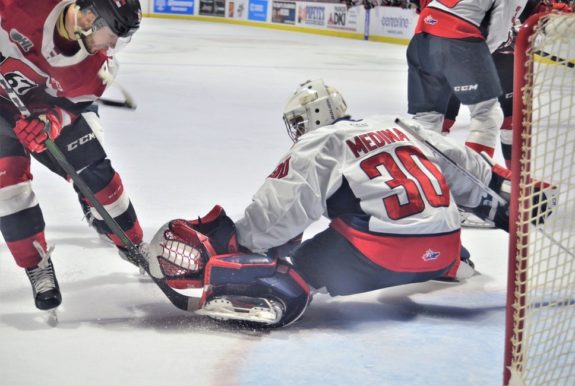 The future is now in Medina's hands. While he's eligible for the 2020 NHL Draft, this season is his key. This is what he's waited for. If he wants the success, it's up to him to reach out and take it.
Center – Wyatt Johnston
The 2019 OHL Draft was nothing short of controversial for the Spitfires, mostly because of a potential sale in the works to a Toronto-area dentist. As a result, their first-round pick, Wyatt Johnston, took the time to wait things out before committing to the club. After the sale failed, though, Johnston signed and focused on proving the Spitfires made the right choice.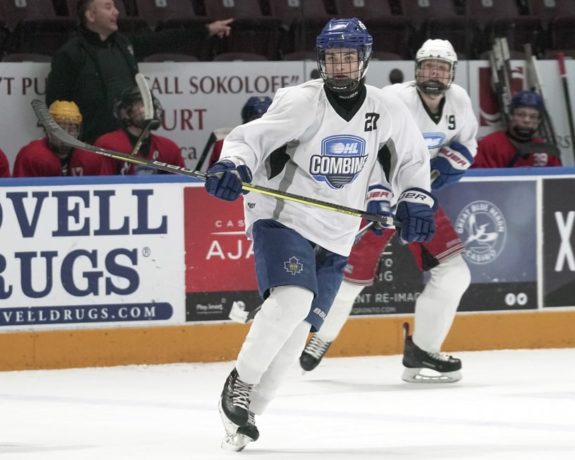 The sixth-overall pick struggled in the first half with just a goal and an assist in his first 17 games. However, nine points in nine games around Christmas boosted Johnston's confidence and showed he could play. He finished with 30 points in 53 games, using his speed and creativity to produce around the net. Head coach Trevor Letowski even gave him top-six ice in the second half.
Coming into 2020-21, Johnston will be given every opportunity to show what he's capable of ahead of the 2021 NHL Draft. Spitfires' fans saw flashes of razzle-dazzle hockey and they're itching for more. The 6-foot, 167-pounder is eager to show off his skills and prove he was worthy of a top-10 selection.
Right Wing – Kyle McDonald
It hasn't been the career start that right-winger Kyle McDonald had hoped for. Drafted in the second round in 2018, the 6-foot-5, 210-pound winger has been plagued by injuries. In his first two seasons, he saw action in just 91 out of 136 games, scoring 17 goals and 34 points.
While injuries and bottom-six ice time have stalled him a bit, there's plenty of potential. He was named to Canada's Under-17 team at the 2018 World Under-17 Challenge and a 13-goal campaign in 2019-20 gives hope.
Coming into 2020-21, McDonald, 18, has a chip on his shoulder. Not only does he have to prove his durability but also living up to his second-round selection. With former veterans Luke Boka and Cole Purboo both graduating, McDonald can earn a top-six spot and really show his offense.
McDonald uses his size well and his shot continues to develop over time. If he can put his tools together, and stay healthy, this coming season could be just what Spitfires' fans have waited for. Being 2020 NHL Draft-eligible, eyes will be on the Ottawa-native as he looks to prove he's ready to take that next step.
General Manager – Bill Bowler
Taking over for an organizational icon is a large task but that's exactly what Spitfires' GM Bill Bowler has on his plate. In July 2019, Bowler replaced long-time GM Warren Rychel after 15-years on the hot seat. Rychel brought in three Memorial Cups and an open, eager personality that was not only entertaining but likely difficult to match.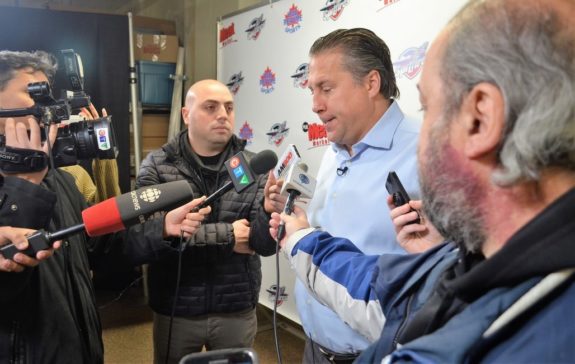 Fortunately for Bowler, he learned the OHL ropes under Rychel's guidance and is now ready to finally make his mark. With only a handful of minor trades and draft pick signings to-date, Bowler hasn't been the most talkative or active GM in the league. It's a complete 180 from Rychel's days. However, with the Spitfires preparing to become contenders in the conference, now is his time to create his roster.
Related: Rankings the NHL's 31 Starting Goaltenders – 2020 Postseason
Nobody is expecting Bowler to repeat Rychel's personality or success right away. This season, he simply has to show he has a vision, both short-and-long-term, and execute it. Make the deals and/or signings necessary to put the team in a good position for years to come.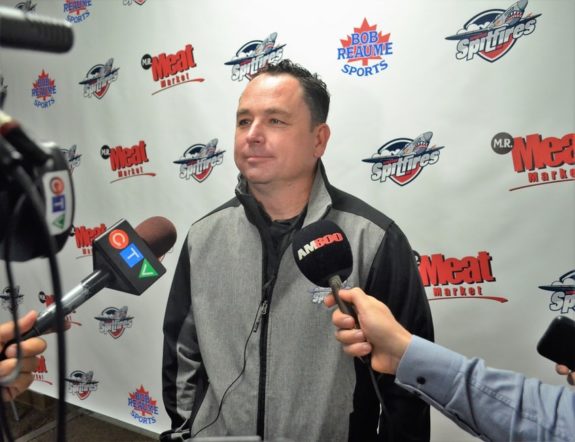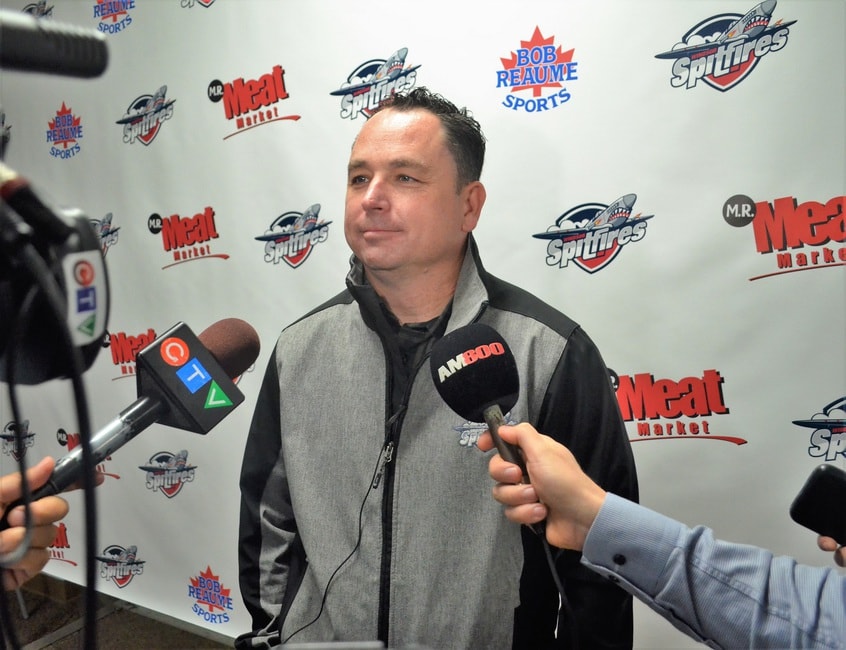 Breakout seasons are often meant for players but 2020-21 could be a perfect opportunity for Bowler to prove he has the ability to take this team to the next level.
While the pandemic isn't letting go anytime soon, the OHL has a plan in place and there's some hope on the horizon. If all goes well, the team could be in for some serious success and these four individuals have the opportunity to truly get on the radar.
---
---