I'm not sure Arizona Coyotes fans would believe it, if you were to go back in time to December 2019 and tell them that acquiring Taylor Hall would be a piece of the butterfly effect that has culminated into a full-on calamity. In the 2020 Draft, the Coyotes have no picks until Round 4. They also have a very tenuous salary cap situation, hindering their ability to make moves. New general manager, Bill Armstrong either has to take his chances with the hand he has been dealt or try to get some new cards.
The Situation
The Coyotes' roster is kind of all over the place. There's a younger core of forwards under-25 coming up, but their timetable for being in the prime of their careers doesn't really align with many of the defenders under contract.
Alex Goligoski, Jason Demers and Niklas Hjalmarsson all still have value as trade pieces and their contracts expire after the 2020-21 season anyway. Hjalmarsson has refused to waive his no-movement clause. That doesn't kill a deal so much as makes it a lot harder. The question is going to be whether the Coyotes should make trades now, or try to get better value selling players as rentals at the 2021 trade deadline.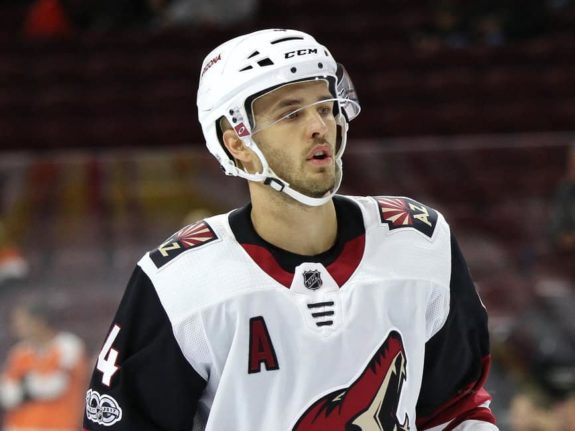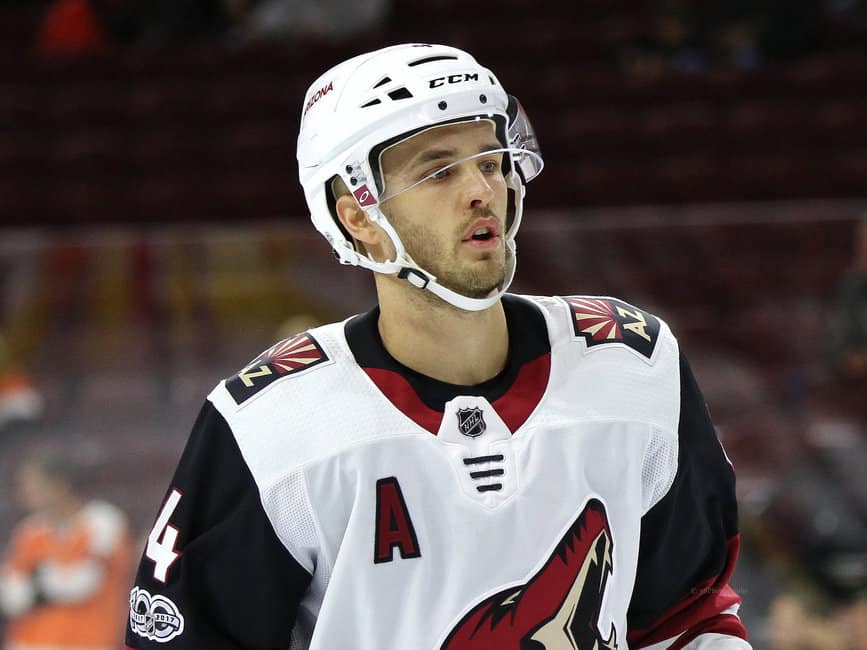 That decision is really going to hinge on whether or not Armstrong thinks he realistically has a contender-level NHL roster on his hands for 2020-21. It's probably a hard pill to swallow, but I do not see any of the prospects that Arizona has coming up as being dynamic enough to solve their anemic offense in the short-term. Jan Jenik and Barrett Hayton are great young hockey players, but expecting them to be answers to Arizona's goal-scoring woes as early as this coming season is unfair to them.
RELATED: Coyotes Hire Bill Armstrong as General Manager
Furthermore, former GM, John Chayka left the team in a position where it has very little cap space to maneuver with. With no cap space to chase upgrades via free agency and the potential overall impact of their young prospects being dubious at best, it's hard to imagine that the new GM would see his team as ready to contend. If that is indeed the case, he's left with no choice but to move rostered players to attempt to acquire future assets.
That would bring us back around to the players on expiring contracts. In addition to the defenders already mentioned, Derek Stepan and Michael Grabner also have contracts that expire after 2020-21. It would be interesting to see what their value is on the trade market.
Grabner is still considered a solid depth piece and quality penalty killer. Stepan could be sold as a "bad fit" to a team in desperate need of a center. His usage with Arizona saw a decrease this season and at 30 years-old there's no reason to believe Stepan couldn't regain his 50-plus point-per-year form with a different organization. If the Coyotes can sell him to somebody on that premise, they might reap a good return for him.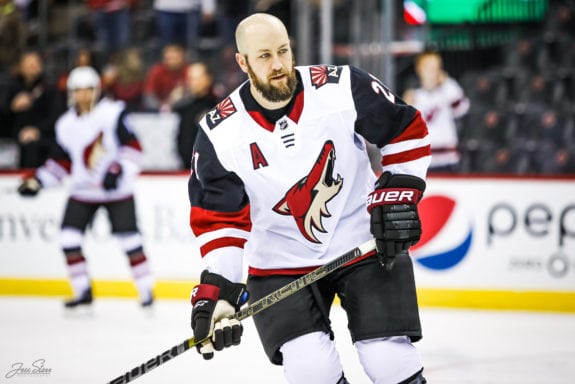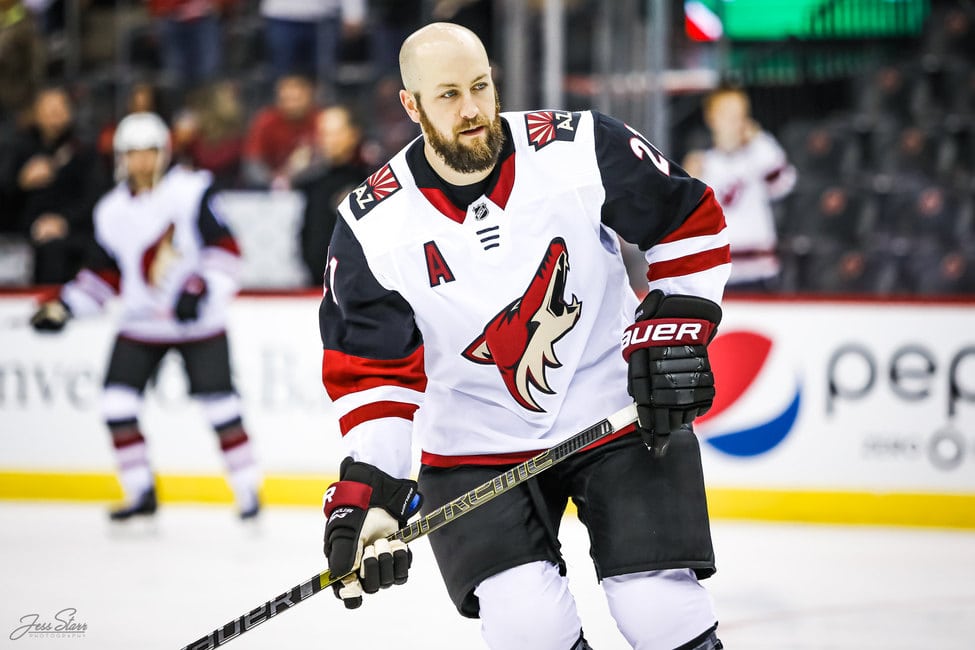 Goaltender Antti Raanta is also on an expiring contract after playing well this season. If your focus is not primarily on this coming season, it doesn't make sense to spend in excess of $4 million each on two goaltenders. Darcy Kuemper was effectively the starter in 2019-20 and he's under contract for two more seasons. With how well Raanta played, he might be able to fetch a surprisingly good return. The Dallas Stars put the entire NHL on notice for how important it is to have a goaltending tandem capable of overcoming injury during a playoff run.
The Potential Fix
I'm not sure the Coyotes can get back into the first round of the draft without parting with a major future piece, or their captain, Oliver Ekman-Larsson. I don't know if trading Ekman-Larsson is on the table for this franchise yet, but I wouldn't rule anything out at this point.
If they were able to move some or all of Goligoski, Hjalmarsson, Demers, Raanta, Stepan and Grabner they would almost assuredly be back into the second and third rounds. Complete some of these deals before the first day of the draft, and there's a chance they could get back into the first round.
RELATED: 2020 NHL Draft Guide
If they can get back into the first round, they need to try to address a lack of offensive talent in their prospect pool. It's very likely that one or both of Hayton and Jenik could find themselves earning jobs (pressed into service) out of training camp. Once they're in the NHL they aren't really "prospects" anymore. This draft is touted as a very good one for forwards. There are centers and wingers that project to be around towards the end of the first round that could ultimately wind up being legitimate top-six NHL forwards. Getting their hands on one of those would be huge for the Coyotes.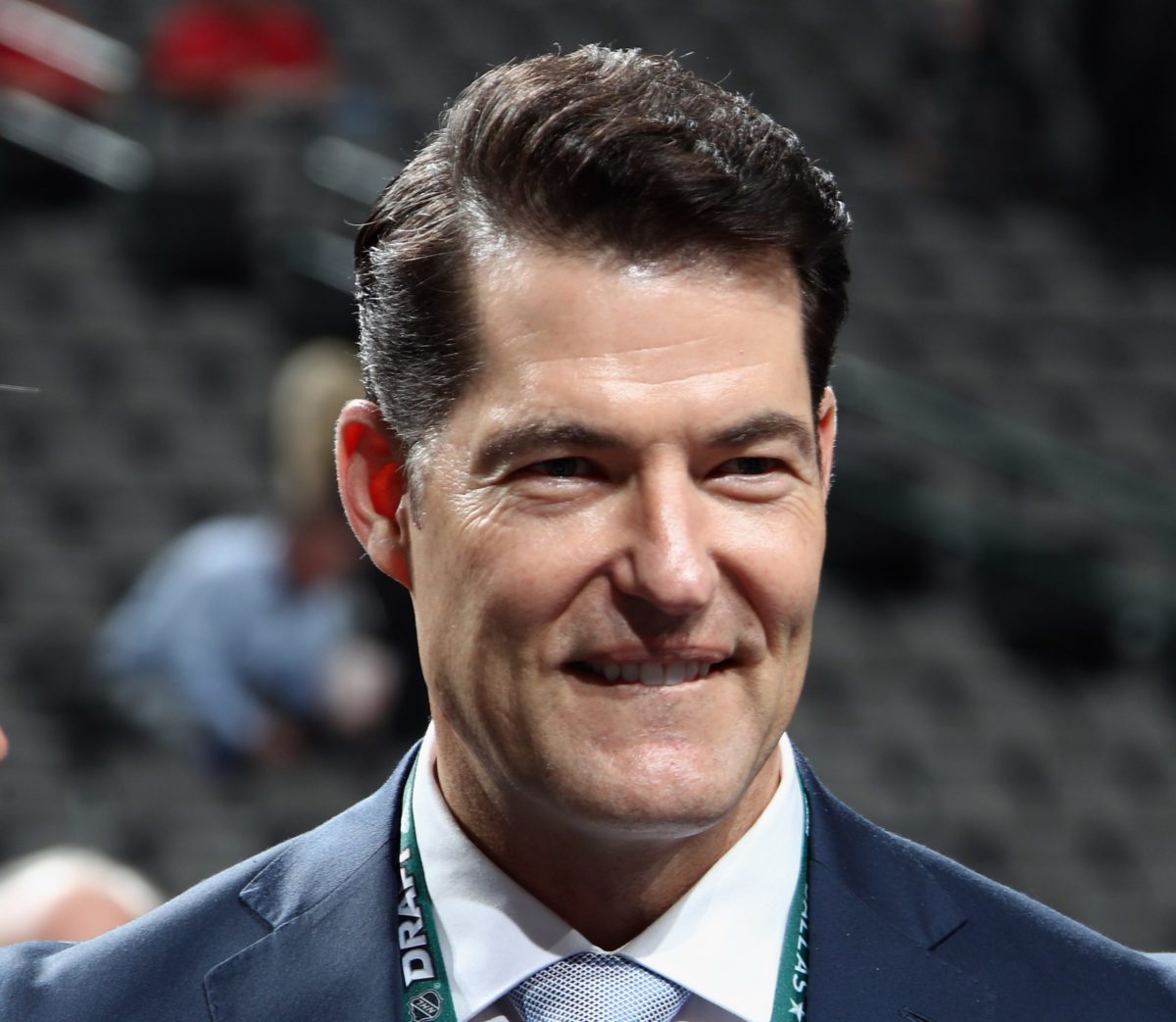 Beyond the opening round, the Coyotes need to look for players that slide. Picks in the second round ranging from 32 to 50 should be prime acquisition targets for the Coyotes. There are going to be draft steals to come out of this section of the draft because the offensive talent will, for the most part, still be first-round quality. Additional second-round picks beyond No. 50 could still yield quality prospects that are likely to help the team down the road. These picks typically have a much better chance of having an NHL impact than players picked in the fourth round and beyond.
What If They Do Nothing?
Can the Coyotes afford to do nothing and just head to the draft with their first pick being 111th overall? It just seems unlikely that they will be able to keep Hall and they don't have anyone readily available to fill that void. The rumors of potential money issues could impact the difficulty of luring free agents to Arizona. Even if they could lure some big names in, they don't currently don't have the cap space to sign them.
According to multiple sources, the Arizona Coyotes have been late on paying at least a few players their contractually-stipulated signing bonuses on time. My understanding is these have since been resolved, but it has raised some concerns.

— Katie Strang (@KatieJStrang) September 4, 2020
Therefore, doing "nothing" would leave Arizona with functionally the same roster next season as they had this season minus Hall, Carl Soderberg and Brad Richardson. The Coyotes were the 10th worst team in the league at scoring goals and Soderberg was actually their 4th best goal scorer. Conor Garland, Clayton Keller, Nick Schmaltz and Christian Dvorak are all likely to be back in action for the Coyotes. These players are all under 25 years old, and along with, defender, Jacob Chychrun form the core that the team is going to have to build/re-tool around. These players are the brightest light at the end of the dark, worrisome tunnel that the Coyotes currently wander in.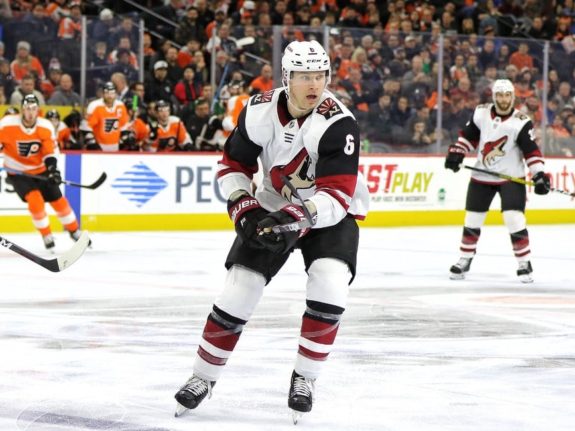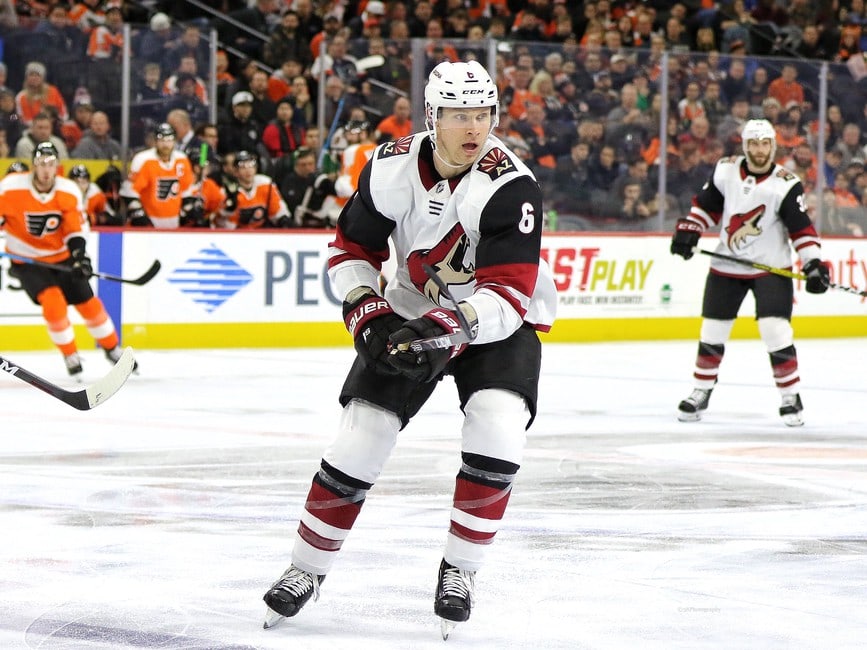 If Armstrong surveys his landscape and determines that he is content to remain with his initial pick of the draft being a 4th rounder, he's going to have to gamble big. Ideally the Coyotes would like to try to add some more offensive power to their prospect pool. Some of the top talent that has been produced by the later rounds of the draft has come from Russia. Russians Nikita Gusev and Kirill Kaprizov were 7th round pick 5th round picks respectively.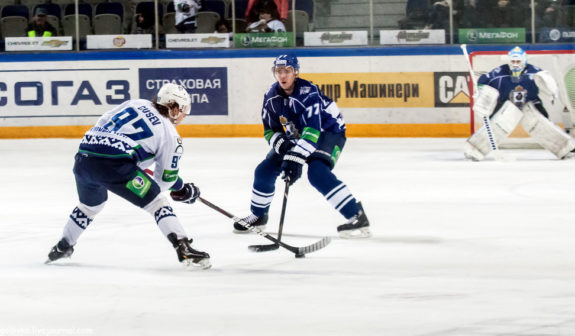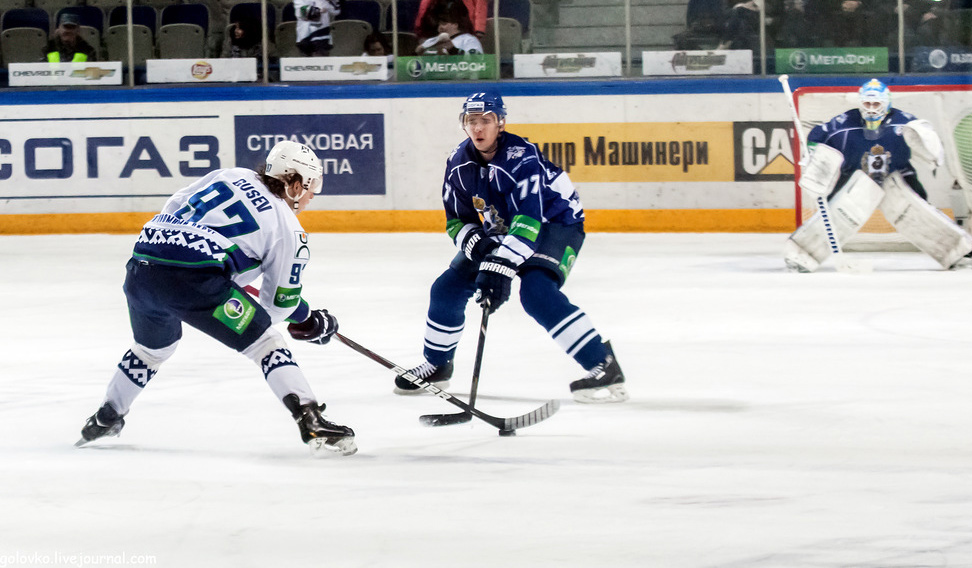 Two Russian skaters that project to be there around the time that the Coyotes pick are Maxim(Maksim) Beryozkin and Maxim Nevolin. They both have NHL size and had exceptional MHL (Russian Junior hockey) campaigns in their draft years. Danil Alalykin and Yegor Suchkov were outstanding players on a pretty stacked Tolpar Ufa MHL team. Alexander Pashin and Rodion Amirov were the stars of that team and could both be off the board in the 1st round. Suchkov, although small, was often every bit as exciting as Pashin. Alalykin was one of those players who is sometimes referred to as one that "stirs the drink."
Because they played on such a stacked team with two high profile prospects, Alalykin and Suchkov could slip under the radar and be available in the range that the Coyotes have draft picks. The only way Armstrong can truly profit with his current pool of picks is if he takes big gambles on players who appear to have boom/bust characteristics. Russia has been a good place to make these gambles.
In a very short span of time, Armstrong is going to have to make career defining decisions that will shape the entire future of his tenure in Arizona. He might simply have to bite the bullet and do everything he can to throw Chayka under whatever bus he can find. But, playing the blame game can only take him so far. Armstrong would be well served by trading out contracts that the former GM signed, and getting some draft capital for them. He's going to have to try to make deals and restock the prospect pool with talent more in-line with the timelines of his under-25 core and current top prospects.
Related: One for the Ages – Ray Whitney's 2011-12 NHL Season
If he does not do that, he is taking a big risk going into his first draft with only the picks currently at his disposal. Armstrong is no fool, and he has a history of finding good value later in the draft. Whatever decisions he makes, Coyotes fans, management and ownership are going to have to trust that he knows what he's doing. Because if he doesn't, it could be very dark times ahead for the near future.
---
---
Jack Dawkins is a freelance scout, analyst and avid watcher of "way too much hockey." He has joined The Hockey Writers team to cover all things Washington Capitals, New Jersey Devils, Minnesota Wild, Los Angeles Kings, Arizona Coyotes and Florida Panthers. He's an absolute data hound and loves using stats and analytics to calculate and extrapolate data for analysis.