IIHF's World Championships in the city of Minsk, Belarus' capital, can boast incredibly interesting competition in preliminary games. The elimination games, which are to start on 22 May 2014, promise to show even more intensity.
As of the moment of writing this peace in the small hours of May 18, 2014 Sweden (14 points) and Canada (13 points) can be considered leaders of Group A, who will definitely make it to the quarterfinals. As for Group B, the sole leader of it with a secured quarterfinals ticket is Team Russia (15 points). The play of the national teams of the above three world ice-hockey leading nations has been stable throughout this year's championships.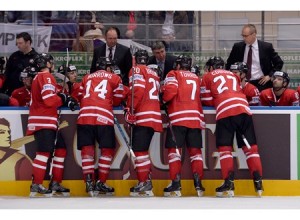 Thus, Sweden has won all the games it has played in the Championships so far, although the majority of its rivals could not really compete against the Tre Kronor by definition. Games against Denmark (3:0), Norway (2:1), France (2:1) and Slovakia (3:1) have each brought the team in blue and yellow jerseys 3 points. An exception in this line of clear victories was the game against another great hockey nation – the Czech Republic. This is how Joakim Lindstrom, author of Sweden's winning penalty shootout goal commented on the game and his team's opponents: "They gave us every reason to give up and stop playing, but we never quit. We kept working and grinding and digging in there, and we found a way to win."  The Czech's Ondrej Nemec described the game with the following words: "It's tough to say something's positive, because we led 3:1. We had a couple of penalty kills and they scored two goals. We've got a lot of work to do, because we are really bad on the penalty kill right now." The Swedes thus earned 2 points on May 11, 2014 playing against the Czech Republic as it was an overtime victory.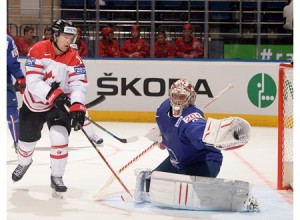 Canada lost its first game to France on May 9, 2014 in penalty shootouts, Pierre-Edouard Bellemare scoring the lone shootout goal for les Bleus. This loss, however, was Team's Canada great motivator. Thereafter followed clear victories against Slovakia (4:1), the Czech Republic (4:3), Denmark (6:1) and Italy (6:1).
Canada and Sweden meet on May 18, 2014 for finding out the Group A's winner.
Russia has so far shown that it has no rivals in its group winning all the five games with the advantage of two or more goals: Switzerland (5:0), Finland (4:2), USA (6:1), Kazakhstan (7:2), Latvia (4:1). The remaining game with Germany is only important to Russia as a means to preparation for the elimination rounds.
A more precise look at the teams filling the yet free spots for the elimination rounds would be of interest. Thus, in Group A the two remaining vacant places can be taken by France, the Czechs, Norway or by Slovakia, with each of the teams having 7 points. The Czech and the French would be advantaged by their game schedule, while Norway will meet Canada on May 20, 2014 and this game will most likely result in nil points for the Scandinavians. The Slovaks have plaid one team more than their opponents and this means they need to win against Denmark and hope that other teams will lose games.
In Group B the competition for the two vacancies will be intense and the results remain unpredictable, although Belarus and Latvia have one more point each (both have 9 points in 5 games) as compared to their closest rivals – Finland and USA (both have 8 points in 5 games). A cursory look at the game schedule shows USA battling against Finland on May 18, 2014 and Latvia playing against Belarus on May 19, 2014. These games will be real nerve-breakers, but lots will be also solved in the games of place contenders and outsiders, the latter willing to show their best before the end of the tournament and to preserve their places in the world elite of the ice-hockey. Thus, Finland will play against Kazakhstan on the coming Monday and Latvia will face the Swiss on Tuesday.