Do you want to get yourself prepared for the World Junior Championships 2017? Let's begin with a look in the rearview mirror. Join us as we remember the World Juniors from 2010 to 2014.
Which teams were on top back then and which would be best if the tournaments would be re-played now? What happened to some of the players who stood out in the WJC but never made it from there? We have the answers.
This is the second and final part of the World Juniors throwback. Part one was published a few days ago and focused on the years 2005 to 2009.
2010: Russian Fiasco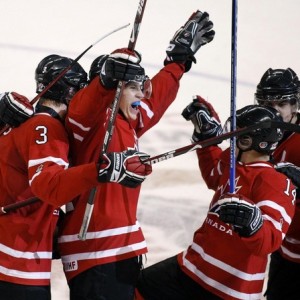 The year of unexpected events, as far as the World Juniors goes. Canada didn't win, Russia didn't even make it to the semi-finals and Switzerland took everybody by surprise when they ended up in fourth place. Looking back at it now, this was a tournament with a lot of good quality players who have entered big roles in the NHL.
Winners: USA
Runner-ups: Canada (2nd), Sweden (3rd)
Location: Saskatoon and Regina, SK, Canada.
Top Scoring Player: Derek Stepan, USA.
Some Participating Profiles: Taylor Hall (CAN), Adam Henrique (CAN), Jordan Eberle (CAN), Alex Pietrangelo (CAN), Tomas Tatar (SLO), John Carlson (USA), Tyler Johnson (USA), Derek Stepan (USA), Roman Josi (SUI), Oliver Ekman-Larsson (SWE), Vladimir Tarasenko (RUS), Evgeny Kuznetsov (RUS).
Player's Fate: Jerry D'Amigo.
With twelve points (six goals and six assists) in seven games, D'Amigo played a big part in securing the gold medal for the United States. But then what happened? While many of the other Americans, such as Derek Stepan, moved on to the big stage, D'Amigo's career didn't pan out the same way. After a modest total of 31 NHL games for the Toronto Maple Leafs and Buffalo Sabres, the two-way forward now plays for Ilves, Finland.
Best Team Today: Russia.
Just barely above team Canada, team Russia arguably has the best set of players from the 2010 World Juniors today. Apart from superstars like Tarasenko and Kuznetsov, there's also depth in players such as Dmitri Orlov, Alexander Burmistrov and Nikita Zaitsev from this tournament. Note, however, that Russia was eliminated by Switzerland in the quarter-finals. A lot can happen in six years.