Let's pretend for a moment that at the World Cup of Hockey, there is no Team North America. This would be incredibly sad because even though many believe the team to be nothing more than a gimmick, they were arguably the most exciting part of the entire tournament.
But back to my original thought. There is no Team North America, which means that many of the best young players from Canada and the United States would not be playing. This would mean that Connor McDavid, the North American captain and future face of the NHL, wouldn't be a part of the tournament.
Or would he?
In this article, I'm going to lay out a set of arguments to find out if the speedster out of Edmonton would be good enough to play for Team Canada.
The Sidney Crosby Precedent
When Sidney Crosby was drafted into the NHL, his arrival was met with an enormous amount of fanfare and hype. It was all for good reason, as Crosby was the next big thing in the hockey world at the time. He was seen as a generational player and the saviour of the Pittsburgh Penguins franchise.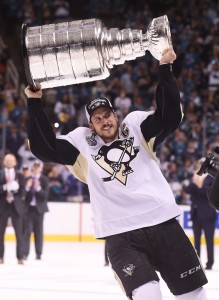 In 2006, the Olympics were being held in Turin. Canada was the defending gold medalists and had a ton of pressure to continue their winning ways. They opted for a veteran lineup that didn't include Crosby. Granted, Crosby was just a rookie at the time, but he was also a generational talent and was off to an incredible start to his career.
The final result was a disappointing tournament, with Canada being ousted by the Russians in the quarterfinal to the tune of 2-0. This World Cup is different, though. Under the coaching and style of Mike Babcock, Canada has won gold at the last couple Olympics.
You could argue that Canada doesn't need McDavid because every player on the roster knows their place and has a specific role. For example, Matt Duchene, a first line 30 goal scorer on the Colorado Avalanche, is on the fourth line and is featured in more of a checking role. This brings me to my next point.
Would Connor McDavid Have Been a 13th Forward?
Team Canada is incredibly stacked from top to bottom. They have first line NHL players relegated to fourth line roles. This happens when you have an entire nation that produces so much talent.
Team Canada had a few injuries before the World Cup kicked off. Tyler Seguin, the exceptionally talented Dallas Stars forward, suffered an injury in one of Canada's preseason games. They replaced him with Ryan O'Reilly, a two-way forward from the Buffalo Sabres.
Had there not been a Team North America, would that spot have belonged to Connor McDavid?
O'Reilly had 60 points in 71 games this past year. McDavid, with his injury, was only able to play in 45 games and incredibly, he was able to throw up 48 points. If you average that out to a full season, McDavid would have somewhere in the neighborhood of 80 or more points. This is not an easy feat to accomplish, especially for a rookie.
Ref cam of McDavid —> Matthews is mesmerizing pic.twitter.com/MZMfpj3S1p

— Marina Maher (@marinakmaher) September 20, 2016
McDavid could have filled a third or fourth line role with Team Canada today. He would have had to come to terms with the fact that he might be used as a penalty killer or speed option on the wing. Canada is simply too deep with centers for him to have made it at that position.
Even if he was a seldom used 13th forward, McDavid could have been effective on this team. If there was a way for Canada to give themselves a better chance to win, they should have taken it. If that meant McDavid making the team, then so be it.
The Present and the Future
Crosby is the current face of the NHL. The two-time Stanley Cup champion has done everything there is to do in the National Hockey League. He's won scoring titles, awards and is the face of the entire sport the world over.
McDavid is the future. He's only had one year in the NHL and is just beginning to get his feet wet. Wouldn't you want to see Crosby and McDavid play together a least once?
No one wishes a career-ending injury on anyone, but hypothetically, what would happen if Crosby were to suffer a terrible concussion and could not lace up the skates again? Could this mean that we all lose our one and only chance to see the two generational superstars play together?
Another argument for McDavid's inclusion would be that he's the future of both the NHL and Canadian hockey. Wouldn't he benefit from being on the team where proven winners like Jonathan Toews, Drew Doughty, and Crosby could groom him for the pressure that he will one day face?
https://twitter.com/SportsnetSpec/status/779022487589908480
McDavid is something special in the hockey world. Even though North America is officially eliminated from the World Cup, they still made a huge impression. But McDavid has also made it clear that if there is another World Cup in the future, he wants to be a part of Canada.
The Hockey Writers coverage of the World Cup of Hockey 2016 is being brought to you by PrimeSport, the official Fan Travel & Hospitality Package Partner of the World Cup of Hockey 2016.