Jim Neveau, Senior NHL Columnist
For the opposing viewpoint on this issue, check out my colleague Mike Miccoli's piece. 
"Because I believe this, today I exercised my right as a Free Citizen, and did not visit the White House. This was not about politics or party, as in my opinion both parties are responsible for the situation we are in as a country. This was about a choice I had to make as an INDIVIDUAL."
With those words, pulled from a statement that he released today, Boston Bruins goaltender Tim Thomas explained why he decided to skip his team's appearance at the White House today with President Barack Obama. The rest of his teammates were at the Executive Mansion celebrating their 2011 Stanley Cup championship, and they gave the president a team jersey and were honored with a ceremony. Nearly all of the players from that club still with Boston were in Washington for the event, but Thomas was conspicuously absent.
The real question, of course, is not whether or not Thomas should be punished for expressing his beliefs, but rather whether or not he deserves the criticism that he has been receiving from the media and fans alike.
For starters, Thomas is absolutely right in saying that he has the right not to go to the White House. No one should be forced to do anything against their will, and if there is a better representation of what our nation is about, then one would be hard-pressed to find it. Thomas expressed his right to free speech, and that is admirable.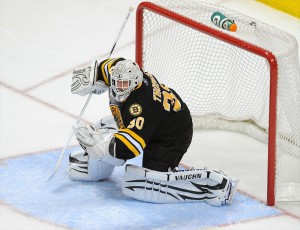 We'll get to the specifics of why Thomas' stance can be argued against in a moment, but to answer the previous question more directly, writers and fans do indeed have the right to criticize Thomas. Especially from the average Joe's perspective, the opportunity to meet the President of the United States is something that they likely will never have. It is truly a once-in-a-lifetime shot, and even if you don't necessarily agree with the views of the man who is sitting in the big chair, the office is still worthy of respect, and by making this political stance, Thomas didn't seem to respect it.
In addition, the right to free speech not only extends to Thomas' right to skip the visit, but also to the critics who say that he should have gone. This seems pretty obvious, but lost amid all the talk about Thomas' right to express himself, it seems to be lost that critics are allowed to have their say as well. This key distinction needs to be made more often than it has.
In addition to the notion of respecting the office of president even if you don't like the person holding the position, there is also the matter of distracting from the overall positive nature of the event itself. Of course, the publicity surrounding the Cup champions being at the White House doesn't last for very long, but while it is on the national landscape, it is a great honor for the team. With Thomas' decision to drop out of the team event, the focus moved intensely toward him, and took away from what was supposed to be a special day for everyone in the Bruins' organization.
It would be difficult to argue that this was Thomas' intent when he decided to skip the ceremony, but just because someone doesn't intend for something to happen doesn't mean that it doesn't come off that way. He should have given that thought more consideration when reaching his decision, to be sure.
Overall, there are plenty of arguments that can be made to whether or not Thomas should have been at the White House today, but there is one thing that is virtually certain: it has prompted a debate about politics and the rights of Americans more than just about anything possibly could in the world of hockey. These debates are part of a healthy democracy, and it is good to see people get so passionate on both sides of the issue.
Hopefully that will be the big takeaway from this whole situation.