Tanking. It is a word that is tossed around freely in conversations surrounding teams in the NHL whose seasons are done in March. It implies different things to different people based on their understanding of the word's use in the sport. To some it means a wholesale attempt to deliberately lose games. To others, it denotes a subtle manipulation by management and coaches to diminish their team's chances of winning.
The idea
The goal of tanking is to enhance the team's position in the order of the NHL Entry Draft. After all, if a team is essentially done at this time of year, why not try to better its chances of drafting a player around which the team can rebuild? This season is swirling with talk of he next "great one" when referring to Connor McDavid. Or, "potentially the greatest American prospect ever" when opining on Jack Eichel. Does it not make sense to do everything possible to try to land one of these amazing prospects in the upcoming draft?
Playing to lose?
Some might hear the word "tanking" and consider that it means an intentional effort to lose. The word "tank" as a verb in Webster's is defined, "to make no effort to win :  lose intentionally." That is a disturbing thought when it comes to professional sports. After all, can anyone imagine a coach sidling up to his goalie and whispering, "Let a couple by tonight?" Absolutely not. Professional athletes and athletes in general are wired to win and to compete.
There are stories where back in the day boxers would "take a dive." Normally this would be in response to some type of pressure, financial or otherwise. Possibly the most famous is the 1915 tale of Jack Johnson who lost in the 26th round to Jess Willard. Johnson confessed to having thrown the fight, as recounted at www.fightsaga.com.
jack Johnson said he took a dive in 1915 Interview: Jack Johnson biographer Geoffery C. Ward There's one last… http://t.co/9wxSsFKaKF

— Boxologist (@boxologist) July 15, 2014
Whether or not he did "tank" is still a question left for boxing aficionados to debate. Is the NHL or NBA bereft with the influence of organized crime offering financial incentives for players to throw games? Are players throwing games at the behest of their coaches or management in order to jockey for a better draft position. I think not.
These guys are pros
While stories of point shaving in college basketball still swirl in the media from time to time, I honestly do not believe that pro athletes are putting their careers at risk for extra money or to help the team rebuild by losing. Maybe I am naive, but I just don't. There may be tanking, but not in this manner.
I asked Craig Custance, Senior NHL writer for ESPN The Magazine, what he thought about tanking. He said,
"Mark, First, I don't believe players or  coaches tank in the NHL. One of the misconceptions is that there is some team-wide initiative to lose, and that's not the case. The players on the Buffalo Sabres, for instance, are playing hard and with pride. It's just not a good team."
If the teams are not trying to lose, what is really happening?
So what is tanking really?
The NHL and the NBA with their draft lotteries can put the focus of rebuilding squarely on the draft, particularly when the "next great one" is up for grabs. This focus is commonly referred to as tanking by teams hoping to change their fortunes overnight.
The process is typically and often overtly implemented by management. Trades are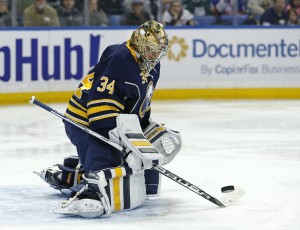 made that clearly put the team in the position to win very few games the final few weeks of the season. For example, the Buffalo Sabres off-loaded goalie Michal Neuvirth and forward Chris Stewart as the trade deadline wound down.
Neuvirth is no slouch with a career GAA of 2.73 and save percentage of .912. He is clearly not in the tanking schematic. They also dealt Torrey Mitchell and Brian Flynn. Here is how John Vogl of the Buffalo News describes the Sabres' moves:
"The Sabres helped their last-place cause by getting rid of their hottest player (Neuvirth), fourth-leading scorer (Stewart) and two forwards who kill penalties and have played on the top line (Flynn and Mitchell)."
Trying to finish badly enough to nab McDavid or Eichel was not the only idea behind the Sabres' tanking. Vogl notes,
"Over the next three years, the Sabres' future includes nine first or second-round draft picks. They have two of each in June, one of each in 2016 and one first-rounder and two seconds in 2017."
The team is bad and management rightly decided that trying to win the rest of the way in 2015 was just not going to improve their chances of winning in the future.
Custance affirmed the concept of tanking is primarily in the hands of management. He told me,
"Tanking begins at the management level with the belief that you need to bottom out to drastically improve."
But, will it work?
That silly tweak
But, alas, the powers that be have put a small fly in the tanking ointment. Finishing last does not guarantee a draft pick of choice that could reverse the fortunes of the bottom dwellers. The lottery could play out such that your favorite awful team could drop a position.
For example, at this moment, the bottom five teams are, Buffalo, the Edmonton Oilers, the Arizona Coyotes, the Toronto Maple Leafs, and the Carolina Hurricanes. with the lottery. As I wrote on February 7th, the NHL made some changes in the way it implements the draft lottery.You can read the official rules here. Essentially the odds are weighted differently to result in a "more evenly balanced allocation of odds." The end result could see teams dropping one spot in the draft order.
The lottery simulation tool located at http://nhllotterysimulator.com/ shows possible lottery outcomes. For example, I just clicked on it and the New Jersey Devils came out as the winner. What this means is, each of the bottom five teams would drop a place in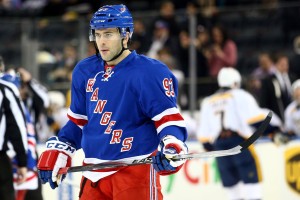 order. Essentially meaning that drafting Connor McDavid or Jack Eichel is not a guarantee for the two teams that wind up with the worst records.
When a team like the Coyotes did what the USA Today noted on March 4th during the trading season,
"The Coyotes traded away their top two point-producing players in defenseman Keith Yandle and center Antoine Vermette, plus veteran defenseman Zybnek Michalek,"
the message is glaring that they are essentially tanking for draft position. Kevin Allen was pointing out that the lottery rules mean that it's Eichel, not McDavid that teams are tanking for. But, some team are not as obvious in their losing efforts.
Tanking buzz words
In addition to overtly dismantling a team in the manner of say Buffalo or the Coyotes this season, there are certain phrases that let can clue you in to tanking. A coach or a general manager might say, "We want to see how our younger players are developing," or "We are going to take a look at different line combinations going forward."
While these are valid things to do at this point in the season when trying to look at the team's potential for next year, they are code for, "We're tanking, throwing in the towel and if we lose, that's okay."
Hurricanes coach Bill Peters said of the newly moved up Rasmus Rissanen, "This is his opportunity to show us what he can do. We plan on playing him and giving him a real good opportunity so we know what we have." This does make sense in light of the 'Canes recently trading away Andrej Sekera. But, the team is not going to make the playoffs. If bringing up younger players to "see what we have" results in some losses along the way, all the better for the team's draft position.
Good or bad?
Does tanking work? Is it a good string for management pull in hopes of unwinding a better future? Custance said,
"In some cases it works and I understand the appeal this year with Connor McDavid and Jack Eichel the prize. There's also an inherent risk that comes with tanking and that's building in a culture of losing into your organization. You can bring in all the young talent you want but if there isn't an established culture and veteran players teaching those players how to win, it won't work. I think it's harder to turn around a tailspin if there's an implied message that it's okay to lose for a year or two."
If a team is fighting a culture of losing, as have the Carolina Hurricanes for several season, tanking is not an idea that will turn that culture around.
In the end, we can agree that tanking does take place in the NHL. It goes on in the NBA, also. Some fans acknowledge it in hockey, but don't agree that it is a good thing:
Why should the bottom teams in the NHL be rewarded for tanking? Every non-playoff team should have an equal shot at getting the top pick.

— Benjamin (@peigolfer) March 7, 2015
This Leafs fan laments his team's inability to get the tanking done:
So the #Leafs obviously don't know what #Tanking means, especially against the worst team in the #NHL

— Andrew H (@AndrewH187) March 12, 2015
What do you think? Do you agree that teams tank in the NHL? If so, do you think it helps their long-term chances at rebuilding a winning franchise? I think Dan is being a bit sarcastic here, don't you?
Tanking is a great way to rebuild your team through the draft and really succeed in the #NHL. You know, like the #EdmontonOilers.

— Dan Bilicki (@danbilicki) March 2, 2015
Feel free to share your thoughts on tanking. Like me, you probably don't see professional athletes losing on purpose. But, management can set the table for losing in hopes of winning via the draft. It's a hot topic and one that most agree happens, but many disagree on its overall success.
Mark Shiver is a staff writer for The Hockey Writers  credentialed with the Carolina Hurricanes. You can follow him on Twitter @markshiver
Mark lives in the Raleigh, NC area and covers the Carolina Hurricanes.