The Boston Bruins still have no breathing room as they sit in eighth place in the Eastern Conference with just six games remaining, but they could have been out of playoff contention if two unsuspecting players hadn't stepped up their game over the past month and a half.
When David Krejci was sidelined with his second major injury of the season in late February, the Bruins were in a dreary situation. On the heels of a six game losing streak and once again without one of their top two centers, the Bruins had no choice but to call upon Ryan Spooner. The offensively-minded Spooner had never been coach Claude Julien's favorite player, but was given another shot after being sent down to Providence just five games into the season.
What has he done since then? He's filled in Krejci's shoes better than anyone would have imagined, putting up a line of 7-8-15 in 18 games since February 22nd. Perhaps this was just the opportunity Spooner needed, as the 2010 2nd round draft pick failed to solidify a spot on the roster over the past two seasons. Despite a strong preseason performance, Spooner disappeared once the season started, failing to register a point in five games- but that was as a depth forward. Once Gregory Campbell returned from injury, it was an easy decision to send Spooner down in favor of the two-way specialist.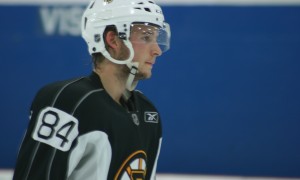 Now playing along a solid net-driving presence in Milan Lucic and the elusive 18-year-old David Pastrnak, Spooner has excelled. Other forward lines have been streaky, but the Spooner-led second line has been very consistent. If Spooner had failed to step up, we could have been talking about the next Jordan Caron- a high draft pick that could just never get things going in Boston. Luckily for GM Peter Chiarelli and the front office, they appeared to have gotten this draft pick right.
Speaking about successful Bruins draft picks, Pastrnak may just be the jackpot. After 24 teams failed to recognize the talented Czech, Chiarelli and co. swooped him up with the 25th pick, the same exact pick they used five years previously to take Caron. He quickly turned heads with his play during the summer and in training camp and, luckily for the Bruins, they elected to keep him with the organization rather than sending him to play junior hockey or back to Europe.
After a brief stint at the end of November, Pastrnak has excelled since his January call-up. With 24 points in 35 games in the 2015 calendar year, Pastrnak has emerged as one of the few bright spots in the Bruins disappointing season to date. The energy and excitement he exhibits on the ice is also fun to watch, as one can't help but grin while watching a smiling Pastrnak celebrate a goal.
David Pastrnak has 1 less goal & 3 more points than Tyler Seguin did as a rookie w/Bruins & he's done it in a half-season. That's impressive

— Joe Haggerty (@HackswithHaggs) March 30, 2015
Although the Carl Soderberg line has turned their play around as of late, Patrice Bergeron and Brad Marchand are having trouble playing with Krejci on their right. With no 5v5 goals coming from the top line, Spooner and Pastrnak must continue to produce on the second line as they did against Carolina on Sunday. If the team was playing their best, Sunday's game against the Hurricanes wouldn't have been too difficult, but just 37 seconds away from the dreaded shootout, Pastrnak buried a one-timer to lift the struggling B's and put them three points ahead of Ottawa.
If Krejci can't fit on the Bergeron line, Julien may have a difficult decision on his hands. Does he break up the Spooner line to put Krejci back in his normal role or does he move Krejci down to the third line? Hopefully, the Bruins can get all four lines in sync before the playoffs start- if they get there, that is.