Must be the NCAA hockey playoffs? Once again, we're hearing complaints about regional championships being played in half-empty arenas.
Watching some of the games on television this past weekend, there were a lot of fans posing as empty seats. After seeing more regional hockey games in half-empty arenas, I think it's time to move the regionals championships back on campus.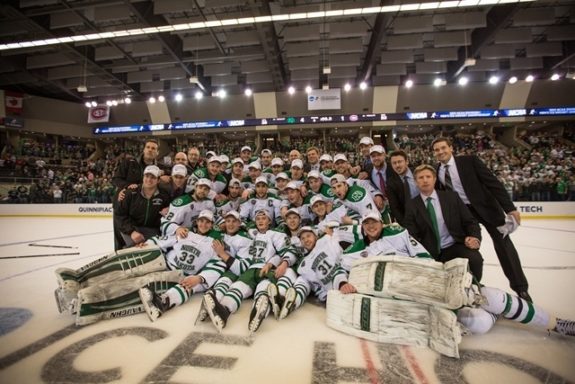 On-campus regionals would be a step back
Last week, we were told by the hockey pundits that if we moved the regional championships back on campus we would be taking a step back. Who wants to see a hockey game in a raucous arena packed full of people and energy? I do.
Last weekend, the University of North Dakota hosted the NCAA West Regional Championship 75 miles away from their campus at Scheels Arena in Fargo, ND.
While it wasn't a home game, it wasn't a "neutral" site either. The arena provided the fans with a great hockey environment that was hopping all weekend long.
The West Regional was sold out. The combined attendance for the weekend was 10,590. Scheels Arena seats 5000 for hockey games.  Some fans paid top dollar to attend the West Regional. I talked to one fan that paid $300.00 to attend last weekend's regional.
Empty arenas plague NCAA tourney again
In the Northeast Regional Championship, it was a different story. The University of Minnesota was playing their cross-state rival in a three-quarters empty arena that lacked atmosphere. Apparently, that isn't taking a step back? To me, that's a travesty. That was one of the attractive matchups of the weekend. The NCAA tournament should be the pinnacle of the college hockey season. Not a hockey game played in an empty arena.
David H. Hendrickson – "We talked about it a little bit," he said. "We were hoping that some of the fans would stick around and not leave early, but some wore brown seats. It happens."

The two rivals had kicked off the season at the Ice Breaker Tournament in an even more empty building in South Bend, Ind., and Minnesota had also endured a dead environment in the Big Ten tournament in Detroit.

"It is what is," Sandelin said. "It was still fun. Once we got going, we got the energy from our bench.

"We didn't need the crowd. Obviously, there wasn't any."
After reading and hearing about some others regional championships, I believe that I was fortunate to attend the West Regional in Fargo, ND. Make no mistake about it, Scheels arena favored UND because it was in the state of North Dakota. UND was the host team.  No matter who is hosting, a good team should be able to win in any environment. That's why I don't buy the argument that Miami was screwed by having to play fourth-seeded Providence College in Providence, Rhode Island.
Division I coaches differ on Regionals
If you were to ask the division I hockey coaches if they want the regionals back on campus, you would get many different answers.
Last season, UND head coach Dave Hakstol said that he would rather play in an opponent's  home arena instead of a quite neutral site with no atmosphere.
"The best regionals that I have been involved in, atmosphere wise, was here, in 2006, when we hosted," Hakstol said. "The regional in Minnesota, last year at the Xcel Energy Center in front of 10,000 people, we came up one game short. Great atmosphere to play in, spotlight event, the way the national tournament game should feel. Third one would have been at the Kohl Center, where the University of Wisconsin hosted.
"We had the good fortune of coming out of that regional. That was a tough game, there were about 15,000 people cheering against us and 1,000 of our fans with us, but that was atmosphere, and that's the stage that our national tournament should be played on.  We need to get back to one shape or form."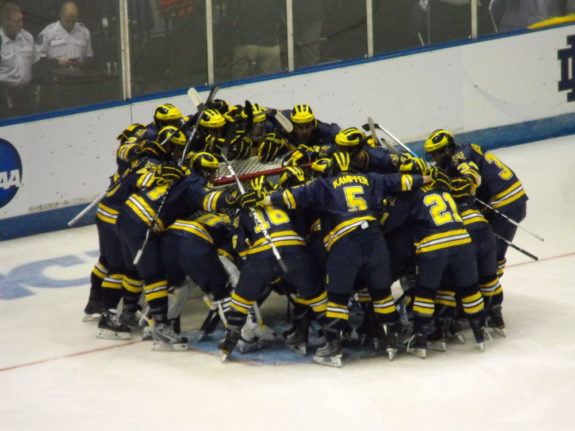 After losing in the first round to UND at the west regional, Quinnipiac head coach Rand Pecknold had this to say.
"Having been on the committee before, it is a battle to keep neutral sites and obviously this was not a neutral site," Pecknold said. "But hey, we were the 14 seed so you have to go on the road and take your lumps. So if we would have gotten a little bit higher up and had a better regular season we wouldn't have to come here and play. But I thought it was great.
You'll probably get an earful if you asked  Yale head coach Keith Allain if he would like to move the regional championships back to campus. This is what Allain told USCHO's Senior Writer Jim Connelly.
"I think it would be a terrible thing to move these games to campus sites," said Allain, whose school has hosted multiple regionals in Bridgeport, Conn., but has never come away from those as regional champion. "It's exciting to come to these venues that we don't get the chance to play in often.
"If you put it on a campus site, it's a tremendous advantage for the team that is hosting. They're in their own locker room, they've got their own fans. I think it takes away from the national feel of a national tournament. It becomes just a regular college hockey tournament. So I would be totally against it."
Of course Allain would be totally against it. Yale won the 2013 NCAA Midwest Regional at an empty Van Andel Arena in Grand Rapids, Michigan. A combined two-day total of 5,277 fans attended that Midwest Regional. Just for the record, Van Andel Arena holds 10,600 fans for hockey games. That means that the Van Andel Arena was half full. Again, I think it's a travesty.
Compare these attendance numbers to the West Regional in Fargo, ND, 5,000+ fans showed up every night to see the teams play.
In Manchester, NH, a total of 9,844 fans attended the Northeast Regional at Verizon Wireless Arena. That means the Verizon Wireless Arena which holds 9,852 fans, was half empty during the regional.
Finally, college hockey is a collegiate sport and should be played in on-campus arenas full of screaming students. Not half empty arenas that have no environment. What do you think?