Although the internet is a repository of information so large that even the 2% that isn't tied to pornography is massive, finding salient news and information about the Los Angeles Kings isn't always simple. Thus, in a Hockey Writers public service effort, the following is a quick summary of recent Kings-related links worth checking out, as well as random news, facts and figures. You're welcome.
News:
The Kings' playoff hopes take a hit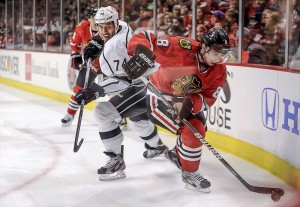 Ugly? Costly? The Kings' once-promising road trip turns both after being beaten down by the Chicago Blackhawks. (
L.A. Times
)
The percentage chances of Los Angeles making the playoffs. (Sports Club Stats).
Despite a very bad Monday on all fronts, the Kings amazingly still control their own playoff destiny. (Jewels From the Crown).
If they manage to make it into the dance, watch out. (Washington Post)
Kings player news and notes
Andrej Sekera suffers a lower-body injury. (L.A. Kings Insider)
Kyle Clifford utterly destroys Brandon Saad. (Kings Vision, via LetsGoKings.com).
Surly & Scribe utterly destroys Dustin Brown. (Surly & Scribe)
Despite being 15th in attendance at 18,268 per game, the Kings lead the league in percentage of seats sold. (ESPN)
The Kings are still kings of advanced stats. (Stats.HockeyAnalysis.com)
Miscellany: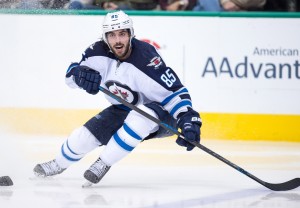 Los Angeles is just two points behind the Winnipeg Jets for the second wild card. The Kings would win the tie-breaker (Regulation + Overtime Wins) if their three-game ROW differential remains the same.
With the loss, the Kings are now three points out of third place in the Pacific Division. Los Angeles has a game in hand on the Flames.
After going 3-2 on their recent five-game road trip, L.A. comes home to play the Oilers and Avalanche, then embarks on a do-or-die swing through Vancouver, Edmonton and Calgary. Their final regular-season game of the year is against the San Jose Sharks on April 11th.
The Kings' record stands at 37-25-14 (88 points). As of this date last year, the Kings were 44-26-6 (94 points).
Historical note: on March 31, 1973, Juha "Whitey" Widing dished out two assists, setting a then-club record for points in a single season with 67. He ended the year with 16 goals and 54 assists.