The pattern is recurring, and the frustration level is off the charts.
As the Arizona Coyotes limp to the finish line, there is not much good they can find these days. While players and coaches tend to be careful and diplomatic in their response to the infamous "why" and "how" questions, one is speaking freely. In a way, defenseman Connor Murphy seems to challenge his teammates in this extrication process.
Candid and honest with his post-game remarks Monday night, Murphy said his team is not functioning on the level it needs to be competitive.
After dropping an embarrassing 4-1 decision to the lowly Buffalo Sabres before 13,612 in Gila River Arena, Murphy stood before cameras, microphones and notebooks, and took exception to his team's play.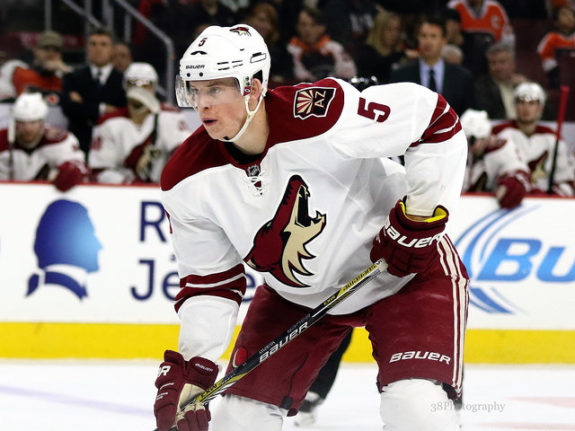 "We did not come to work" he said . "We did not win the battles to sustain an offense and, really, it comes down to doing the little things right and supporting each other. We didn't do that."
The heightened level of frustration, ever-present since Thanksgiving, appeared to magnify with each loss. The real level of hopelessness, Murphy pointed out, is when the team does not accept the sense of urgency.
"For me, the frustrating part is continuously talking about losing, and not wining," he said. "When you play teams on an somewhat an equal level as you, you're expected to be competitive. We lost too many battles (Monday night)."
The losses began piling up at an alarming rate several weeks ago, and continue unabated.
losing at home
In dropping the decision to Buffalo Monday night, the Coyotes have three wins in their last 23 games, and have not have won a contest at home in regulation time since defeating the Jets, 4-1 on Jan. 8. Their home record dropped to 10-24-5, and have only two home games left on the schedule.
"We have five games remaining, and we can't roll-over," said right wing David Moss. "It's our job to work hard and play like a pro."
By his own admission, coach Dave Tippett said the Arizona dressing room, right now, "is not peaches and cream."
Characterizing the spirit of his team is difficult, he pointed out,  because "it's a mixed bag."
"You have some players, fighting for jobs, some players trying to rise to the level of an NHL player and some very frustrated, like (captain Shane) Doan," he said. "We'll take the day off (Tuesday), have two days of practice and then see where we are."
Where this team is headed not difficult to handle.
Yet, a continuous pattern which seems disturbing.
The Coyotes' lone goal, Monday night, came from Murphy, as his shot from the right point seemed to get through traffic and in behind Anders Lindback, the Sabres' goalie just 1:17 into the game. From there, the Coyotes could not penetrate Lindback, who recorded only his second victory of the season in 11 appearances.
In recent home games, the Coyotes scored the first goal of the game early in the opening period, and then nothing for the remainder of the contest. Plus, scoring for Arizona seems to melt as quickly as an ice cream cone in the searing desert heat.
In their last 10 home games, Arizona scored 12 goals. after scoring once against the Sabres, the Coyotes have scored 161 goals in their 77 games to date, and only Buffalo has scores fewer goals.
Follow Mark Brown on Twitter, @journalist193
Mark Brown is a former sports editor for daily newspapers in the Philadelphia and Cincinnati markets. He was named Best Sports Columnist, honorable mention 2004 by the Associated Press Society of Ohio. He is a contributor to major daily newspapers, including the Chicago Sun Times, Philadelphia Inquirer, Honolulu Star-Bulletin, Milwaukee Journal, Arizona Republic, Nashville Tennessean and the Associated Press. He was a Featured Columnist for bleacherreport.com and covered the Arizona Coyotes.