With training camps set to open across the Western Hockey League next week, it's time to make sure you are plugged into the league. Whether you are a junior hockey fan, want to keep up with NHL Draft prospects, or have a favorite team, there are plenty of folks for you to follow on social media.
Here are 10 people you should be following.
Adding the league's official twitter account is worth your time. While you won't see too many wildly entertaining posts from the league directly, they will keep you up to date on any big news, nightly scores and other league updates.
#WHL Announces 2014-15 Regular Season Schedule http://t.co/xY7nvnbu9E
— The WHL (@TheWHL) June 25, 2014
We're not sure exactly who runs this Twitter account but it is chock full of interesting, useful and trivial facts about the WHL. Everything from players birthdays, player milestones and obscure facts. How do they find this stuff? It's probably magic, but we aren't complaining.  
2 – Random fact… @WHLsilvertips Goaltender Austin Lotz (@lotzy30) was just 2 days old when Derek Jeter made his MLB debut (May 29, 1995) — WHL Facts (@WHLFacts) July 16, 2014
The two hosts of The Pipeline Show will give you more than just WHL news. They'll keep you updated on all junior and NCAA news and prospects updates. They also recently completed their first ever awards, which fans can vote for the best team, coaches and even the best agitator.
Last year in @TheWHL there were only a handful of teams with numbers on the front of their helmets but all 22 clubs will in 2014-15.

— Guy Flaming (@TPS_Guy) July 26, 2014
Yahoo's junior hockey blog has a roster of writers that you should be following to get updates on the WHL, as well as the rest of junior hockey and NCAA hockey. Neate Sager is the captain but you should also be following Kelly Friesen and Scott Sepich for more WHL related tweets.  
I really feel for PA Raiders fans if Draisaitl and Morrissey don't return…. long year ahead. — Kelly Friesen (@KellyFriesen) August 14, 2014
Bartel is the radio play-by-play guy for the Kelowna Rockets. One of the best in the business he also have an informative season long blog and will keep you up to date on not only the Rockets, but the league as well. You might also get to live vicariously through him during his summer travels.
Can we all agree that officiating hockey isn't easy? We are awfully hard on WHL officials, but man, NHL officiating isn't rock solid either.

— Regan Bartel (@Reganrant) May 23, 2014
While every WHL team has an official Twitter account, the official account for the Seattle Thunderbirds may give you the most entertainment value. Seattle won the league's award for marketing this past season and their presence on social media is part of it. They will give you scores  but they will also interact with their fans and other teams.
Is Prince George coming to Prince George? That would be HUGE! RT @PGCougars: It's almost time! #NewIceAge http://t.co/t4Qg1Ih7mW — Seattle Thunderbirds (@SeattleTbirds) July 15, 2014
Neal is the host of WHL Central for Shaw TV and should be a familiar face to fans of the league. He's connected, will share any news that comes his way and keeps an eye on the league as a whole.
I see an Oil Kings' fan and Winterhawks' fan having a cordial conversation right now. Civil now, but maybe give it a couple hours.

— Andy Neal (@AndyNeal_Vic) May 13, 2014
Caldwell is the man behind the invaluable Small At Large blog. He will give you well-informed insight to the league and he puts together the best list of prospects and listed players for each team. If you're a WHL fan and not following him, you are missing out on the story.
Yesterday Moose Jaw said they were in no hurry to replace loss of Wedman with a new O/A. Today they trade for Yakubowski. Ok then. — Alan Caldwell (@smallatlarge) August 13, 2014
Mast is the Everett Silvertips team photographer and simply the best in the league. He has a passion for the game and loves to capture it in photographs. Whether you're a fan of the Silvertips or not, give him a follow and enjoy his work.
I get to shoot some cool stuff but hockey is my bread & butter. CANNOT wait to shoot hockey this week. Love the sound of skates on ice.

— Chris Mast (@MastImages) August 17, 2014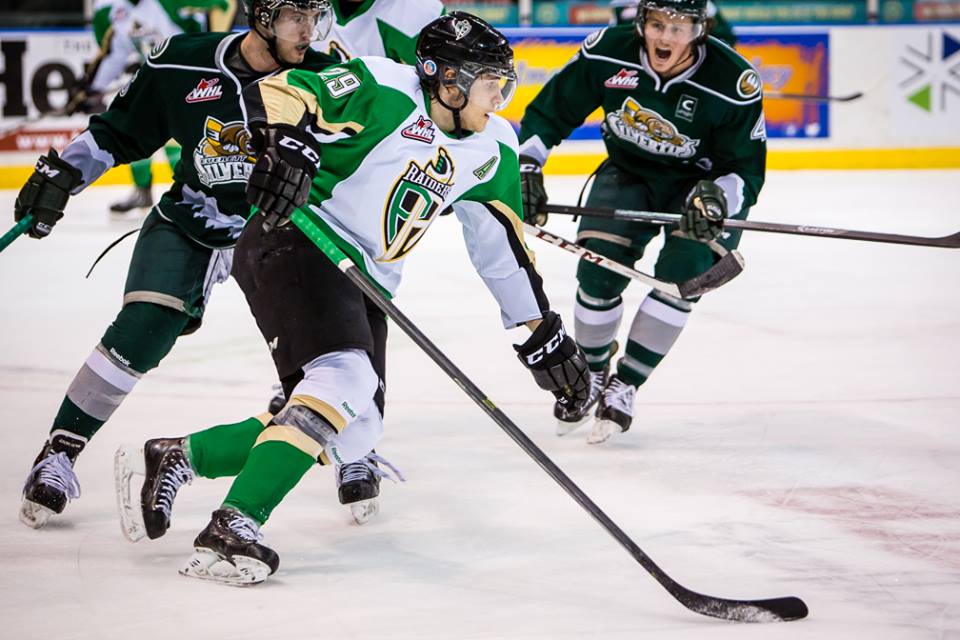 There are a lot of parody accounts in the hockey Twitter world and the WHL is starting to pick up its fair share. The best of them? Fake Mike Johnston. A parody of now former Portland Winterhawks coach Mike Johnston is the best and won't hesitate to tell you he's the best. Hopefully he will stay WHL focused even though his namesake has headed to the NHL.
Modeling for my statue today. Sculptor has a bunch of people in random WHL jerseys whose heads I'm standing on. And a dragon. #kissthering — Fake Mike Johnston (@FakeMikeJ) August 15, 2014
Herasymuik is the WHL scout for Future Considerations and finds himself in a lot of hockey rinks during the season. He has the scoop on WHL players who are draft eligible as well as prospects just entering the WHL. Give him a follow and learn about the next wave of players to come through the pipeline.
Tyler Soy is locked into the team for me. Versatile, fast, smart. Love the pop in his first couple steps. #U18 #WHL

— Zenon Herasymiuk (@ZenonHerasymiuk) August 5, 2014