When the Bruins traded a 2017 third round pick to Philadelphia for winger Zac Rinaldo, general manager Don Sweeney was already under heavy fire from the media and the fan base. He had just traded Dougie Hamilton and Milan Lucic, without bringing in any immediate replacements.
Cooler heads have now prevailed, as most people are now praising Sweeney for rapidly re-stocking the cupboards without drastically weakening the NHL team. Despite that change of opinion, the trade for Rinaldo still stands out as the most puzzling move of the summer.
The Bruins had announced their decision to part ways with fourth line staples, Gregory Campbell and Daniel Paille, hinting that an influx of youth and speed was in store. Youngsters like Brian Ferlin, Alexander Khokhlachev, and Seth Griffith looked poised to carve out a role in Boston.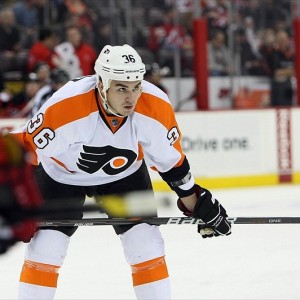 Competition
Based on his performance through four NHL seasons, Rinaldo will be limited to a fourth line role. As such, his real competition will be players that could fill a role on Boston's bottom line.
Earlier in the offseason, the Bruins signed Finnish center, Joonas Kemppainen, to a one-year, two-way deal. The 27-year-old will be given an opportunity to battle for the center spot on the fourth line.
Beyond Kemppainen, the team still has veterans Chris Kelly and Max Talbot under contract. For different reasons, Talbot and Kelly are near locks to make the opening night roster.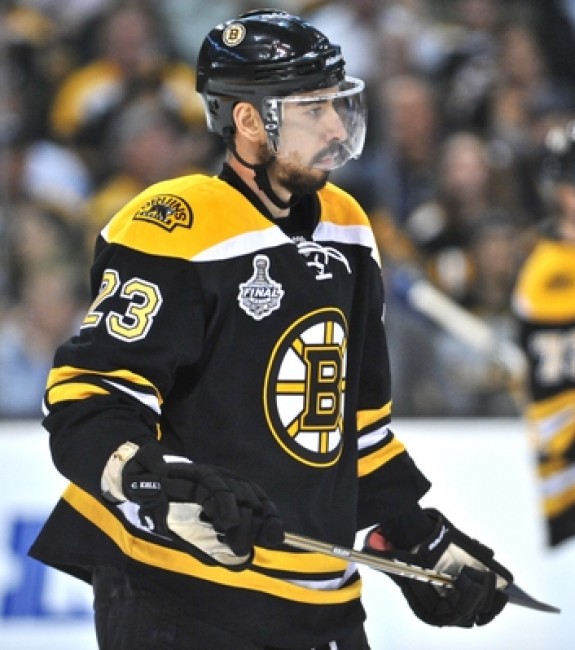 Kelly, an alternate captain, is entering the last year of his deal, which pays him $3 million for this season. The coaching staff and management value his leadership and versatility, as shown by their decision to hold onto Kelly, despite their need for cap space.
Talbot was acquired at the 2015 trade deadline, with Colorado retaining half of his salary. Between his veteran presence in the locker room, his physicality, and his bargain of a contract, it is hard to envision a scenario where he is a healthy scratch.
Kemppainen, Kelly, and Talbot are the early favorites for the fourth line. If the roster unfolds as such, Rinaldo will be the 13th forward (the healthy scratch).
Rinaldo's best opportunity to get on the ice would be if he can find a way to beat out Kemppainen. Fortunately for Rinaldo, Kelly and Talbot are both capable of playing center, so his lack of positional versatility will not completely foil his quest to win a fourth line spot.
On the flip side, if Rinaldo starts the season as the 13th forward, he runs the risk of being passed over by the younger guys in Providence. Players like Khokhlachev and Griffith offer a lot more in terms of skill, albeit at the cost of some physicality. They will be playing night in and night out in Providence, while Rinaldo will be accumulating rust on the ninth floor of the Garden.
There might be some pressure from management to incorporate Rinaldo into the team's plans, primarily because they spent a valuable asset (a third round pick) to acquire him. Although this might not flat out earn Rinaldo a spot, it does give him a better shot than Kemppainen out of the gates.
If Rinaldo ends up as a healthy scratch, it will be tough to make a case for this trade not being an overpayment. Can Rinaldo crack Boston's line up? Will he justify the lost third round pick? Let me know what you think in the comments below or on twitter.