If the New Jersey Devils have visions of retaining captain Zach Parise, a deep run into the late Spring would go a long way; it could also mean his price tag would continue to rise. Especially if the 27-year-old makes it to July 1 and becomes an unrestricted free agent — where big spenders such as the Detroit Red Wings, Toronto Maple Leafs, Montreal Canadiens and San Jose Sharks could be waiting with a 'Name Your Price' blank check.
But if the Devils get closer to a Stanley Cup than they have during Parise's seven-year career (past the second round), he could be convinced to stay in Red & Black for the foreseeable future to be a part of the team's core with the likes of Ilya Kovalchuk, Adam Henrique, Adam Larsson, David Clarkson and Travis Zajac. As they enter the postseason, New Jersey is the hottest team in the NHL, winners of their final six games. "I think we went through our little dry spell where the goals weren't coming, now the power play has been good, our PK has been there all season. We're comfortable and we like how we are playing," the team's captain said.
Remarkably, after missing the majority of last season with a knee injury, Parise played in every game this season, and in his first season as captain he consistently led by example with his hard work and determination. "I never really had a, you go through bumps and bruises throughout a season," he explained, "but I never really had a question as to whether I was going to play or not (this year)." Even more remarkable (for all you STAT guys) was that he was the only player in the NHL to record a shot on goal in every game. When we mentioned that to Parise after the season finale, he admitted he had no idea about his feat. "I didn't know that. Nice," he said with a huge grin before adding, "Too bad I didn't score (a goal) in all of them."
After the team faltered and missed the playoffs for the first time in 14 seasons, mainly due to his absence, they rebounded with a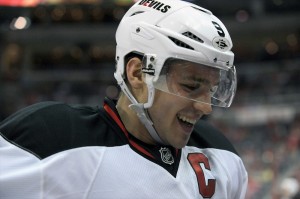 100-point season and Parise became just the second player in franchise history to reach 30-goals five times in a career. "It's good to be back (in the postseason)," he said. In 502 career games, he has tallied 410 points (194g-216a) which already ranks him ninth on the club's all-time scoring list. "It's never a good feeling, knowing that game 82 is going to be your last game," said Parise reflecting on the 2010-11 season. "We've been pretty spoiled around here to always make the postseason, so last year was a little bit of an eye-opener."
Hopefully for New Jersey,  a long run in the playoffs will convince Parise that he should stick around and that the team is on the verge of capturing their fourth Stanley Cup. During the season, management traded for two key players that have given the Devils depth up front (Alexei Ponikarovsky) and a right-handed shot/power play quarterback (Marek Zidlicky), perhaps trying to bolster the roster and show Parise a commitment to continue winning. "Ponikarovsky, he gives us size on our third line and they wear down the opposition's defense," he said. "He's done a really good job (since we acquired him). Zidlicky has done a really good job on our power play, he makes great first passes (out of our zone), flat passes. That goes a long way for (helping) forwards."
Parise also mentioned another in-season addition, kind of. "We got some good pickups; Travis was almost an acquisition during the season, we added him late (after his recovery from an Achilles injury). We like what we have here."
Devils fans are hoping that Parise likes what the team has for the rest of his career, because he is possibly the most talented player not named Martin Brodeur that has played in New Jersey.