The 2015-16 NHL season is almost upon us, which means it's time for hockey fans who love to travel to start planning a road trip. Maybe you want to follow your favorite hockey team on the road for a single game. Maybe you want to follow them through an entire multi-game road trip. Or maybe you just want to see as many games in as many different arenas as possible. Regardless of your motivation, these ten tips will help you pull off a great hockey road trip.
1. Set Your Goal
How many games do you want to see? How many different arenas do you want to visit? Will this be a vacation with a little hockey mixed in, or a hardcore hockey roadie? If it's the latter, don't bite off more than you can chew. My first multi-game hockey roadie featured five games, in four different arenas, in four days. That's not a typo: I kicked off the 2008-09 NHL season by going to five games in four days: Blackhawks at Rangers, Blackhawks at Capitals, Sabres at Islanders in a Columbus Day matinee tilt, followed by Devils at Rangers that evening and capped off by Flyers at Penguins the next day. The trip was an unforgettable blur of planes, trains, rental cars, pucks and arena food. I'm glad I did it, but I won't do it again. There's a reason the NHL doesn't schedule teams to play more than three games in four nights. Following the same rule yourself will make for a much more enjoyable trip.
2. Right-Size Your Traveling Group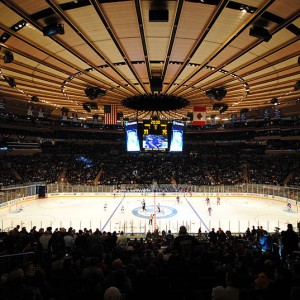 How many friends or relatives should you take on your hockey roadie? If you answered, "one or three," pat yourself on the back. Two or four total travelers is the ideal, for a couple of reasons. First, going with an even-numbered group will save you money on any game tickets you purchase on the resale market. Don't believe me? Hop on one of the many ticket resale sites and search for three seats together for a New York Rangers game, for example. Note the prices for a particular section, then search again for an even number of tickets in the same section. Ticket brokers don't like being stuck with a single ticket (which they'll probably have to discount to sell), so they charge a premium for odd-numbered blocks of seats. Second, a group larger than four will require additional hotel rooms, which adds significantly to travel costs.
3. Do All Your Research First
Before buying any tickets (plane, train or game) or making a single reservation, research every key aspect of your trip. Make sure all the tickets you'll need are available and priced to fit your budget. The same goes for hotels and rental cars. You don't want to buy tickets to, say, an Avs game, only to learn all hotels within twenty miles of Denver are full and rental cars are scarce because of a major convention in town that same weekend. Also, look into public transportation options whenever possible. In Dallas, a DART (light rail) ticket to and from the AAC costs $5, while arena parking can set you back $15-$25. The combination of savings and convenience can't be beat.
4. Save Money by Avoiding Holiday Weekends
Everyone knows three-day weekends are ideal for a mini-vacation. That's the problem: everyone knows, including the airlines and hotels, so airfare and rooms are priced accordingly. Burning an extra vacation day to take your trip on a non-holiday weekend can save you enough on airfare alone to pay for your game ticket.
5. The Right Time to Fly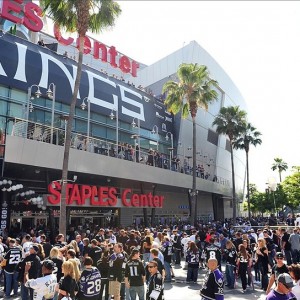 For the best deals on airfare, fly on Tuesday or Wednesday. If money is no object, fly out on Friday and return Sunday. If possible, plan to travel the day before the game; that way, flight delays won't ruin your trip. Another factor to consider is the impact of traveling across time zones. If you wake up at 4:00 a.m. in St. Louis to catch an early-morning flight to Los Angeles for a game that night and the puck drops at what feels like 9:30 p.m., well, you'll find that caffeine will only take you so far. If you're going to spend the money to take a trip, the cost of one extra night in a hotel will make the whole experience much more enjoyable.
6. Allow Extra Travel Time for Multi-City Trips
Often, critical information which is common knowledge to locals is a complete unknown to travelers. For example, we've all heard New York City traffic is bad, but you can't really appreciate just how bad it is until you rent a car at LaGuardia and attempt to drive across Manhattan (via the Midtown and Lincoln Tunnels) to get on I-95 and head to Washington for a game. You say to yourself, "It's Saturday at noon. It's a five-hour drive to D.C. How bad could it be?" Hours later, you find yourself listening to the first period of the Blackhawks-Caps game on the car radio as you hurtle through Delaware on I-95, too amazed at the speed of your four-cylinder Kia rental to worry about getting a ticket. Don't be that guy. Next time, take the train…an early one.
7. Weather is a Factor, Even for an Indoor Sport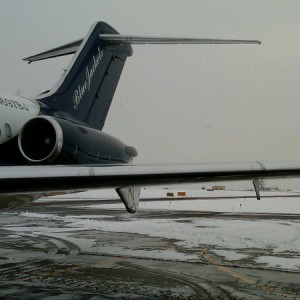 If you're taking a hockey roadie, there's a good chance you're going somewhere with snow on the ground. If you live in the Frozen North, it's no problem. If you're, say, a Dallas native following the Stars on a road trip to the New York area in January, some adjustments must be made. Check the weather prior to your trip and pack accordingly. If traveling from warm to cold climes, dress for your destination, not your current location. Also, if you're thinking about a mid-winter roadie to Chicago or Buffalo…ever heard the phrase, "lake-effect snow?" Re-think that trip.
8. Eat Well, Be Happy
You're going to several hockey games, so it makes sense to eat dinner at the arena each night, right? The question isn't how many hot dogs can you eat, it's how many hot dogs should you eat. Both your heart and your wallet will thank you for eating a pre-game meal away from the rink. Confine your in-arena intake to peanuts or popcorn and the beverage of your choice. Also, make it a point to eat regional specialties wherever you go: Tex-Mex or barbecue in Dallas, Cuban in Tampa, seafood in Boston, and so on. Your taste buds will thank you, too.
9. Allow for Tourist Time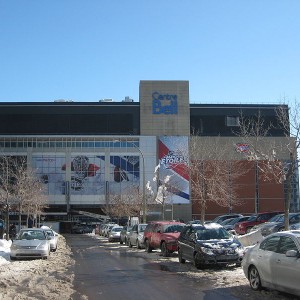 Hockey teams get days off and so should you. Budget time on your roadie to be a regular tourist. See the sights. If you've never been to Montreal, for example, you don't want to spend the money to get there, only to see the airport, your hotel and the inside of the Bell Centre. While that may be a normal trip for an NHL player, you're not a player. You paid out of your own pocket to get there, so get your money's worth.
10. Stay Classy
By all means, cheer passionately for your team on the road. After all, that's why you're there. It is possible, however, to support your team without becoming that obnoxious visiting fan everyone hates with the fire of a thousand suns. Don't pick fights when you're outnumbered; it didn't work out for Custer, and it won't work out for you. As the saying goes, be magnanimous in victory and gracious in defeat.
Matt blogged about all things hockey at On Goal Analysis/The OGA Blogs from 2008-2014 and has written several travel articles for The Dallas Morning News. He began covering the Dallas Stars and Florida Panthers for The Hockey Writers in August 2015. Matt is also writing a biography of "Tex" Rickard, the Texas cowboy who founded the New York Rangers and the Madison Square Garden Corporation.