Why would you trade Steven Stamkos?
Really. I'm asking this question because I want to know. There are rumblings to the effect that the Lightning may or may not have started to envision a future without their franchise player, and even more rumblings that the Lightning should trade Stamkos, so I am asking.
Why would you trade him?
Oh sure, there are reasons if you want to squint hard: the peak age of forwards, position, flexibility, etc. Ultimately, it comes down to this: you trade your best player before the end of his contract because you don't want to pay him.
You see, Stamkos is due a new contract on July 1, 2016; maybe you've heard? It's largely been expected that the superstar will stay where he began his career, but I'm willing to discuss the possibility of him changing teams because he hasn't signed his new contract yet. And, dixit Toronto Maple Leafs fans, as long as the native of Toronto hasn't put pen to paper, anything is possible.
Like such:
It's Kevin Garnett of the Boston Celtics, not the Leafs; this is basketball, not hockey, but the point remains. In the eyes of Leafs fans – and just about every other team, I guess – anything is possible.  
So, sure, it is possible: maybe the Lightning does decide to trade their superstar. Why would they? Yep, there's a logic to this madness. You trade Stamkos, because you're not convinced that the 25(!!!)-year-old deserves the contract he is seeking, last believed to be at about $12.5 million per year.
Because, see, forwards tend to peak at age 24 or 25 and Stamkos will turn 26 this season, so by that logic you don't want to be stuck with your captain at age 28, let alone 31 or 32. Or maybe you trade him because you value other members of the team and that bringing back Stamkos at a high price would cost you too much and that you would need to let go of, say, Alex Killorn (restricted free agent) or Braydon Coburn (unrestricted free agent). Or, in the best scenario yet, you trade Stamkos because he wants to play centre and you don't want him to play centre.
The Possible And The Plausible
So, sure, it's possible. You give up Stamkos and receive a top-six forward or two and a prospect or two; Stamkos goes to a team looking to take the final step for Stanley Cup contention despite the Lightning actually competing for Stanley Cups.
It's possible to trade Stamkos, but trading such a great player would be suffering from a myopia; it's looking at the trees and not seeing the forest.
Not to turn into a walking #hottaker here, but the name of the game remains to score goals. You win games by scoring more goals than your opponent; and, hey, look how prolific Tampa Bay's very own sniper has been at scoring goals. Since arriving in the NHL, Stamkos's tally of 60 goals in 2011-2012 is the highest in the league.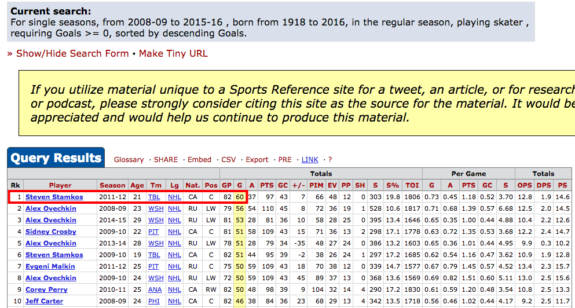 More importantly, his 276 goals since 2008 are second to only Alex Ovechkin's total of 312.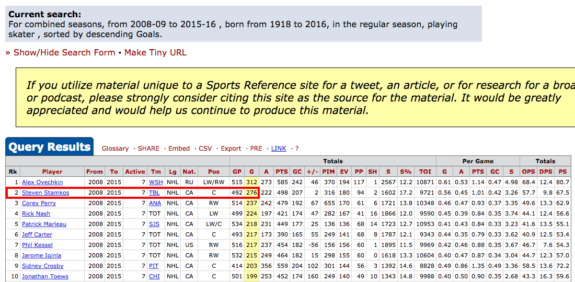 Maybe this is where those in the trade Stamkos camp say that there are more to playing hockey than scoring goals. Here's where I counter with a resounding yes, and advanced statistics are generally rather kind to Stamkos.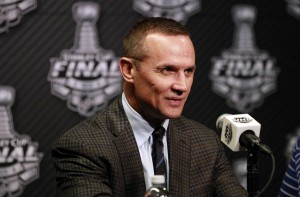 It's possible that you trade Stamkos, because you shouldn't pay someone for what he's done but for what he will do for you. Sure, and that holds for the likes of Sidney Crosby, Evgeni Malkin, Jonathan Toews, Niklas Backstrom, Patrick Kane; yet, their team isn't looking to trade them. Because maybe a forward has his best years at age 25, but most forwards still enjoy high highs as they age: Pavel Datsyuk had 97 points at 30, Crosby 104 at 26 and Ovechkin, 81 at 29.
If we're looking at what's plausible, however? Well, the plausible scenario here is that none of this happens: that the Lightning does not trade anyone, let alone Stamkos, because it doesn't have to right now at this moment. And that maybe, just maybe, Tampa Bay finishes what it couldn't a season ago against the Chicago Blackhawks. The team's captain certainly is ready.
https://www.youtube.com/watch?t=3&v=Lv2xsDTAckE
I write about the Tampa Bay Lightning on THW, because I like a good team that wins hockey games. (Duh.) I played hockey as a defenseman's defenseman (think: a poor man's Craig Rivet) for 12 years but I don't play, because I am not young anymore.
If you need me, I'm most likely eating poutine somewhere.