With recent reports coming out that the Lightning have shopped Steve Stamkos, it got me thinking about the pros and cons of actually trading him. I mean, he's one of the best players in the NHL, plays a premier position, the history of trading star players has not been kind to the teams trading them and he is still relatively young, so trading him would be crazy.  Or would it?
See the thing is, after reviewing the facts, I think the Lightning should trade him.
Why A Trade Is Logical 
We now know that while a player's prime runs into their early thirties, a player's peak year usually occurs when he is roughly 24 or 25. Stamkos will turn 26 this season and is now three full season removed from his 60 goal, 97 point 2011-12 campaign. No one is saying he is in decline (he is obviously still an elite player) but his age, combined with a general trend to give star players less ice time, makes it unlikely he will ever hit those numbers again.
Now, just because he doesn't score 60 goals doesn't mean he isn't a useful player. It does, however have to be considered in conjunction with his need for a new contract which will most likely see him top Jonathan Toews' $10.5 cap-hit and become the league's highest paid player. The Lightning should have extended him a few years ago when doing so may have given them the chance to get good value on his contract, but that ship has sailed and so I think they should make a trade.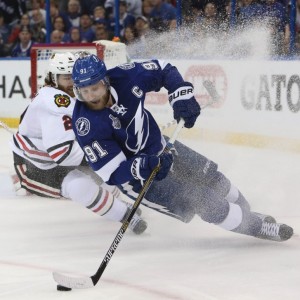 When you consider what Stamkos can bring you in a trade, and what you can do with the $10 + million dollar cap-hit, trading him starts to seem like a more palatable idea. The Lightning are in a position where they can sell other teams on his prime years, and recoup more value from a package of picks and players then they would from paying Stamkos as the league's top player.  Because they are a team in a "win now" position, but happen to be filled with young talent (instead of the veteran lineup most teams in the same position have) a Stamkos trade would allow them to keep the rest of their lineup in tact, while adding younger pieces that could extend their competitiveness window.
The alternative is signing him to a deal that will eat such a large portion of the cap that it will necessitate moving other players to accommodate it. There is also the risk that this forces the  Lighting to rebuild in four years with a 30 year old Stamkos possibly declined to the point where his $11-ish million dollar cap hit isn't worth what he's bringing to the table. Think of it this way: They likely have to choose between Hedman and Stamkos at some point, because signing them both will necessitate getting rid of way too many other players. If that turns out to be the case, then trading Stamkos becomes even more of an obvious move: they can replace him with Drouin and Johnson, but have no one to replace Hedman.
I think ultimately, it is better to trade one expensive player for multiple cheaper pieces when doing so will also allow you to retain multiple pieces that you already have. Especailly when you are trading a  player who's likely had his best year for younger players who haven't. Signing Stamkos to a monster contract might help the Lighting short-term, but the obvious value-play is to trade him for a more controllable player (or package) who's value is increasing and not decreasing.
Do It Now
In my opinion, they should make the move sooner than later, because right now, the team trading for him get's a full year of his services and the closer they move to the deadline, the less value Tampa will get back for him in a trade. Obviously, the ultimate solution, if trading him, would be to work out a sign-and-trade scenario, although in hockey those seem to be rare.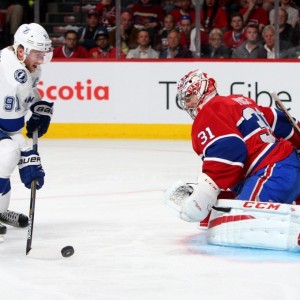 As for where he might get traded to, I know that if I was Yzerman and I was making this trade, I'd be looking for a young centre in return: Max Reinhart and Dylan Strome immediately come to mind.  As for the ultimate fantasy scenario, Stamkos going to the Maple Leafs, I don't think it's a very good idea for them for much the same reasons as I think the Lightning should trade him. Read it here if you want to.
Thanks for reading.
Covering the Leafs for the Hockey Writers.