Steve Stamkos was born in just outside of Toronto and so with his pending unrestricted free-agency, many have indulged in the fantasy of him coming home to play for the Leafs. The thinking, as outlined recently by The Hockey Writers' Jeff Langridge, is that with a rash of recent short-term deals, the Leafs could be preparing to take a run at Stamkos next summer when they will presumably have a lot of cap-space, thus giving the Leafs the long-awaited and near-mythical "number-one centre" that they have long sought.
Now, there is nothing wrong with a little healthy speculation, but I am sorry to say: It ain't happening. Ever.
The Lightning are just not going to allow a player as integral to their team as Steve Stamkos is to ever walk away for nothing in free-agency. But, let us imagine that they did.  Would the Leafs sign him?
I am going to say no, he's not worth it.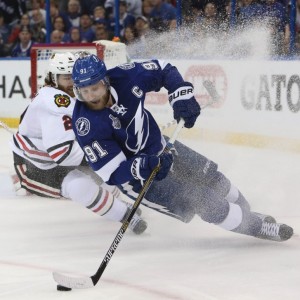 Why the Leafs Should Not Sign Stamkos:
For the purposes of this exercise, let us assume Stamkos will sign an eight-year contract larger than Kane and Toews, so around $12 million per year. The number-one reason you don't sign him is that he is too old.
I know, I know, he's only 25 and won't turn 26 until next February. We all "know" that players hit their prime around 27, but I don't think we really every think about what that means. "Prime" is a general catch-all term that indicates a period of time when the player will be in and around his best. The thing is, a player's prime could be several years long. If you instead focus on the year when players "peak," you can, I believe, get a better idea of how they will perform.  It is a fact that the average age for players to have their most productive season is age 24.
According to this study – which sites several other studies and adds to them- player performance, in terms of points-per-minute, peaks at 24.
In the case of Stamkos, he scored 60 goals the season he turned 22. In the 2013-14 season – the season in which he turned 24 – he scored at a 67 goal pace before he was injured. While there is no accounting for the luck which could have prevented him scoring more, he did drop by 20 despite playing in every game this past year.
It is also concerning that he was moved out of position, had his ice-time cut, and performed secondary to Tyler Johnson in the Playoffs. I don't want to make too much out of this though because there are many reasons it could have happened (luck, easier match-ups, coaching preference, injury, etc.). Stamkos is an excellent player, and I am not arguing that this decline is permanent, that it will increase or continue, or even that it wasn't just luck. I am just pointing out that it is statistically likely that he has already had his best offensive year in the NHL.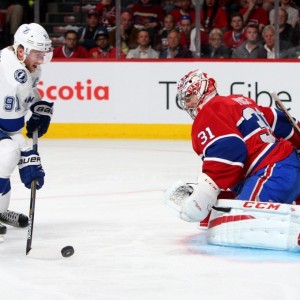 He is still likely to continue to put up big numbers for several more years, but it is unreasonable to lock up a player to what I am assuming would be the biggest contract in NHL history, when his best years are likely behind him.
Opportunity Cost
Another reason for the Leafs to avoid signing Stamkos is the opportunity cost. By signing Stamkos to a $12 million dollar deal, the salary-cap would have to be $120 for it to be "just" 10% of their cap. The current salary cap is $71.4 million.  So, if they sign Stamkos, they are looking at paying maximum dollar for a player who has already likely peaked, and who will cost them the ability to sign players they themselves developed, as well as the ability/flexibility to add to the team when it gets close to trying to win a Cup.
Considering the Leafs have been, and are likely to continue to draft near the top of the draft for several more seasons, it is highly likely that, under this scenario, they would eventually be forced to get rid of a player who is better at that time than a 29-30 years old Stamkos. For this to happen, keep in mind, they don't need to draft a player who is as good as Stamkos in his best year, just a player who's best year is better than Stamkos five years removed from  his likely peak.
If this was just some random UFA and you were trying to add to a team that was already close, it might make sense. For some team out there, maybe a shorter but higher contract is a smart move. But if you are signing this player to be the lynchpin of your team, as the Leafs would be, you definitely need his best years in exchange for the lack of cap flexibility you'll have going forward. It makes no sense to sign a player to build around whose very signing prevents you from building. Especially so because for every year the Leafs have him, he will be worse and the best years he likely has left would be wasted as the team is being rebuilt.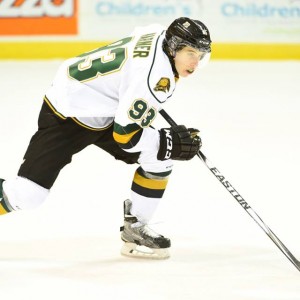 While it might be difficult to draft and develop a player of Stamkos' quality, drafting one who is say 75% of him is probably not that hard. When you consider that you can then pay said player 90% less than Stamkos on an ECL and 60-70% less on a bridge-deal, all while getting his peak years (as opposed to Stamkos post-peak years) AND still sign other players, it shows that getting good value on signing the best and most expensive ever UFA is not likely.
The fact is, with Stamkos almost sure to decline from his near 70 goal pace of the 2013-14 season during every year of the deal – which is still a full season from now –  it makes more sense to keep the cap-space free to  use on players the team has drafted and developed themselves, while maintaining the flexibility to add smaller pieces down the line.
You Don't Rebuild With UFAs
Consider also, that even if the Leafs' rebuild is going great by next summer, and even with the addition of a fictional Stamkos who still scores at a 70 goal pace, the team wouldn't be good enough to be competitive for a championship.  (The Lightning have Johnson, Hedman, Stralman and Bishop, and they still didn't win the Cup, so the Leafs, with Stamkos, would need a heck of a lot more than what they have). What we are talking about is a situation where, at best, the Leafs, with Stamkos, are in a position to compete when he is turning 29.
This means that when the Leafs are ready to compete, they would likely have a player making around 15% of their cap who is no longer the player they hoped for when they signed. No doubt he'll still be a great player, but at the cost of signing Marner or Nylander to an extension, the Leafs might end up stuck with a decent player on a massive contract, which sounds somewhat familiar.
A Final Reason and a Conclusion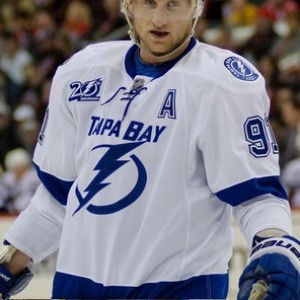 Another reason not to sign Stamkos is that while offense is flashy and costs money, a two-way game is not only better for winning, but it costs less too. Stamkos may put up the points, but you could argue that Anze Kopitar helps you win more games because while scoring close to Stamkos point-totals, he also provides elite defense. Not that he is likely to make free-agency himself, but he'd cost less and provide better value on his contract than Stamkos.
I am not saying the Leafs should sign Kopitar either, they clearly shouldn't. But one of the best ways to build a team that is annually competitive is to make smart decisions, and allocating your money where it gets the most value – defense and players you already have – is much smarter than spending big for the flashy offense.
In the end, the reasons to not offer a big free-agent contract to Steve Stamkos are many. The fantasy of signing one of the best players in the NHL to come play for his hometown team is compelling, but from a risk/reward standpoint, it is almost a comically bad idea.
Stamkos is a great player, but signing him is Classic Leafs: instead of taking the time to be properly bad for several years and develop their own approximation to Stamkos, they would instead take a short-cut and sign a player who will only further prevent that development. It would be a mistake.
Clearly the Leafs haven't had any luck with spending their way to a Stanley Cup, and there is no reason to expect that by signing Stamkos they would change that. In the end, even were Stamkos available and willing to come to the Leafs, even if they had the cap-space, it would be a bad decision.
Sorry, but Steven Stamkos will likely never be a Maple Leaf.