As long as Steven Stamkos remains without a contract extension with the Tampa Lightning, you can bet the speculation that he will be leaving when his current contract ends on July 1, 2016 will grow. If that's the case, could the Toronto Maple Leafs be putting themselves in a position to outbid everyone if he were to become an unrestricted free agent?
Now, what's likely to happen is that the Lightning will get Stamkos signed before the 2015-16 season begins. However, with the moves the Maple Leafs have making since free agency began, you can't doubt that the possibility that they are making sure they're ready in the event that Stamkos doesn't re-sign with Tampa.
Most of the players the Leafs have acquired in the past week have only one-year deals. Here are the Maple Leafs that will be unrestricted on July 1, 2016:
Shawn Matthias
Nick Spaling
P.A. Parenteau
Marc Arcobello
Roman Polak
TJ Brennan
James Reimer
The restricted free agent list is as follows:
Nazem Kadri
Richard Panik
Casey Bailey
Peter Holland
Morgan Rielly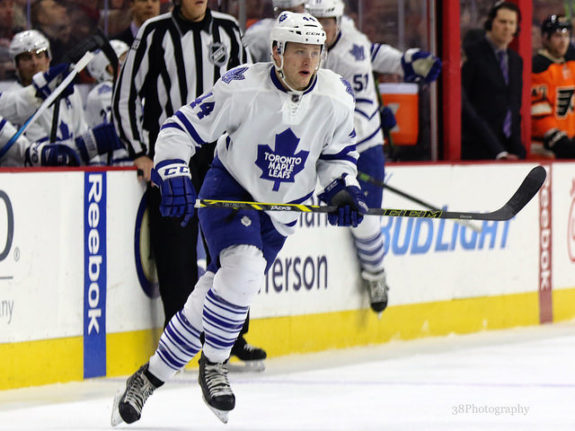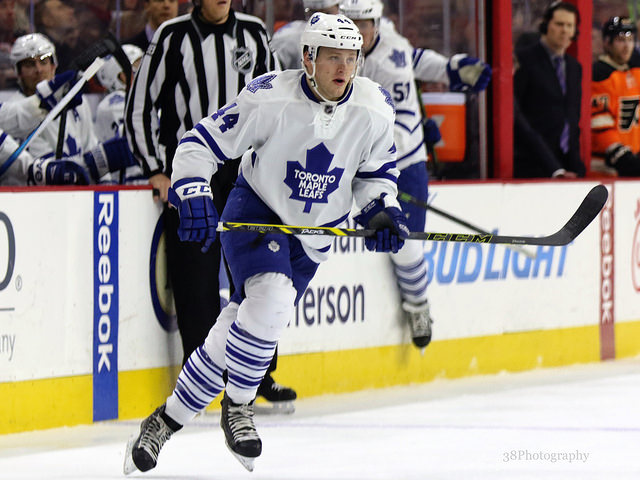 With those cap hits off the books, the Leafs have $41,9833,333 in cap space available next off-season and that is based off of this year's cap, with the possibility it could go up.
Of course, the Leafs still have two restricted free agents this off-season with Jonathan Bernier and Martin Marincin. Signing them would just make a dent in that available cap space. When it comes to next year's free agents, who other than Reilly and possibly Kadri would be getting a lot of money and term? Most of them will even be trade bait at the deadline and at least a few of them will be dealt for draft picks or prospects.
The highest cap hits in the NHL currently belong to Jonathan Toews and Patrick Kane, who each take up $10.5 million of the Chicago Blackhawks salary cap room. The Leafs would definitely be able to match that. They could also afford to go up to $11 million, or maybe even $12 million. On a seven-year deal, the Leafs wouldn't have to worry about players like William Nylander, Mitch Marner and Kasperi Kapanen and their cap hits until the second half of the deal at the earliest.
This is the luxury the Leafs have created for themselves with all the cap room they will have available. However, it will still probably be for naught.
The Lightning's Perspective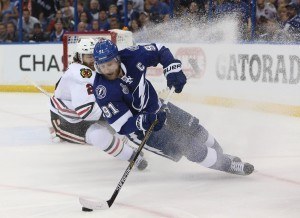 Now, when it comes to Stamkos and the Lightning, people will mention that he was playing out of position and he wasn't getting as much ice-time as he should have. Could that make him want to leave? It's doubtful. Although, and this is far from likely, maybe he sees Toronto with a lot of cap space and at least thinks about the possibility of playing there.
Another thing has to be considered with the Lightning's cap situation. They have under a million dollars in cap space available for this season and they still have to re-sign Vladislav Namestnikov. Stamkos is also not the only player in Tampa that will be a free agent next year. Braydon Coburn and Mattias Ohlund will be UFA's. Ohlund definitely won't be brought back so they don't have to worry about him. RFAs pose more of a problem. Alex Killorn, J.T. Brown, Nikita Kucherov and Cedric Paquette will all be restricted on July 1. The Lightning will have to make some sacrifices if they re-sign Stamkos. Will those sacrifices knock them down a few notches in terms of playoff success?
When it all comes down to it though, teams don't just let players like Stamkos leave if they have anything to do with it.
Not Many Other Options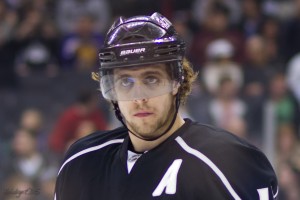 Taking a look at next year's free agent class, Stamkos would obviously be at the top of everyone's wish list should he be available. There are other big names that are also set to be UFA's next year. However, many of them really don't fit into any play that I could see Brendan Shanahan coming up with. The Leafs are rebuilding. They're only going to make a big move if the player they're signing will still be useful when when the Leafs are ready to contend again.
Most of the big names available are on the wrong side of 30 when it comes to the Leafs. They're are only two, maybe three players that would fit the bill. Those would be Stamkos, Anze Kopitar, and Jakub Voracek. Both Kopitar and Voracek are in the same boat as Stamkos as they will more than likely not reach free agency.
So what do the Leafs do? They're going to have a lot of money to spend next off-season. One can only hope there is something worth spending it on.
They might say that there is no chance that Stamkos is coming to Toronto. Maybe, but they did say the same thing about Mike Babock. That seemed to work out, didn't it?