In the third part of this Leafs-Lunch-inspired discussion, some of The Hockey Writers staff discuss which left wingers would find themselves in a six-team NHL. The discussion started on an afternoon broadcast of Leafs Lunch on TSN Radio where the question was posed – who would make it and who would be on the outside looking in?
The past two parts, we've drafted both the centre and right wing positions. With 24 spots open at the left wing position – four for each of the six teams – it's interesting to note that a number of players that might be considered deserving didn't actually make the cut.
Some of the decisions will shock and frustrate some readers, but with a league downsized and focused on the skilled players, not every player can make the cut. Those left off the list does not reflect their ability or skill – it's simply impossible to draft every player in such a tight league.
How This Works
In a league made up of six teams, let's assume that each club holds the same available roster spots – each with 12 forward spots (four centres, four right wingers and four left wingers), six defensemen and two goalies.
With that in mind, a group of six writers sat down to draft each position. Rick Cole, Anthony Pucik, Kyle Morton, Sean Olinkin and Kirk Vance joined me to draft this hypothetical league one position at a time – making tough decisions about who's in and who's out along the way.
Each writer has their own perspective and drafted based on their personal stance. While some of the players chosen may play multiple or different positions at this point, to create order in the selection process, we've based players off their listed positions according to NHL.com.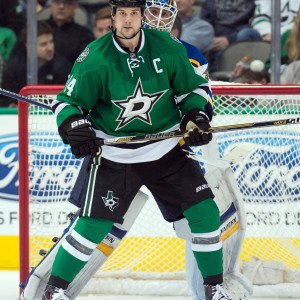 While some players may be seen as deserving and won't make the cut, they could still appear in an AHL or ECHL-type role looking to make their move up to this six-team league at another time. With all of that in mind, here's how these six writers drafted the left wing position for a six-team NHL.
1. Alex Ovechkin (Kyle Morton)
The Russian is clearly the best winger in the world. His game-breaking ability is unparalleled in the game of hockey. From his shot to his speed and on to his physicality, Ovechkin has all the tools in the shed to excel in a six-team league.
2. Jamie Benn (Sean Olinkin)
Benn is a player who averages over a point per game. He can fill any role and plays good, hard-nosed hockey. He brings leadership and toughness and would be a no-doubter in a six-team NHL.
3. Rick Nash (Kirk Vance)
Nash is a pure goal scorer. After a down year last season, he returned to the Rick Nash of old – scoring 42 goals and serving as the driving force for the Rangers offence. Having just turned 31, Nash should have a number of elite seasons ahead of him and was an easy pick for this six-team league.
4. Max Pacioretty (Andrew Forbes)
Pacioretty has grown into one of the top left wingers in the game today. He's now put together three 60-points seasons, including a career high 67 in 2014-15 and has reached the 30-goal plateau all three of those seasons. Just 26 years old, he has a lot of hockey left to play and would certainly play a big role in a six-team league.
5. Nick Foligno (Rick Cole)
Foligno plays the game the right way and in a six-team league where the intensity level will be at its highests, he's the type of winger that will thrive offensively.
6. Henrik Zetterberg (Anthony Pucik)
He might play centre from time to time, but he's incredibly talented no matter where he's lined up positionally. A great goal scorer and fantastic passer, Zetterberg is also a force on Detroit's powerplay and would prosper on any of these six teams as a top six winger.
7. Zach Parise (Kyle Morton)
Parise excels in all aspects of the sports. His skill and compete levels are both off the charts. He brings veteran experience with a youthful energy to any team he plays with. He's the ideal second line winger in a six-team league.
https://twitter.com/SteveBurtch/status/295212291501199361
8. Alexander Steen (Sean Olinkin)
A guy just coming into his prime years should be able to raise production on what basically amounts to an all-star team. He had 64 points last season in only 74 games and played 20 minutes per night. He's a guy who has shown improvement in every season he has played and still has time to improve before he gets too old.
9. Gabriel Landeskog (Kirk Vance)
Landeskog is still just 22 years old, but he has already captained the Avalanche for three seasons. One of the best two-way power forwards in the league, he has put up 20-plus goals three times in four seasons – with the lockout year being the one exception. In addition to his top notch skill, he has the compete level and determination that every team desires. Landeskog is a young leader that a franchise can be built around.
10. Brandon Saad (Andrew Forbes)
A hit during his time in Chicago, Saad had an even bigger coming out party in the Blackhawks 2015 Cup run. He hit a career high with 52 points in 2015 and has a lot to look forward to in his new home in Columbus where he will certainly be looking for a top-six spot next season. In a six-team league, he's young (22) and versatile and has a net-front approach in the offensive end.
11. Andrew Ladd (Rick Cole)
Ladd is a leader and plays an all-around game. Having studied the six-team NHL years in such depth, Ladd is the type of guy that would have excelled during those years. And, at 29, he'll be around for a while.
12. Johnny Gaudreau (Anthony Pucik)
In 80 games this season Johnny Hockey scored 24 goals and 64 points while being essential to the Calgary Flames' success. Only 21 years old, Gaudreau has shown that he can be a top scorer in this league with a few seasons under his belt.
13. Taylor Hall (Kyle Morton)
Hall had a very strong case as the best left winger in the world during Ovechkin's stint as a right winger and before Jamie Benn's breakout. Hall is only 23 years old and he's been well over a point per game twice in his young career. He's shown flashes of leadership and he has elite tools with his speed and shot. If he can develop the ability to stay healthy he has a real chance of being an elite player, even in a hypothetical six-team league.
14. Jonathan Huberdeau (Sean Olinkin)
Huberdeau took a couple years to come into his own in the NHL but appears to have found his place in Florida. He is becoming an elite scorer and that's playing on a non-playoff team. In this format I think Huberdeau can be a world-class scorer.
15. Thomas Vanek (Kirk Vance)
The 31-year-old left winger had a down year this past season, but he still put up 21 goals and 31 assists. He is a natural scorer and has been one of the best powerplay threats in the league throughout his career. He has plenty left in the tank and would be an asset to any team in this six-team league.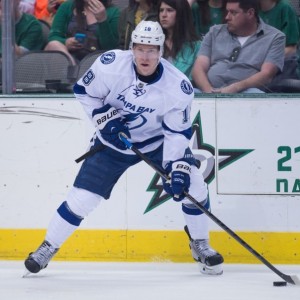 16. Ondrej Palat (Andrew Forbes)
While Tyler Johnson and Nikita Kucherov are only two thirds of Tampa's Triplet Line, Ondrej Palat is the third piece with possibly the best all-around game. In his second full season in the NHL, Palat saw an increase in his offensive production. While plus-minus is sometimes overlooked in the days of advanced statistics, a career plus-68 in 170 regular season games is definitely something that should be considered. Add him to the list of players that would have a big role in a six-team league.
17. James van Riemsdyk (Rick Cole)
He's more of a pure offensive player, but JVR has size and can skate. Those kinds of skills will fit him into a role with a team in a six-club league.
18. Mike Hoffman (Anthony Pucik)
The Ottawa Senators reaped the benefits of having fantastic, young players this season – Hoffman being one of them. He had 27 goals in just his first season with the Sens and only allotted 14 penalty minutes. With tremendous upside, Hoffman is already a proven goal scorer and can only improve from here.
19. Jeff Skinner (Kyle Morton)
The 23-year-old often goes unnoticed due to struggles with injuries over the years, but he quietly put together two 30-goal seasons before his 23rd birthday. He's one of the best pure goal scorers in the world – both at even strength and on the powerplay. He still has plenty of room to grow as an all-around player, as well as the youth necessary to accomplish such a task. The goal production, youth, and upside Skinner possesses make him a tough player to pass up on.
20. Chris Kreider (Sean Olinkin)
He's becoming one of the leagues premier power forwards. At six-foot-three and upwards of 220 pounds, he handed out 162 punishing hits last season. There aren't many that play this kind of game. He was a plus-24 last season so he also plays a smart and reliable defensive game. Perfect third liner in a league like this.
21. Jaden Schwartz (Kirk Vance)
Schwartz just turned 23 and already has two 25-plus goal seasons on his resume. He is a max-effort player that impacts the game at both end of the ice. Eve at such a young age, he is a valued presence in the locker room and on the ice – making the players around him better. Beyond his offensive skills, he plays a tough brand of hockey that will surely be valued in such a shallow league. Schwartz has shown continued improvement over his first three seasons in the NHL and should only get better from here.
22. Daniel Sedin (Andrew Forbes)
While he is older, his skill set is hard to ignore. He has the ability to see the ice like only a top end player can. His instincts in the offensive zone would be beneficial to any team especially in a six-team league where scoring can only accent a team's success.
23. Patrick Marleau (Rick Cole)
He's a player that offers his team a little veteran guidance and still has a lot left in the tank. In a six-team league with a high talent quotient, he'll do well with reduced ice time.
24. Marcus Johansson (Anthony Pucik)
He scored 20 goals with the Capitals last season and also chipped in 27 assists. On a team with Ovechkin and Backstrom at the forefront, Johansson is a vital piece to the team's depth – perfect for a six-team league.
Among the left wingers that didn't make the cut are Patrick Sharp, Scott Hartnell, Tomas Tatar and Jonathan Drouin. However, this doesn't mean these players (and other not chosen) are unworthy of playing in a six-team NHL.
Instead, it's simply a compliment to the talent that exists in the game today. It's not an easy task cutting the league down to six teams. While there is questions surrounding the saturation of the current NHL, dropping down to six clubs simply wouldn't cut it.
For more, follow Andrew on Twitter at @AndrewGForbes or his THW column at @Tape2TapeTHW.
More from the 'Six-Team' Series:
Part 1: Which Centres Make the cut in a 6-Team NHL?
Part 2: Which Right Wingers Make the Cut in a 6-Team NHL?