We've all considered the talent pool of the current NHL. Some people don't mind the existence of the typical third and fourth liners, while others can only imagine the quality of play that would exist if the NHL downsized.
Earlier this week, as an avid listener of hockey radio, I was tuned into Leafs Lunch on TSN when hosts Bryan Hayes, Jeff O'Neill and Jamie McLennan brought up the idea of a six-team league again. No, they weren't suggesting that it happens. Rather they questioned which players would stick and which players would be on the bubble – a discussion sparked by simple curiosity.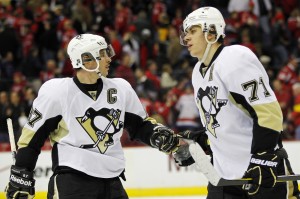 They questioned players like Wayne Simmonds and James van Riemsdyk – talking about where these types of players would be on the pecking order if there were only six teams. So I decided to take this discussion a step further.
How This Works
Let's assume that all six teams maintained the same positional lineups – four centres, four right wingers, four left wingers, six defensemen and two goalies. Players are eligible for the positions that they are categorized into by the NHL.
On a positional basis, the league would include 24 centres, 24 right wingers, 24 left wingers, 36 defensemen and 12 goaltenders. Now, I'm not going to sit here and debate where these teams would be situated, but will focus on the players that would likely remain NHLers position by position.
Along with five THW colleagues, we sat down and drafted each position to gain different perspective into who the top players at each spot would be. Rick Cole, Anthony Pucik, Kyle Morton, Sean Olinkin and Kirk Vance all took time to meticulously pick through the league in an effort to find out which players would be on the bubble in a six-team league.
Some players might be excluded because of their age (either pushed out of the league because they are older or simply bumped to an AHL-type position awaiting their turn). With that in mind, here's a look at the player pool that was put together with these stipulations in mind.
1. Sidney Crosby (Andrew Forbes)
Crosby's skill level speaks for itself. He has the ability to see the game better than most players and can play at all ends of the ice. At 27, he has a lot of hockey left to play and he's proven himself as a strong leader on and off the ice throughout his career.
2. John Tavares (Rick Cole)
Tavares is the complete package – he is young, and yet has leadership skills that belie his years.  He has a wonderful scoring touch, his analytics put him at or near the top in all of the most important categories.  If I am starting a team, he's my guy.
3. Steven Stamkos (Anthony Pucik)
At 25, Stamkos plays with the poise of a 30-year-old. He is a pure scoring centre that is a major threat on the power play. A proven 40, even 50, goal scorer in a full season, Stamkos would be the centre you would want on your first line for years to come.
4. Claude Giroux (Kyle Morton)
Giroux's one of the most versatile players in the world. He's excellent on the powerplay, above average on the penalty kill, and elite at even strength. He has no real weaknesses. There were some other players considered, but those who were better than Giroux offensively are rather weak defensively, and those who are elite defensively come in behind Giroux by 10-15 points over a full season offensively. This makes Giroux a rather easy choice.
5. Jonathan Toews (Sean Olinkin)
Toews is the third youngest captain of all time and has won at every level of hockey. He's got three Stanley Cups, two Olympic Gold Medals and a World Junior Championship, and has been named the top player in each of those tournaments. He has numerous individual awards including the Conn Smythe (the second youngest player to win that award) and a Frank J. Selke trophy proving he can also do it on the defensive end. He's one of the most complete and decorated players in the NHL today.
6. Evgeni Malkin (Kirk Vance)
Malkin is one of the most talented players in the NHL, producing more than a point-per-game in both the playoffs and the regular season over his career. His size and strength complement his superb skill set, making him one of the most feared offensive talents in the league. He's still in the prime of his career and has the ability to change the game every time he steps on the ice.
7. Ryan Getzlaf (Andrew Forbes)
Getzlaf's averaged just under a point per game over his career thus far. At the age of 30, he still has some quality hockey in front of him and he's proven his ability to lead a team since entering the league. He's a big body up front that can grind in the corners and cause commotion in front – the epitome of a first line centre.
8. Anze Kopitar (Rick Cole)
Kopitar's an all-round skilled centre with superior defensive abilities and great offensive vision.
9. Tyler Seguin (Anthony Pucik)
If not for his injury this past season, Seguin would have been even higher than 5th in the league in goals scored. He's made himself right at home in Dallas, scoring 37 goals each season in an offence where he is a key piece. At the age of 23, the sky is the limit for the Brampton, Ontario native.
10. Nicklas Backstrom (Kyle Morton)
Backstrom's an elite playmaker, and his two-way play is highly underrated. He's another guy who is extremely versatile and can be trusted in any situation.
11. Matt Duchene (Sean Olinkin)
This Canadian centre already has Olympic gold and World Championship gold. He has incredible offensive talent and can lead on the ice. He's willing to accept any role to win. Along with that, he's still very young and has room for improvement.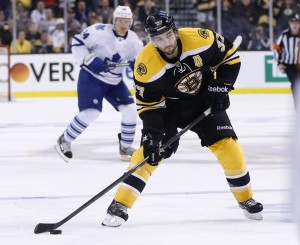 12. Patrice Bergeron (Kirk Vance)
Calling Bergeron one of the best two-way centres in the NHL seems like an understatement. The two-time Selke winner has consistently been one of Boston's top point producers. Bergeron is a leader on and off the ice and makes the players around him better.
13. Joe Pavelski (Andrew Forbes)
At 30, Pavelski's put up consistent offensive numbers over his nine-year career. He knows the right spots on the ice and continues to excel in an aging market. In a six-team league, Pavelski would find himself among the game's best which would only boost that output.
14. Ryan Johansen (Rick Cole)
Already an accomplished scorer, he's a future number one pivot in a six-team league.  He's shown good leadership potential and if Columbus colour man Billy Davidge thinks he's the real deal, that's more than good enough for me.
15. Pavel Datsyuk (Anthony Pucik)
He may be 36 years old, but when Datsyuk is healthy he is one of the most dangerous players on the ice for the Red Wings. His highlight-reel goals and mastery with the puck cannot be duplicated by even the most skilled centres in the league. He is a valuable asset on the ice with his skills and even more so as one of the leaders of a very good and young Detroit team.
16. Logan Couture (Kyle Morton)
Another versatile player, Couture does everything well. His defence is there, his instincts are great, and his offensive game is well rounded as well. Arguably the Sharks' best forward, there's no doubt that Couture should make the cut in a six team league.
17. Ryan Kesler (Sean Olinkin)
Kesler is a great mix of offence, defence, and a bit of grit that you don't get with many top tier players. I'd feel comfortable with him on any line and he has tons of big game experience.
18. Filip Forsberg (Kirk Vance)
Forsberg's only 20 years old and he already emerged as a top option for the Predators this season. I think we've only seen the tip of the iceberg from this kid, as his solid all-around game will only get better with experience.
19. Joe Thornton (Andrew Forbes)
While his career is coming to a close in the next few years, he's still a player that can see the ice like few others and his assist numbers are a perfect example of just how well he can play the game. He's a big body that can throw his weight around and jar the puck loose and cause havoc in the offensive end. A solid third or fourth centre in a six-team league.
20. Sean Couturier (Rick Cole)
Couturier's work in all facets of the game has improved exponentially. In a six-team league he will be my PK centre, and can fill in on either the second or third line. The only thing I don't like is his 48 percent face-off number, but that is a teachable skill.
Sean Couturier returned home from #IIHFWorlds with a gold medal, proof he could indeed score and renewed confidence: http://t.co/8e4TmpZr5q

— Frank Seravalli (@frank_seravalli) May 22, 2015
21. Henrik Sedin (Anthony Pucik)
It's not always about goal scoring as a centre, and Sedin is a fantastic facilitator for more than just his brother, Daniel. He is also around 50 percent on face-offs for his career, and is good for 15-plus goals a season. It'll help if he has his twin, but Henrik shows he's a great player all on his own.
22. Derek Stepan (Kyle Morton)
Stepan is a much bigger part of the Rangers' success than people realize, and it's his two-way play that sets him apart. His skating is his biggest weakness but his positioning and playmaking make him the ideal fourth-line centre in a six-team league.
23. David Krejci (Sean Olinkin)
Krejci's numbers were down this season due to injury and he seems to have been forgotten. For his career, he averages nearly a point per game and is a strong playoff performer. Another guy who can play both sides of the puck with a plus-minus of over 100 for his career.
24. Tyler Toffoli (Kirk Vance)
Toffoli is just 23, but he is a solid two way player and he really surprised people with the point production this year. A strong penalty killer, he led the league in shorthanded goals, and that will be huge in a league where every team will have multiple elite powerplay units.
As you can see by those names drafted in this mini draft, there are many centres that missed the cut. Whether they're on the bubble or simply would not make the cut in a six-team NHL, the are a lot of big names that weren't even mentioned.
Players like Eric Staal, Nathan MacKinnon, Ryan Nugent-Hopkins, Ryan O'Reilly, David Backes and Tomas Plekanec among others would have to fight for spots in lower leagues like the AHL and the ECHL to give themselves a chance to eventually play in the NHL.
Now, the calibre of the skill and the quality of game would certainly change in a league that only consisted of six teams. With the difficulty of choosing such a small amount of players at each position in mind, part two will focus on right wingers and who makes it and who doesn't.
For more, follow Andrew on Twitter at @AndrewGForbes or his THW column at @Tape2TapeTHW.
Part 2: Which Right Wingers Make the Cut in a 6-Team NHL?
Part 3: Which Left Wingers Make the Cut in a 6-Team NHL?