In the second part of this Leafs Lunch-inspired discussion, we delve a little deeper into the idea of a downsized NHL. What if there were only six teams in the league? Who would make it? Who wouldn't?
In part one, we looked at some of the top centres that would remain on NHL clubs if there were only room for 24 in the league. Some were surprising, while others were unanimous. Big names were left off the list, with absolutely no disrespect meant for these players or their ability to play the game.
How This Works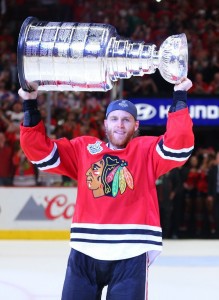 Assuming all six clubs will have the same roster spots available to them, a group of six writers sat down to draft players positionally until the rosters were full. With four lines and six clubs, that leaves room for 24 right wingers to make the NHL. With the right wing position one of the thinnest spots, it was certainly a long discussion for part two.
Rick Cole, Anthony Pucik, Kyle Morton, Sean Olinkin and Kirk Vance all joined me in drafting for this hypothetical six-team league adding their own thoughts and perspectives through the players the drafted.
While some of the players mentioned may currently play other positions, they are chosen based on their position listed by NHL.com and may therefore appear on a list that at a position they haven't suited up as recently.
Don't forget that players not drafted could still appear in an AHL or ECHL-type role. With that in mind, here's how the right wing position broke down in a six-team NHL draft.
1. Patrick Kane (Rick Cole)
He's turned into a very responsible player as he has matured. His skill and ability offensively speaks for itself.
2. Vladimir Tarasenko (Anthony Pucik)
Vladimir Tarasenko has shown – in three years in the league – that he's a force to be reckoned with. He has great moves with the puck and ended up with 37 goals in just his second 82-game season in the league. He's quick, agile and can turn it on when he needs to. Welcome to the Tarasenkshow.
3. Phil Kessel (Kyle Morton)
The most important thing to look for in the wing position is offensive ability. Kessel is one of the fastest players in the league and possesses one of the NHL's best shooting arsenals. Playing with a high-end centre will only elevate his game.
4. Corey Perry (Sean Olinkin)
Perry is a skilled guy who is not afraid to play in the dirty areas on the ice. He has lots of individual and team awards and championships over his career. He's a great addition to any team.
5. Nikita Kucherov (Kirk Vance)
He's got great wheels, to go along with his ability to create and finish in the offensive zone. He took a major step forward this year and I expect the improvement to continue
6. Jakub Voracek (Andrew Forbes)
His ability to add a little bit of grit to an explosive offensive game makes him a dangerous player. In a smaller league, Voracek would be a coveted player with the skill set he's grown into in Philadelphia.
7. Jordan Eberle (Rick Cole)
He's a great offensive talent who has started to learn how to play at both ends of the ice.  He would truly benefit with lining up with a solid centre who would compliment him perfectly with amazing results.
8. Blake Wheeler (Anthony Pucik)
He's 28 years old, but he is one of the key pieces on Winnipeg's offence. A threat to score nearly every time he's on the ice, Wheeler's 6-foot-5 frame is also a huge asset for him. He's a solid penalty killer and a physical force. That to go along with being a 25-plus goal scorer and a reliable player to have on the wing with great centres around him.
9. Mark Stone (Kyle Morton)
Stone is just 23 years old, and he exploded onto the scene this year with 26 goals, 38 assists, and 64 points – good for fifth in the NHL among right wingers. His all-around game is solid, and his youth ensures he'll be a valuable contributor for many years to come.
10. Michael Frolik (Sean Olinkin)
Frolik is an all-around player that plays in any situation. He's one of the better shorthanded players in the league who found his offensive touch again this year. He will draw a big contract from someone as a UFA this season and deserves a bit of a raise.
11. Marian Hossa (Kirk Vance)
At 36, Hossa is still one of the better power forwards in the NHL. He's a factor in every phase of the game, be it the powerplay, the penalty kill, or even strength. He's not only a threat to score on the penalty kill (his 30 career shorthanded goals is good enough for 20th all-time), but he can be relied on defensively, which again will be huge in a league full of lethal powerplay units. Hossa will likely be one of the oldest players to make this league, but his experience would prove invaluable and guarantees him a spot.
12. Wayne Simmonds (Andrew Forbes)
At 26, the Scarborough native has strung together two straight 50-point seasons with the Flyers. He still has some growth to go as a player, but bring an edge to his game that can stir things up in favour of his team. He's not afraid to throw his body around and sacrifice it for the betterment of his club and that along with his offensive prowess makes him a good pick in a six-team league.
13. Kyle Okposo (Rick Cole)
Here's a guy who plays over 19.5 minutes a game and seems to break down over a long schedule.  With the reduced schedule of a six-team league and a reduced work load that third-line duty will bring, Okposo will thrive in that role.
14. Gustav Nyquist (Anthony Pucik)
The 25-year-old had a great season with the Red Wings, scoring 27 goals and being a force on the powerplay. A young, agile winger, Nyquist has the potential to get even better as the years go on.
15. T.J. Oshie (Kyle Morton)
The American is as useful and versatile as they come. I see him as the ideal third line winger in a six-team league. He can play the powerplay, penalty kill, and his shootout skills are well-documented.
16. Brendan Gallagher (Sean Olinkin)
Gallagher is another guy who plays both ways very well. His offensive game is developing and will benefit in this format. Gallagher also brings a feistiness that not many other highly skilled players play with.
17. Bobby Ryan (Kirk Vance)
The former second overall pick has a knack for scoring. Ryan has an ideal combination of size and skill that helped carry him to four consecutive 30-plus goal seasons prior to the lockout. Those numbers haven't shown up yet in Ottawa, but on a team with four All-Star caliber centres, his ability to finish will certainly be put to use.
18. Kevin Hayes (Andrew Forbes)
At 23, and with only a single season under his belt, Hayes might be a stretch in a six-team NHL. However, the big offensive forward showed he's got what it takes to make a splash for his club and a compete level that sets him apart on the wing. With a little development, he can become a solid two-way power forward in a downsized league.
19. Troy Brouwer (Rick Cole)
Brouwer is tough, durable, and can score. He can fill in on the top lines and kills penalties. What more would you want in a probable fourth liner?
20. Patric Hornqvist (Anthony Pucik)
The 28-year-old showcased his talents in Nashville, and shone even brighter as a member of the Penguins. A quick skater that knows how to finish, Hornqvist is someone you'd want on your bottom two lines in a six-team league.
21. Marian Gaborik (Kyle Morton)
His speed and scoring touch set him apart from the rest of the remaining options. He'll provide excellent secondary scoring in a six-team league.
22. Jaromir Jagr (Sean Olinkin)
I feel like a league without one of the best scorers wouldn't make sense. Jagr has won most individual and team awards over his long career and despite being 43 years old he can still put up points. He will also be of huge value with the young players on the team.
Funny to think Valeri Bure – last seen in the NHL 11 years ago, is two years younger than Jaromir Jagr. Injuries cut career short but still.

— Darren Haynes (@DarrenWHaynes) June 13, 2015
23. David Pastrnak (Kirk Vance)
We go from the oldest player in the NHL to the youngest. The Czech winger just finished his rookie season for Boston. The 19-year-old's speed and offensive presence was one of the lone bright spots in Boston's season. As he adds some weight and gains more experience, he's going to be one of the most dangerous right wingers in the league.
24. Jarome Iginla (Andrew Forbes)
Older, slightly slower, Iginla still managed to put up almost 30 goals in 2014-15. While he won't be your top line centre in a six-team league – let alone a 30-team league – he brings years of experience and the ability to control the play in the offensive end. On top of that, Iginla can be a force up front and stir up the game a little bit – getting under the skin of his opponents.
Even with a thin position like the right side tends to be, players like Mats Zuccarello, Ryan Callahan, Martin St. Louis and Nail Yakupov went unpicked and remain on the outside looking in on this six-team format.
As was mentioned before, it isn't a statement on the calibre of players not mentioned, rather a note on the quality of players in today's game. While the game changes incredibly with just six teams, the team needs remain somewhat similar. There are still pure scorers and talented grinders needed on every list – the evidence lies in the above article.
Some players would simply have to work harder or wait longer for their NHL opportunities while others – like those players that go undrafted in today's game that would likely not see NHL action at all. With all of that in mind, part three will take us across the ice to the left side as we sit down once again and draft the top 24 left wingers.
For more, follow Andrew on Twitter at @AndrewGForbes or his THW column at @Tape2TapeTHW.
More from the 'Six-Team' Series:
Part 1: Which Centres Make the Cut in a 6-Team NHL?
Part 3: Which Left Wingers Make the Cut in a 6-Team NHL?