This is the second installment covering Buffalo's 11-Day Power Play Community Shift: Fighting cancer with hockey. To read the first, click here. 
No matter the age, 11 years old or 72, the faces come off the ice smiling. They're covered with sweat and beaming with pride. There are handshakes and hugs, some lasting a little longer than others. And of course, there are team pictures. But most of all, there are memories made.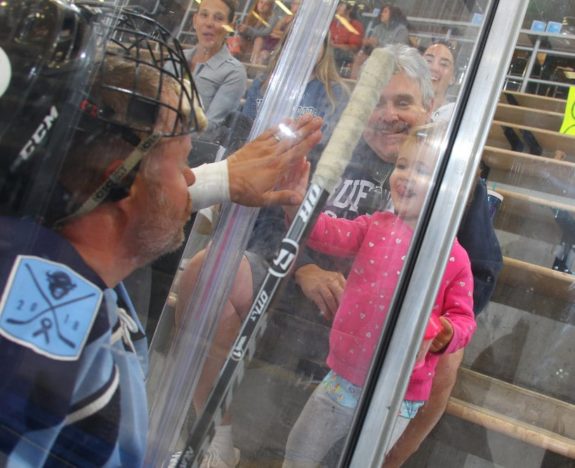 Every player who comes off the ice at HarborCenter, finishing their four-hour shift in the 11 Day Power Play Community Shift, is playing for his or her own reason. Maybe it's for an aunt who passed several years ago, for a work colleague undergoing chemo, or for a sibling who passed way too soon. The stories that drive them are often heartbreaking and gut-wrenching but also inspiring.
That's the thing about cancer. It touches everyone. And it's terrible.
There are teams of men, women, boys, and girls playing in the event. College teams, high school teams and reunions of people are flying in from across the country to be part of it. Together, they form an army in the fight against cancer.
11 Day Power Play: The Community Shift
Last year, two teams of twenty players endured mental and physical challenges while playing one 251-hour-long hockey game. One participant, Nik Fattey, suffered a broken nose courtesy of a ricocheted puck. He took it as a badge of honor, evidence of his love for the game and the cause. Fellow teammates now share an unbreakable bond. "It was great. It was an accomplishment that we look back at as 40 individuals to accomplish something like that was great, to raise that kind of money was great," said participant Andy Tokasz.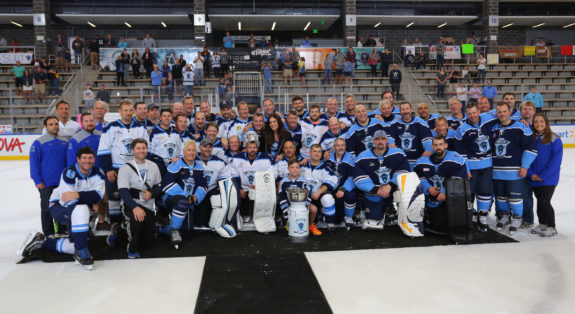 This year's game, running from Thursday, July 5-15 comes on the heels of last year's tremendously successful inaugural event. It was re-invented to include the overwhelming number of people who wanted to play and participate in such a meaningful game for such a worthwhile cause. Mike and Amy Lesakowski, the event's founders, quickly realized that they needed to continue the momentum of their initial efforts. All told, they raised more than $1.2 million for Roswell Park Cancer Institute in Buffalo. The money will fund cancer research and wellness programs that support local families battling cancer.
Every donation, no matter how big or small, really adds up; as their video explains, Roswell Park can leverage an additional $13 in research grant funding for every dollar donated. In other words, $1 million raised by this event for cancer research could turn into $13 million for Roswell.
Without the formality of trying to break a Guinness World Record, the game itself is rather loose. There's still a healthy amount of competition though; a hockey player always wants to win. Players are fueled by the joy of being a part of the event and the satisfaction of honoring loved ones. In time, the score will be forgotten but the memories will always be remembered.
Like most families in Western New York, the event's organizers, Mike and Amy, have been touched by cancer. Amy is a cancer survivor; Mike lost his mother to the disease.
Making it Personal
More than 1,500 players are taking part in the 11 Day Power Play Community Shift this year. Every four hours, the two groups skate off and two new teams take the ice. For 11 days, the game never stops. "It runs 24/11," said Lesakowski.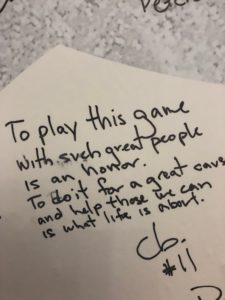 Many of the original 40 players who took part last year have already played a shift if not two or three this year.
"One of the things that's really important to me is to be present… for my wife and me to be present when there's a shift change. I want to make sure that I get to talk to everybody–all the captains and all the players… there's a lot of people," said Mike who admitted to being a little sleep-deprived. "Every four hours, teams come in and out. Whether that's ten o'clock in the morning or two in the morning, I make it a point to talk to everybody to make sure they had a good time and make sure that their experience was good because we've asked a lot of people to raise money. We've asked them to take a chunk of time from their personal lives to do this so we make it a point to go out of our way to thank everybody."
When asked if anyone has asked for his autograph yet, Mike chuckled and quickly replied, "No."
There are four locker rooms, so two are always being prepped for the next shift. A team of volunteers sets them up. "We have labels for each of the players, so when they walk into the room, they see their jersey, a little gift and their jersey is hung up nicely ready for them," said Lesakowski. "It's a nice little touch that we thought was important for people to walk in to and understand that they weren't just coming in to go play hockey and leave. We're trying to make it a special experience."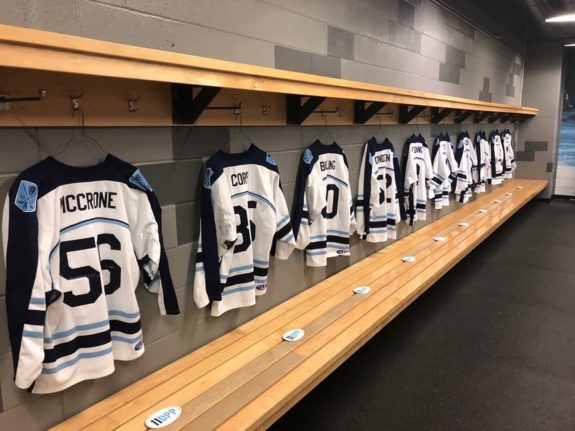 Each jersey has the No. 11 on the back. There are special jerseys for the original 40 guys that played in the game last year which have their names and numbers on them.
Opening Ceremonies and the First Shift
Harborcenter was a rowdy, fun place to be for the opening ceremonies. This year's event began with a shift by last year's inaugural skaters. "It was awesome. Having all the guys together. What we went through last year… it made us have a pretty unique bond," said Lesakowski. "A lot of us are good friends anyway and we maintain relationships throughout the year, but not all of us. So, to have everybody together was kind of cool."
We got to barrage one another with insults in the locker room with the best of intentions. The guys, they love each other but it's just so funny. It's a great ball-busting group of guys. –Mike Lesakowski
Lesakowski admitted that last year, a lot of the guys were nervous and anxious because they knew what they were about to do but had never done it before. This year was not like that at all. They were really excited.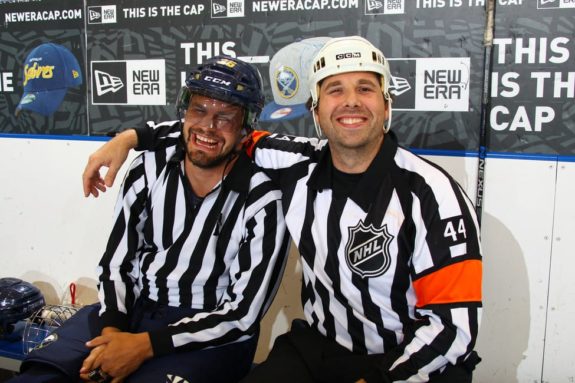 To spice things up for the first shift this year, Buffalo Sabres alumni Patrick Kaleta and Andrew Peters skated as linesman and referee, respectively. "How's that for a little bit of irony," Lesakowski said as he chuckled. "Pat's not the same animal as Andrew. He's a little bit more low key. Andrew's just a funny guy, a character who likes to engage the crowd. It's usually the Andrew show when he's around."
Shift Changes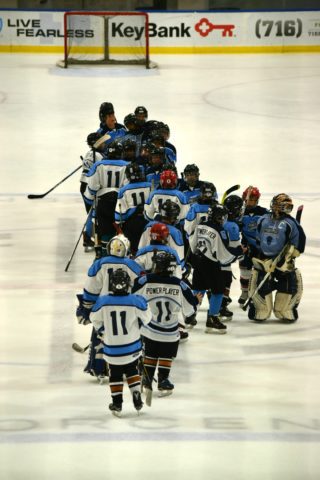 It's clear that the event and the people who participate in it mean the world to Lesakowski. He takes a personal approach to everything and every detail matters. "It's important we don't just say 'oh yeah, thanks for coming' and have a good day. I make it a point to try to go into every locker room and say hello and shake their hands, or after they're done, have a beer with them. "
Every team is different and every shift is unique. "Some of the guys are playing for a loved one they might have lost. Some groups are a bit more solemn whereas then we had this group of kids this morning… they were so fun. They were our youngest group–a bunch of 11 and 12-year-olds–and there was I think 40 of them, called 'Pee Wees Lighting the Lamp'," said Lesakowski. "They had so much fun. They literally ran into the rink, they played for four hours–I don't think they lost a step the entire time."
"Afterwards, we had a pizza party for everybody and they were literally running around the halls afterwards. It's so funny, because there's that and then you've got groups of guys that are in their 40s, 50s, 60s, who after their four-hour shift are limping, aching and sweating. It's kind of interesting to see the differences in the people.
After their third hour, both teams have their photograph taken by the scorekeeper.
Scoring Another Goal: $1 Million
This year's fundraising goal of $1 million has already been shattered. Beneficiaries include Roswell Park, Camp Good Days and Special Times and Make-A-Wish WNY. "We can't believe the outpouring of support," said Lesakowski.
Players, cancer patients, family members, fans all feel the love of being part of the greater good. "People tell us every day how much it means to them to be a part of [the 11 Day Power Play]," said Lesakowski. "Everyone seems to understand the importance of funding these important programs and research and the heart, the passion that's being put into the event by our volunteers and the players is really incredible."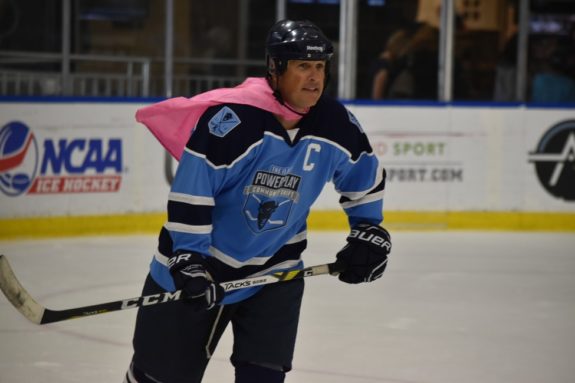 Last year, the event had raised just over a $1 million at puck drop. This year at puck drop, they were around $990,000–no small feat. Amy and Mike knew they were going to hit their goal… eventually. Turns out, that night, after Mike skated, about 20 of the guys went out to a nearby pub, "to eat, drink and be merry. It got to be $998,000… then $999,000… and it was sometime after midnight and the guys were like, 'we gotta see this thing turn over to $1 million,'" recalled Lesakowski. "So two of the guys, Mike Lawley and John Bruno, each donated $500 right there on the spot by credit card so they could all be together and watch it turn over to a million."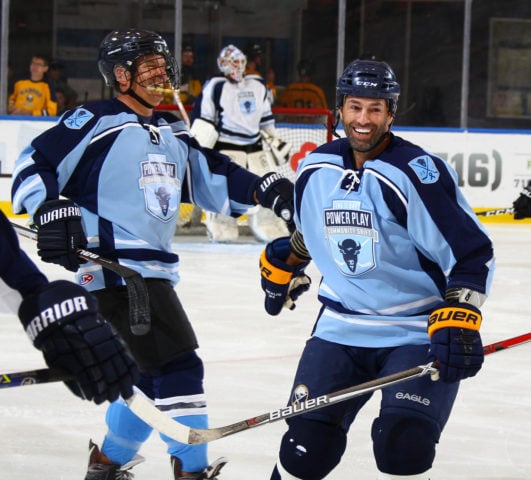 Sabres and Beauts Set to Play
As an added incentive to raise money, the top three individual fundraising teams get to play against a team comprised of Sabres alumni and Buffalo Beauts, the professional women's hockey team coached by former Sabres Ric Seiling and Craig Muni. On the final day, Sunday, July 15, they will play one hour each against the top fundraising teams, from 3:00-4:00 p.m., 4:00-5:00 p.m., and 5:00-6:00 p.m.
"That's going to be awesome," said Lesakowski. "There are four Buffalo Beauts and a group of mostly Sabres alumni and pro hockey alumni. Patrick Kaleta is organizing it. He's playing, along with Mike Peca, Andrew Peters, Geoff Peters (also an original member), Marty Biron, Kevin Adams, Matt Ellis and possibly others."
The current score is: Team Blue: 781, Team White: 773 and all the action is being livestreamed. The 11-Day Power Play Community Shift will wrap up July 15 at 6 p.m. It is free to attend and the HarborCenter doors are always open for fans to stop by.
Whether you've been personally affected by cancer or know someone who has, you're not alone. Together, we can make a difference. Give what you can. Every bit counts.
Click here to donate to the 11 Day Power Play Foundation.
Jeff has been covering the NHL for over a decade for various sites. He's been with The Hockey Writers as a lead Sabres writer three years, while also writing a satire column called "Off the Crossbar."