The 11 Day Power Play, the world's longest hockey game whose purpose is to help fight cancer, is back in Buffalo, with a twist.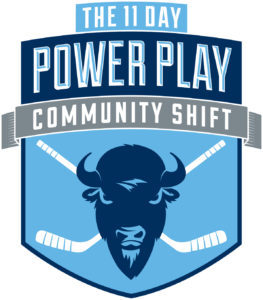 Instead of 40 players living, breathing, sleeping and playing one continuous hockey game spanning 11 continuous days, this year's version will include roughly 120 teams comprised of 1,700 players participating in 60 four-hour shifts of one single game. It's dubbed the "11 Day Power Play Community Shift" and will run from July 5-15 at HarborCenter. The opening ceremony starts July 5 at 7 p.m. and the puck will drop at 8 p.m.
"People kept asking us… 'What are you gonna do next? What are you gonna do next? And if you ever do it again, we want to play.' So we just kind of knew that we needed to do this community event. We didn't want to lose the momentum," said event co-founder Amy Lesakowski.
2017 Edition of the 11 Day Power Play
The 11 Day Power Play is the crazy idea of Amy and Mike Lesakowski. Mike's mother, Evelyn, died of brain and lung cancer in May 2016, and Amy is a survivor of breast cancer.
"I was able to jump in a clinical trial at Roswell Park. That clinical trial, I believe, saved my life. I want to support the hospital as well as so many other people in our community," said Amy.
Last summer's wildly successful inaugural event helped raise $1.2 million for Roswell Park Cancer Institute. Roswell, located in Buffalo, is the nations's first cancer center and a world leader in groundbreaking research in the fight against cancer. It also set a Guinness World Record for the longest continuous hockey game: 251 hours.
When the final horn sounded, the Blue team had outscored the White team, 1,725-1,697. But aside from a few side bets and endless razzing between players, that hardly mattered. The grueling physical and mental marathon game tested the resolve, spirit and stamina of every player. Players often skated two and sometimes three four-hour shifts per day, while living at the arena. Locker rooms were transformed into bunks. Blisters, cramps and muscle aches became the norm. All in the name of fighting cancer.
An incredible bond was forged among the 40 men who endured 11 grueling days of continuous hockey. One was also forged between the community and the event itself. Support for the event was tremendous from local companies. It truly captured the hearts and minds of Western New Yorkers. Sensing this, the Lesakowskis and their board knew they had to continue the momentum as well as their fundraising efforts by broadening the game and involving the incredible greater Buffalo community.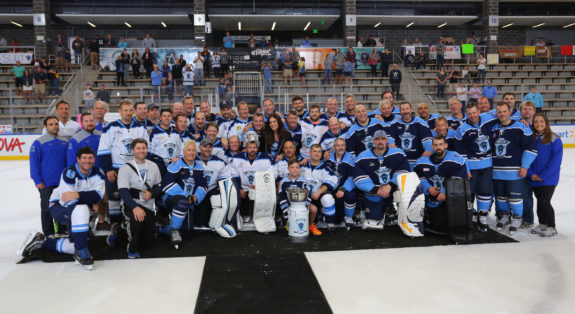 "For the most part, the group was just a bunch of regular guys," said Mike. "To see people kinda regarding them and putting them on a pedestal, and rightly so for what they were doing, I think the guys really got a charge out of some of that… being treated like celebrities for a few days there. It was kind of a cool thing for some of the guys."
Making A Difference
Merging their passion for hockey and fighting cancer, Mike and Amy have been on a mission to bring hope to those suffering the ill effects of the disease. They want to make a difference. And they know they already are.
Every donation, no matter how big or small, really adds up. Every single dollar is important; as their video explains, Roswell Park can leverage an additional $13 in research grant funding for every dollar donated. The $1 million raised by this event for cancer research could potentially turn into $13 million for Roswell!
"Just knowing how hard the scientists and researchers at Roswell work. For them to go out of their way to really stress how important those funds are. I mean every dollar raised is really thirteen dollars. It's considered seed money," said Amy.
There are so many people behind the scenes that are working so diligently to find a cure. For me, that reassures me that the hard work that's being put into this is totally worth it. –Amy Lesakowski
Mike continued, "Generally, when we go around town and we see people wearing our [11 Day Power Play] hats and shirts… people know who we are, which is kind of odd to us a little bit. They'll come up to us and say thank you for doing what we did. How much they appreciate it. Those are the things, from an awareness standpoint, that's pretty rewarding. When people come up to you that don't know you or just know you by this event and what we did, that's a pretty good feeling knowing that we've definitely touched people and hopefully made them either aware or able to donate or both."
You Can Count on Buffalo: The City of Good Neighbors
Along the way, the Lesakowskis have been humbled by the support they've received.
"Buffalo is an amazing city," said Amy. "I'm so proud to raise our children here."

Since starting the event, Mike's learned a lot about Western New York. "When we started the event, we very deliberately set out to make it a Buffalo-based event. The city has great pride and always sticks together when the chips are down. People will always help each other out," said Mike. "Having the community support, having people come in and obviously raise a lot of money… it was very revealing. It further defined and for me, confirmed what people already know. Buffalo was the perfect spot for it because people are so willing to help each other."
2018 Edition of the 11 Day Power Play
Aside from crushing their fundraising goal of $1 million, the outpouring of support from the community was insane. It was overwhelming how quickly and selflessly Buffalo showed up.
The Lesakowskis know that Buffalo is filled with tens if not hundreds of thousands of Sabres fans, bar leagues, and hockey families. After all, they're members of all three of these groups. Once the idea was hatched to open the event to a wider group, the initial response to the call for teams exceeded expectations. In fact, it was so popular that a wait list had to be made to participate. The teams are comprised of male and female players of all ages.
"We tried to get gals and women to play last year and weren't successful. We were adamant about it this year," said Mike. "We have two teams of girls playing, comprised of girls ranging from freshmen in high school all the way through… most of them are high school aged… Nichols School and Niagara Purple Eagles is the organization that they are comprised of. Their coach, Shelley Looney was a gold medal winner at the 1998 Winter Olympics in USA Hockey and she'll be playing. A girl by the name of Katy Knoll who is in college now, she just won the U-18 USA Hockey Girls gold medal just a couple months ago. She'll be playing with that group as well. So there's a group of higher-end girls that are playing, mostly teenagers with a couple older ladies."
"Eleven-year-olds are the youngest and I believe we have a 71 or 72-year-old," said Mike as he shuffled through registration papers. While their ages span generations, and their skill levels vary, they're all unified by a single mission: having fun while fighting cancer.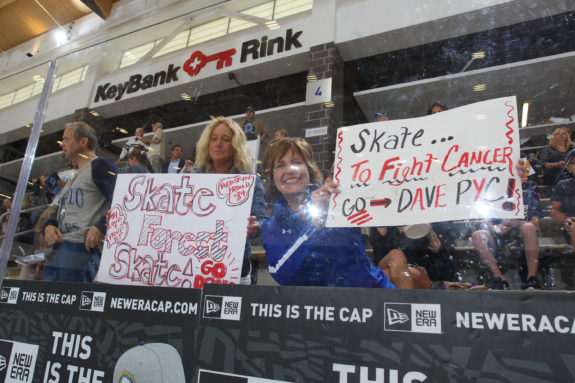 Aside from having a personal cancer story to help motivate them, each team has a fundraising goal and each player has a personal goal as well. The 11 Day Power Play committee supports every player with individual website pages, as well as sharing and monitoring their fundraising efforts. This year's event has already raised more than five hundred thousand dollars, well on their way to their $1-million goal.
Make a difference. Click here to donate to the 11 Day Power Play Community Shift.

Competition and Charity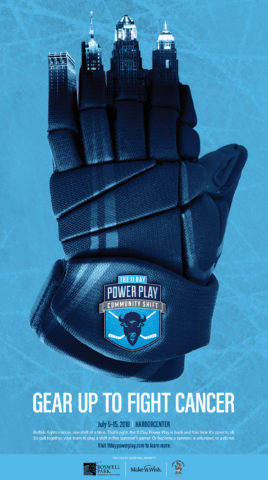 By their very nature, hockey players are competitive. So last year, Mike knew or got to know the 39 other skaters. He went to great lengths to personally try to make the teams as even as possible. This year, it's kind of up in the air. It's one game comprised of 60 'mini-games' that will be added up to one final score.
"It's funny. No matter what you tell people, it's a charity game, it's for fun… if it's 3-1, the team with 1 is going to try a little harder," Mike said as he chuckled. "There's a whole white team and a whole blue team and everyone gets jerseys. We're gonna keep score per shift and overall and we'll see how it shakes out. It'll be very interesting to see how close or not close the game ends up being.
The game will have referees and official scorers and all, but it's a little more casual this year. Since they're not trying to break any records, they don't have to follow specific rules.
The game will also be streamed online, like it was last year. "Oh, that was another cool thing," said Mike as yet another memory jumped out to him. "I had a friend who was traveling over the summer and he was like yeah, we watched every night. We'd sit down and check you guys out every night. That was pretty cool."
Sled Hockey Exhibition
Another new wrinkle this year will be an exhibition game of sled hockey players on the game's final day. "On Sunday, from 2 p.m. to 3 p.m., we've secured a group of USA Hockey Sled guys to play for an hour," said Mike. "There's a group which is comprised of a couple guys who won the gold medal for USA Sled Hockey. So they'll play for an hour as an exhibition, because they're obviously part of the hockey community. It'll be cool."
Fundraising & Where the Money Goes
Unlike some fundraisers, all of the monies raised for the 11 Day Power Play go directly to the bottom line. The event is fueled by one part-time event coordinator, six dedicated board members, and hundreds of volunteers from the community. Sara Schumacher is the tireless and dedicated coordinator who works hand-in-hand with the Lesakowskis.
More than 60 local companies stepped up to generously support the fundraising goal last year. The response this year has been just as tremendous as local and regional sponsors continue to rally behind the event and its cause which has received both national and international publicity. The endless, unwavering support from the community only adds to the event's heartwarming "give it all you got" nature. It's hard not to get caught up in the personal stories of those affected by cancer in some way.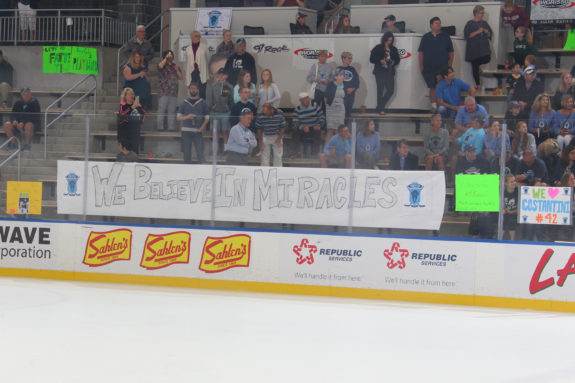 The primary beneficiary of this year's event is once again Roswell Park. However, proceeds will also go to Camp Good Days  and the Make a Wish Foundation of Western New York. Both Amy and Mike felt strongly about supporting more organizations that go beyond research and offer joy to so many suffering from cancer or other life-threatening diseases.
"Roswell is still by far our primary beneficiary. We're going to give 80 percent or more to Roswell because that's where our heart is mostly. But with having so many people, we thought that having a couple more charities involved would open up the audience, too," said Mike Lesakowski.
"And we've gotten to know those organizations a little bit, not from an experience standpoint, but from people like Emmett Jakubowski, who is our ambassador. He was the recipient of services from both Camp Good Days and Make a Wish. When you learn about what they do, not only for cancer patients but support of families, it makes it a well-rounded foundation to which we give."
Top Three Fundraising Teams
As an added incentive to raise money, the top three individual fundraising teams get to play against a team comprised of Sabres alumni and Buffalo Beauts. The Beauts are a professional women's hockey team coached by former Sabres Ric Seiling and Craig Muni. On the final day, Sunday, July 15, they will play one hour each against the top fundraising teams, from 3:00-4:00 p.m., 4:00-5:00 p.m., and 5:00-6:00 p.m.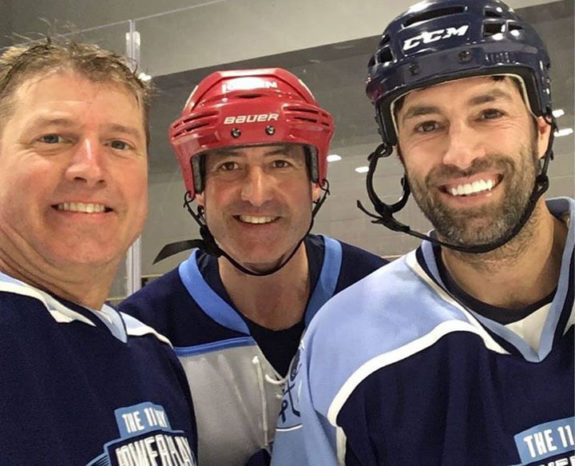 "There are four Buffalo Beauts and a group of mostly Sabres alumni and pro hockey alumni," said Mike. "Patrick Kaleta is organizing it. He's playing, along with Mike Peca, Andrew Peters, Geoff Peters (also an original member), Marty Biron, Kevin Adams, Matt Ellis and possible others. They're the celebrities if you will. It's one team of Sabres and Beauts."
A New Guinness World Record
Like most records, the 11 Day Power Play's Guinness World Record has already been broken. The same group in Alberta, Canada that held the record before Mike and Amy hatched their original plan played an outdoor game earlier this year.
"Yeah, they played in February and beat the record," said Mike. "I called Brent Saik, the event's organizer and wished him well. I was texting him throughout the whole thing, making sure they were doing well. They supported us throughout the whole thing and I basically told him that he should enjoy it now because the record's coming back to Buffalo some day."
It begged the question, "So, when is 'some day'?"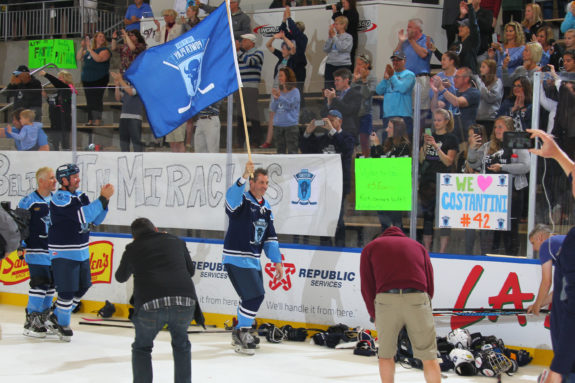 "You know, I'm not sure when," answered Mike thoughtfully. "This event that we're doing right now, when we first thought of it, we weren't sure how it was going to be accepted. Kind of similar to last year. We had a lot of people sign up really quickly so it was obvious there was a lot of interest. I think the way it's played out, there's going to be interest going forward. A lot of the teams that have signed up and people that have already said, 'Hey, I hope you guys continue to do this because it's a really cool idea.' So this particular event, we're hoping it's going to live on. And then we already have ideas for some other events. To answer your question, I don't know. I would say if not next year, then the following year for sure.
"The guys in Edmonton have done it… I think this was their sixth time since 2003. It's about every other year.
"I'll do it as often as we can to make it interesting. I think every year would be overkill. I don't know if we'd be able to get the support like we did every year. Every couple years would be a great idea."
It Takes a Village
There are teams registered from all over the map, including one from Canada and one from North Carolina.
In addition to the actual players, referees and Zamboni drivers, running an event of this magnitude requires tremendous planning, logistics and manpower. The game never stops; there are always two teams playing round the clock, 24/7. Volunteers are needed to help coordinate a constant flow of people throughout the 11 days. They'll help families and fans find their way around, sell merchandise, and offer a helpful hand wherever needed. The game never stops, so volunteers are always needed, be it 2 a.m. on Tuesday or 9 p.m. on Saturday.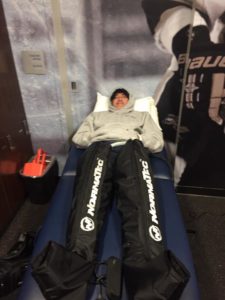 There will also be live music every day from 7:00 p.m. to 9:30 p.m. Bands have signed up, donating their time to add to the festive atmosphere at the arena.
"We're trying to make it a party every night. Those guys that get off their shift at 6 p.m. can stick around and have some food and some pops," said Mike. "We actually had a musician reach out to us last week and they wanted to jam. They also wanted to start a fundraising page which I thought was pretty cool. Not only did they want to play for free, they wanted to raise some money."
Excelsior Orthopaedics, once again, is the presenting sponsor. "I don't think…" Mike interrupted himself laughing, "I KNOW they didn't know what they were getting themselves into when they offered to do what they did. When I say we probably couldn't have done it without them, we absolutely could not have done it without them. They were the reason that we were able to keep guys on the ice and as healthy as can be."
Emmett Jakubowski
Last year, 12-year-old Emmett Jakubowski was the Event Ambassador for the 11 Day Power Play. The passionate hockey player with an infectious smile got back on the ice for the first time after enduring a bone marrow transplant to skate with the 40 original team members.
The seventh-grader, who has benefited from all three organizations—Roswell Park, Camp Good Days and Make a Wish Foundation—will be back again in the same capacity, plus he'll captain his own team of some fellow cancer survivors.
Ethan Kane, another 12-year-old, heard about the event and wanted to get involved as an integral part of his Bar Mitzvah. A requirement of his process is to volunteer for something that rights a wrong – he chose the 11 Day Community Shift. Ethan is the captain of a team comprised of half classmates and half hockey mates from his travel team. The vigor and dedication of such young supporters to help others through this hockey experience is beyond inspirational.
Help Support the 11 Day Power Play
If you'd like to donate, volunteer or show your support by purchasing some 11 Day Power Play merchandise, visit 11DayPowerPlay.com. And if you're in the western New York area from July 5-15, stop into the 11 Day Power Play Community Shift. It's free to attend and open to the public during the entire 11 days in July.
When I asked if Mike or Amy will be bunking in the locker room this year, Mike chuckled. "No, no, no. Only if I have to again. As unique and as fun as that was, I think I'll take a room at the Marriott."
The Hockey Writers featured three articles (pre-game, in-game and post-game)
covering the 11 Day Power Play event last year.