With the 2017-18 National Hockey League season finally in the books, the focus now shifts to an offseason that may rival the Stanley Cup Final in terms of sheer excitement.
The Florida Panthers will be selecting 15th in the First Round at the 2018 NHL Entry Draft, and have a reasonably good track record in recent years when it comes to the annual event. That said, 15th-overall picks are nowhere near guaranteed to make their NHL squad at all, let alone in their first year.
The Panthers are a team that will be looking to make some moves this summer, in need of help both at wing and on the blue line. Therefore, along with the draft and the potential to add talent via free agency, it's entirely possible the Cats look to make a trade.
Might Nick Bjugstad be on the move?
Why Would the Panthers Trade Bjugstad?
2017-18 was a banner year for Bjugstad. The rangy 6-foot-6, 218-pound centre tallied 19 goals – second-best in his career only to his 24 in 2014-15 – and a career-high 49 points.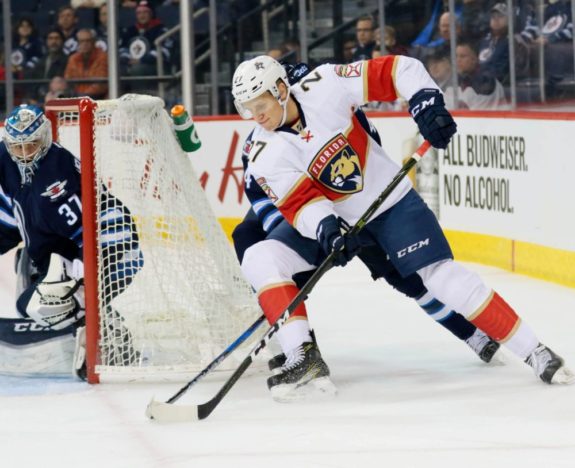 With the Panthers' need for scoring depth beyond the wondrous foursome of Aleksander Barkov, Evgenii Dadonov, Jonathan Huberdeau and Vincent Trocheck, holding on to Bjugstad would seem to be the best option, at first glance.
That said, his career year presents some interesting dilemmas.
Panthers Protected Bjugstad From Expansion Draft
Yes, the Panthers protected Bjugstad in last summer's expansion draft, but that doesn't really mean anything.
After all, defenseman Alex Petrovic, also protected from the expansion draft, is now on the market, according to TSN's Bob McKenzie.
Granted, Petrovic struggled mightily to establish his game this past year under new head coach Bob Boughner (though he improved significantly towards the end of the season) while Bjugstad is coming off a career season, but the point is the same: The players Florida protected one year ago are not necessarily the players they want to hold on to today.
This is a year later. Things change.
Bjugstad's Injury Concerns
2017-18 was the first time in Bjugstad's five full seasons he played in all 82 games; it was his first time playing more than 76, in fact. After making the Panthers on a full-time basis in 2013-14, Bjugstad played in 76, 72, 67 and 54 games, before dressing for every game this past year.
It's unfair to blame players for injuries, but there are some valid concerns about Bjugstad's durability. Even if he's not held out of the lineup, he often seems to be fighting something. These things generally don't get better as players age.
Bjugstad's On-Ice Performance
Bjugstad's on-ice performance hasn't exactly been what you'd call bad, but the numbers don't exactly leap off the page at you, especially considering he makes $4.1 million per season against the cap. It wasn't so much a contract he deserved at the time, as one he was expected to play up to, which he only really did this past season.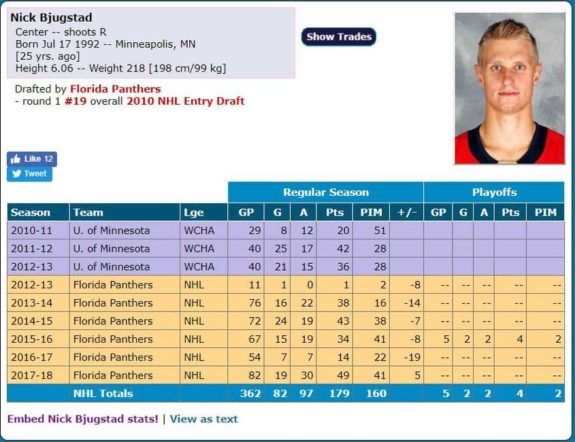 The 2016-17 season looks shockingly bad, but do keep in mind that Panthers team had to put up with unfathomable organisational drama and inexplicable on-ice bad luck, with Bjugstad himself being banged up much of the year, to boot.
Bjugstad's 2014-15 campaign, in which he set a personal best in goals, came when he shot 11.6 percent. For comparison, he shot 8.4% across his four other full seasons, including 8.3% this past year.
Plus, his 49 points this past season came during a campaign in which his most common linemates were Barkov, Dadonov and Huberdeau. While it certainly takes talent to play with great players, what happens if someone else is a better fit with the Panthers' top players? What happens if Boughner wants to spread out the Panthers' offense and dilutes the lines?
It's not unreasonable to suggest Bjugstad's best numbers have been pumped up by factors other than his objective effectiveness as a player.
Bjugstad Perennially a Project
Bjugstad will turn 26 this summer, meaning he should now be entering his prime playing years, if he hasn't already. However, it always seems like he's a season away from breaking out, never really being able to put it all together. It's not like it's a question of attitude or work ethic, either; Bjugstad accelerated his academics and dominated the NHL combine before making it to the NHL.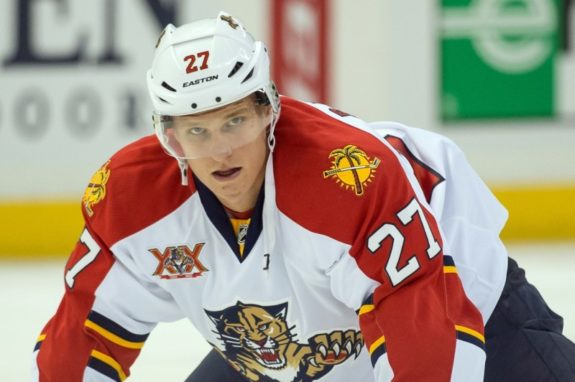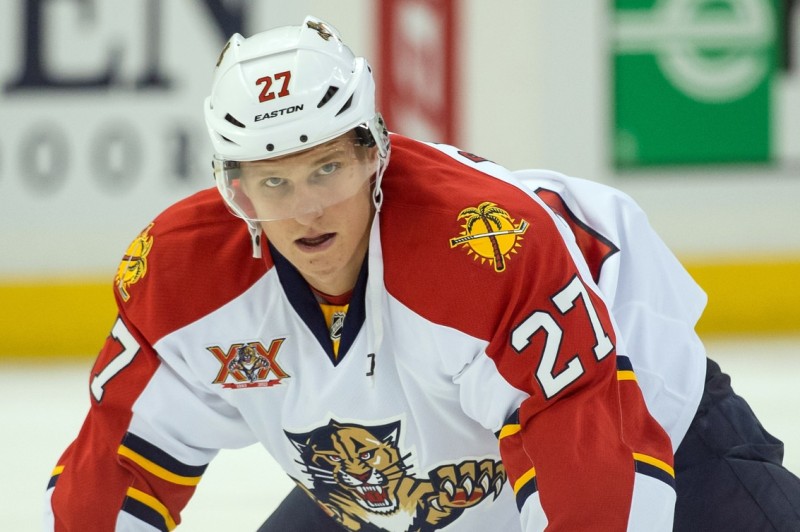 Bjugstad has a wicked shot, but misses the net far too often. He's not exactly slow, but does take a while to get up to speed. He has good hands for any player, let alone one who's 6-foot-6, but lacks the quickness to regularly capitalise upon the chances he creates.
Yes, there has been much tumult in South Florida; playing for five coaches in five-plus seasons can't be easy on any player, let alone one trying to find his way in the league.
But, simply put, if he hasn't been able to put it all together after five full NHL campaigns, it's unlikely he'll ever become quite the player the Panthers envisioned when they drafted him 19th overall in 2010.
Bjugstad at Height of Value
That doesn't mean he's worthless, however; far from it. After playing a full regular season and registering career-best production, there's no question Bjugstad is currently at the height of his value.
The Panthers could gamble and hold on to Bjugstad, hoping and praying his health holds and that he can replicate – or even improve upon – his personal best season.
However, from an asset management perspective, the Panthers have a cost-controlled offensive forward who can play both centre and the wing. Versatility and contractual certainty are major selling points in the modern NHL, and Bjugstad's career-best 2017-18 has boosted his value to the highest it's ever been – and perhaps the highest it ever will be.
Even if they don't get a roster player in return, they'll at least save $4.1 million in cap space for the next three seasons – and even more in real money, allowing them flexibility to go in a different direction.
The Panthers have a real chance here to make a big splash, selling high on an unreliable asset.
Who Might Be Interested in Bjugstad?
Of course, every trade requires two (or more) willing partners.
Fortunately for the Panthers, Bjugstad's unique qualifications and potential should mean there'll be no shortage of parties interested in his services. Plus, there aren't any no-move or no-trade clauses in his deal until the final season.
Bjugstad's Tantalising Pedigree, Potential
Bjugstad was a first-round pick back in 2010 out of high school hockey in Minnesota. Following in the footsteps of his uncle, Scott, who played 317 NHL games between 1983-84 and 1991-92, inclusive, he then spent three years at the University of Minnesota.
Bjugstad has somewhat of a scholarly bent; he accelerated his academics to graduate high school a year early and, despite leaving college after only three years to join the Panthers, he still managed to finish his degree.
Congrats @NBjugstad72 on finishing your degree during the @nhl season w/ @FlaPanthers. Always a Gopher! #UMNProud pic.twitter.com/hGXS1XKsVt

— Minnesota Men's Hockey (@GopherHockey) May 16, 2014
Most importantly though, Bjugstad is big. Standing 6-foot-6 and weighing 218 pounds, Bjugstad is one of the biggest players in the NHL. The fact he combines his size with puck skills that belie his stature makes him all the more attractive to NHL teams.
Yes, he's had trouble producing at the rates expected of a top-six forward and yes, teams might be wary of things not working out. However, Bjugstad's size, skill and the fact he's naturally a centre (despite spending much of this past season on the wing) should have teams salivating.
Bjugstad Another Martin Hanzal?
Don't believe me?
Just look at what then-Arizona Coyote Martin Hanzal fetched back at the 2017 trade deadline. Hanzal, whose career highs are 20 goals (2016-17) and 41 points (2015-16) elicited three draft choices – one first-, one second- and one (conditional) fourth-round pick – and a minor-leaguer from the Minnesota Wild.
Then, that summer, despite registering only a single point in the playoffs, Hanzal was signed to a three-year, $14.25 million contract ($4.75 million per year against the cap), complete with a no-move clause for the first year and a modified no-trade clause for the last two.
Why, you ask?
Simple. Hanzal is 6-foot-6 and 230 pounds, naturally a centre, and was a first-round pick (17th overall) back in 2005. Never mind the fact he's never quite performed up to expectations and the fact he's often injured; he's a big, skilled centre with a history of people valuing him highly.
The fact the Wild wanted Hanzal so badly, along with the fact they were willing to give up so much to get him (presumably to outbid other teams showing interest), shows that big, skilled players are highly prized, whatever their actual output.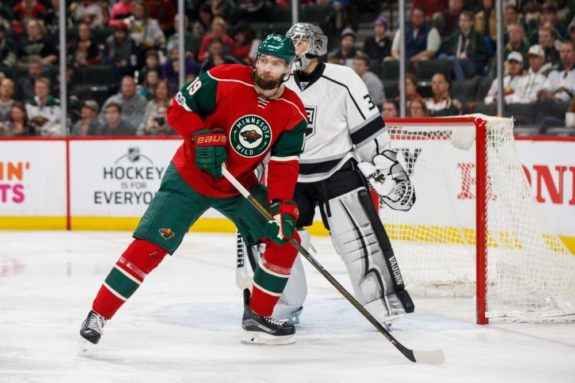 Now, the trade deadline is a situation where teams are under a lot of pressure to get deals done. As such, the selling team holds much of the leverage; the Panthers more than likely won't have the same advantages if dealing Bjugstad during the offseason.
Nevertheless, Bjugstad's $4.1 million per year against the cap will look a little better with the salary cap increase for 2018-19, and the fact he's locked up through 2020-21 gives interested parties cost certainty going forward.
Rumoured Trade Destinations for Bjugstad
So, what teams might be interested in Bjugstad?
Sportsnet's Elliotte Friedman reported the Vancouver Canucks might be in the market for someone like Bjugstad, as Canucks general manager Jim Benning said he "would like to add a big player. Maybe a forward with some physicality who has the skill to make plays." It's worth pointing out he Canucks also showed interest in Bjugstad back in 2012, albeit under a different regime.
Jeff Marek pointed out the Winnipeg Jets were willing to deal Mathieu Perreault in exchange for Bjugstad (time stamp is 7:30) during the time current Panthers GM Dale Tallon was bumped upstairs following the 2015-16 campaign.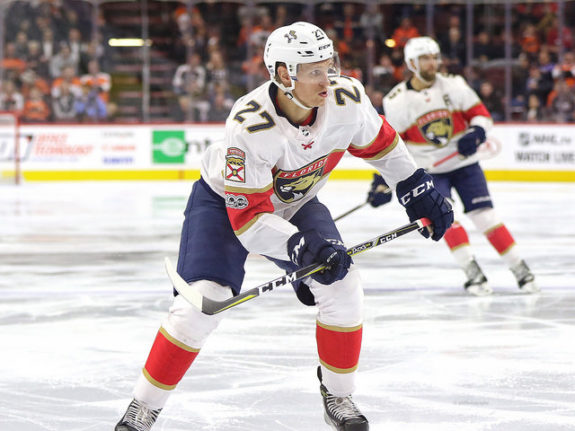 Friedman also noted the close relationship between Tallon and Montréal Canadiens GM Marc Bergevin, as well as the fact the two were talking at the trade deadline about a deal that would have sent Max Pacioretty to Sunrise. Obviously, it didn't happen, but if there is indeed a good relationship there, I wonder if Montréal would be a viable trade partner.
Dave Pagnotta of the Fourth Period reported the Canadiens asked about Bjugstad at the deadline but were rebuffed (time stamp is 14:09). What exactly the proposed deal was is unclear. However, the Panthers would be wise to consider the Habs as a trade partner, given that the Québecers might be anxious to make changes after a thoroughly disappointing year.
What Might the Panthers Get in Return for Bjugstad?
Now, who knows if any of these three teams specifically are still interested in Bjugstad. The point is, he'll more than likely attract interest from a variety of teams around the NHL and, should the Panthers make him available, they'll no doubt be handsomely compensated.
A straight-up trade of Bjugstad might involve a middle-six forward or middle-pairing defenseman with some level of team control coming the other way (for example, if the Canadiens are still in play, Jeff Petry might fit the bill, depending on his no-trade list). If not a roster player – which would be the ideal scenario, Bjugstad could, realistically, fetch a reasonably well-regarded prospect and a second- or third-round pick for the Cats.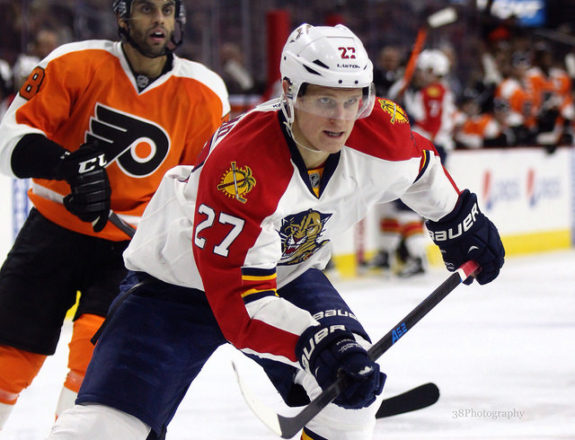 Depending on how good the Panthers' sell job is – and how badly potential trade partners want him, the return for Bjugstad could even be higher than fair-market value, à la Hanzal.
Of course, this is all presuming the Panthers are willing to put Bjugstad in play in the first place.
Will Bjugstad Be With the Panthers Long Term?
Bjugstad is already an established NHL player and, if he can recreate – or even enhance – the magic he found last season, one can certainly make an argument for the Panthers keeping him.
However, that's a mighty big "if." He's cracked 40 points just twice in five full seasons, and his history of injuries adds an additional layer of concern.
With Bjugstad's value at his highest, it might just be best to see what you can get for him now.
I'd bet it's a lot.
Peter Ferrell covers the Florida Panthers and Toronto Maple Leafs, with a side of jersey and logo (over)analysis, for The Hockey Writers.