The 2018-19 season will be a different one for the New York Islanders. For one, they'll be splitting their home games between two arenas. The Islanders have also already brought in six new players but have lost seven. Regardless of how the team does this upcoming season, here are 10 games to look forward to.
Oct. 4, 2018: Islanders @ Hurricanes
It's a new era on Long Island and it officially begins on Oct. 4 in Raleigh, North Carolina against the Carolina Hurricanes. Under the guidance of president of hockey operations and general manager Lou Lamoriello, the new-look Islanders make their debut on this early-October night against a Metropolitan Division rival, who like the Isles, has been very active this offseason.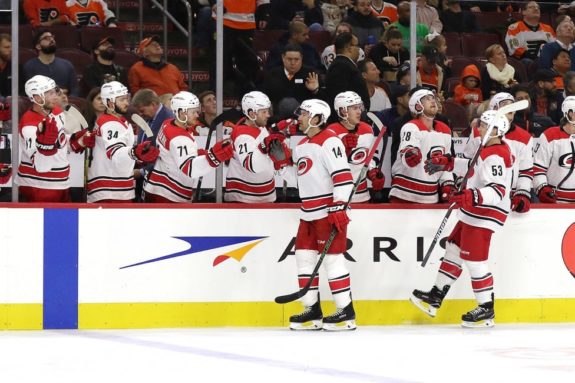 Carolina was involved in one of the biggest trades of the summer, acquiring Dougie Hamilton, Micheal Ferland and prospect Adam Fox from the Calgary Flames in exchange for Elias Lindholm and Noah Hanifin. The Canes have also signed goaltender Petr Mrazek to help out Scott Darling in goal.
The team's split the season series last year with both teams going 1-1-0 at home.
Oct. 6, 2018: Islanders vs. Predators
The Islanders begin their home schedule on Oct. 6 at Barclays Center. Their opponent? The reigning Presidents' Trophy winners, the Nashville Predators.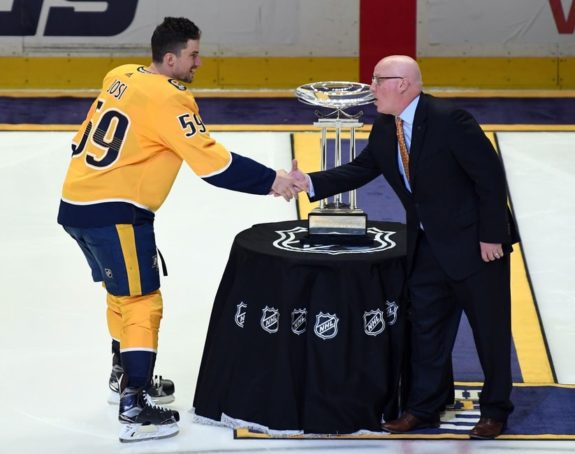 The Islanders were 1-0-1 against the Predators last season and scored a combined 10 goals in two games against them (6-2 win, 5-4 OTL).
Since the 2014-15 season, the Islanders have gone 3-0-1 in home openers, including a 2-0-1 record at Barclays Center.
Nov. 15, 2018: Islanders vs. Rangers
Nov. 15 is the first Islanders-Rangers game of the season and it should be a fun one. The Islanders swept the 2017-18 season series against their cross-town rival, outscoring their opponent 16-6 over four games.
The Rangers, focused on rebuilding, have stayed relatively quiet this summer. The Islanders, on the contrary, have not and have most notably brought Matt Martin back into the rivalry.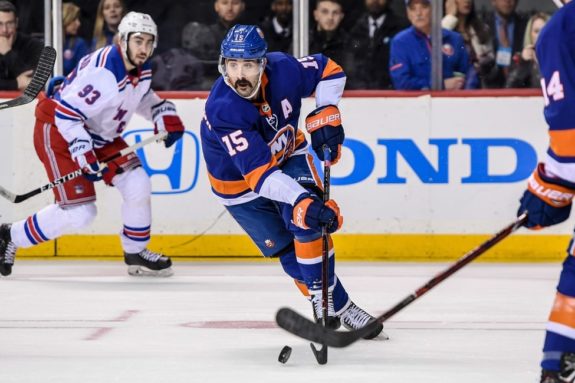 Expect a fast-paced but hard-hitting matchup and expect a sellout crowd at Barclays Center, something you probably won't see very often this season.
Nov. 26, 2018: Islanders @ Capitals
On Nov. 26, newly-named Islanders head coach Barry Trotz is headed back to Washington. Trotz left the Washington Capitals less than a month after coaching the franchise to its first-ever Stanley Cup championship.
Serving as the Capitals' bench boss for the past four seasons, Trotz's Caps captured the Presidents' Trophy twice and the Stanley Cup once, and Trotz won the Jack Adams Award (awarded to the coach of the year) for his efforts during the 2015-16 season.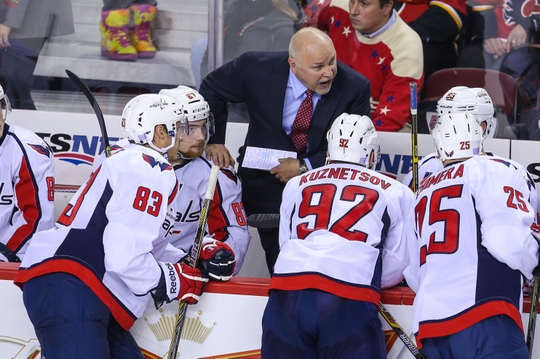 Trotz will almost certainly be given a video tribute and a standing ovation at Capital One Arena, and as is tradition, his Stanley Cup championship ring before the game.
Assistant coach Lane Lambert is also leaving Washington to join Trotz as an associate coach on Long Island. According to Andrew Gross of Newsday, goaltending guru Mitch Korn, who was worked with Trotz in Nashville and Washington, is another candidate to join the Islanders' staff.
The Capitals have been able to retain almost their entire Stanley Cup-winning team, including their top defensive pairing of John Carlson and Michal Kempny.
The Islanders struggled against the eventual Stanley Cup champions last season, going 1-3-0. It will be fun to see the Isles try to prove themselves against the reigning champs and to see if they play a little harder for their coach.
The New York Islanders-Tom Wilson rivarly is also always fun to watch. Will Ross Johnston, Cal Clutterbuck, and Martin amongst others be too much for Wilson to handle?
Dec. 1, 2018: Islanders vs. Blue Jackets
It's safe to say that the Islanders' second home opener of the season will have much for significance compared to the one they had in Brooklyn earlier in the season.
As the team waits for its new arena to be built at Belmont Park, the team will split its home games between Barclays Center and NYCB Live: Home of the Nassau Veterans Memorial Coliseum.
The Coliseum was the Isles' home for their first 43 years of existence, and due to popular demand, they will play 20 games there this season (originally scheduled for 12). The 20-game schedule kicks off on Dec. 1 against the Columbus Blue Jackets.
Like the Islanders, the Blue Jackets have lost a few players to free agency but have signed some replacements. On defense, they lost Jack Johnson and Ian Cole, and up front, they lost Matt Calvert and Thomas Vanek. Coming to Columbus are forwards Riley Nash and Anthony Duclair.
The Islanders season-series against the Blue Jackets wasn't pretty; They went 1-3-0 and were outscored 9-18. With all the energy and hype around the game, however, expect a strong effort from the Isles regardless of the two team's reputations three months into the season.
Dec. 29, 2018: Islanders @ Maple Leafs
Reunions galore. Lou Lamoriello, Leo Komarov, and Matt Martin return to Toronto but most notably, John Tavares plays against the Islanders for the first time in his NHL career and for the first of three times this season.
The team was winless against Toronto last season, going 0-2-1, but they should be playing with some fire under them.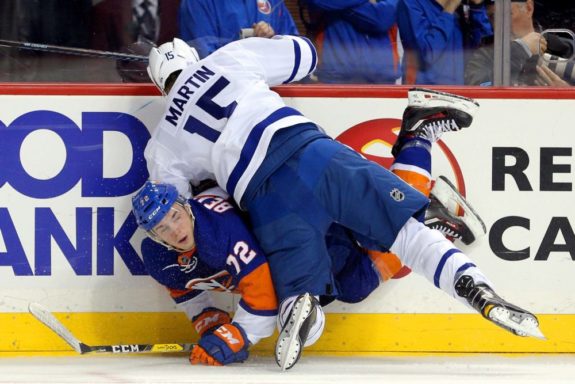 Martin was a healthy scratch for most of last season with the Maple Leafs and, assuming he is in the lineup for this game, he will certainly want to prove to his former team that he is better off on the ice than the press box.
It is unknown if the Leafs made a contract offer to Komarov or not, but he too will likely want to send a message against his former club. The team will also try to prove to Tavares that they could not only win without him but that they're better off without him. Will we perhaps see a Barzal-Tavares rivarly form? It's going to be weird seeing Tavares playing against the Islanders.
Dec. 31, 2018: Islanders @ Sabres
Before the clock strikes midnight and the year changes from 2018 to 2019, the Islanders will be in Buffalo to face the Sabres.
Historically, the Islanders have done extremely well on New Year's Eve. According to According to Eric Hornick of NYISkinny, the Isles were 10-0-1 in their last 11 Dec. 31 games before a 6-1 loss to the Colorado Avalanche to end 2017.
Hornick also mentions that the Islanders, excluding the lockout-shortened 2012-13 season, have played a game on every New Year's Eve since 2007.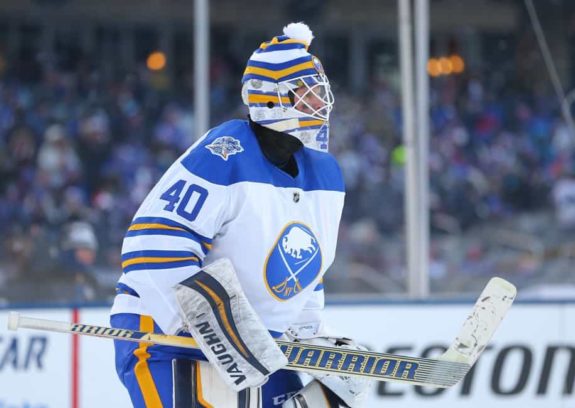 The Islanders went 2-1-0 against the Sabres last season but they never had to face defenseman Rasmus Dahlin, selected first overall by the Sabres at this year's draft.
It will also be Robin Lehner's first time back in Buffalo. After being replaced in Buffalo with Carter Hutton, the 26-year-old netminder signed a one-year deal with the Isles to presumably be their number one goaltender. Lehner spent the past three seasons in Buffalo.
Jan. 10 & Jan. 12, 2019: Islanders @ Rangers & Islanders vs. Rangers
I know it's actually two games but think of the second one as an extension of the first, because this is going to get ugly. The Islanders-Rangers rivarly has always been intense no matter how either team is doing standings-wise, and with the home-and-home taking place in January, who knows where these two teams will be by then. At the very least, they'll be playing for pride and bragging rights.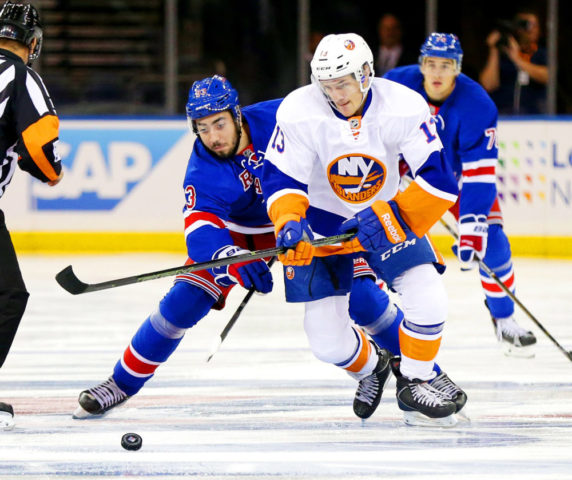 The Rangers have never won at Barclays Center (if you're an Islanders fan, hopefully I didn't jinx it for you), going 0-5-1, and they even lost a preseason contest in Brooklyn ahead of the 2016-17 season.
Feb. 28, 2018: Islanders vs. Maple Leafs
The minute Isles fans found out that their captain John Tavares was leaving for his hometown Toronto Maple Leafs, they circled a date on their calendars. On Feb. 28, the former franchise player returns to Brooklyn, and the reaction will be interesting to see.
For one, Tavares had been everything the Islanders hoped for in his nine seasons with the team. Management issues and other off-ice distractions translated to on-ice issues, but Tavares always gave it his all and was a true professional.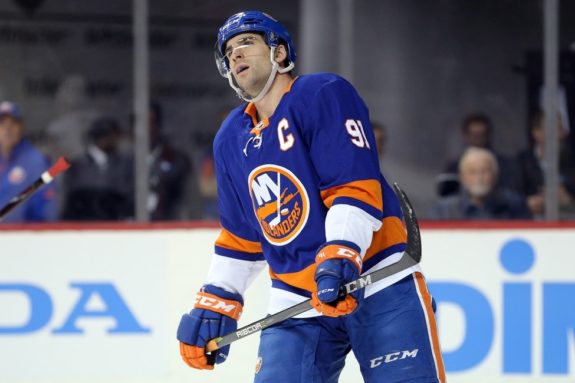 However, his legacy is now tainted. Essentially, Tavares ran out the clock on the Islanders after being quoted countless times on how he wanted to stay on Long Island.
Given that they have shown video tributes for Ryan Strome, Martin, and even Jack Capuano over the past few years, one could assume that the team will put something on the scoreboard to thank Tavares for his time with the organization.
Will it be drowned out by boos? Will he be booed everytime he touches the puck? What will the fan reaction be like? These are things I personally can't wait to see play out.
April 1, 2018: Islanders vs. Maple Leafs
Fittingly, all three Islanders-Maple Leafs games have made my list. Like so many Islanders have, both past and present, Tavares loved (loves?) the Coliseum. In fact, Tavares was at the press conference in which Governor Andrew M. Cuomo announced that the team would play some games at the Coliseum before the arena at Belmont Park was built.
"I think it's great we're going back and I'm going to have an opportunity to play there again. I think it's only positive," Tavares told Laura Albanese of Newsday at the announcment.
Well, Tavares is going to have an opportunity to play there again, but I don't think the crowd will be so welcoming to the first overall pick from back in 2009.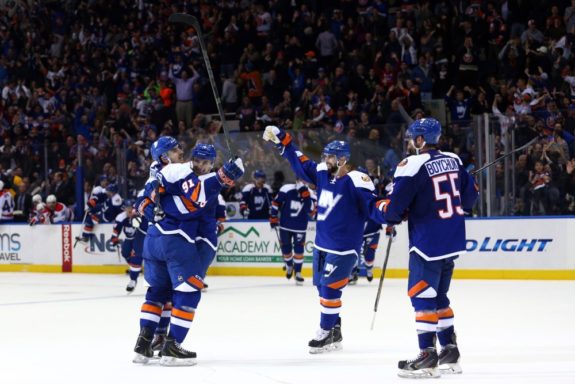 The game also kicks off the home stretch of the season, and if the Islanders are still fighting for a playoff spot, two points would be huge.