Petr Mrázek is now signed with the Carolina Hurricanes. He is starting out as the backup goaltender, but he may have to be ready to carry more of the load as Cam Ward did last season, should starter Scott Darling flame out again.
In fact, Hurricanes general manager Don Waddell said that there would be a healthy competition in the starter's crease this fall. Mrázek may wind up being the Hurricanes' starting goaltender.
With a couple of pen strokes, Waddell got a comparable backup to what he had in Ward and saved a ton of money. Ward signed with the Chicago Blackhawks for $3 million while Mrázek signed a one-year deal with the 'Canes for $1.5 million.
Former #Flyers loaner goalie Petr Mrazek says he likes playing under pressure… 🤔 pic.twitter.com/chwxa04HHl

— Flyers Nation (4-2-1) (@PHLFlyersNation) July 3, 2018
Mrázek had a magical outing against the Hurricanes three years ago. Fans in Raleigh are hoping that is the Mrázek they have acquired, not the one who has struggled over the past two years to regain the former magic he had in-between the pipes. In about three months, the team and the fans will know.
Meet Petr Mrázek
Mrázek is a 26-year old Czech hockey player who was drafted by the Detroit Red Wings in the fifth round of the 2010 NHL Entry Draft. His career record is 78-64-23, and his goals-against average (GAA) is 2.66, and his save percentage (SV%) is .911. He has not been considered an elite goaltender but has been serviceable and at times above average for much of his career.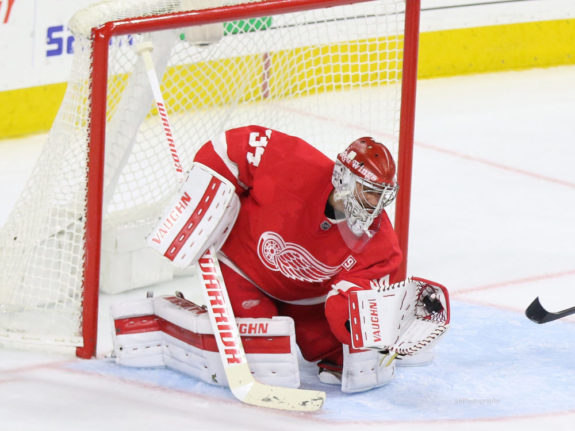 It was not until the 2015-16 season that Mrázek saw a lot of action, playing in 54 games and starting 49 of them in place of starter Jimmy Howard. On Oct. 11, 2015, I wrote an article called "The Magic of Mrázek" after he shut down the Hurricanes and their best efforts in a 4-3 Red Wings victory. The score does not tell the story, but I tried to capture the magic in the article:
But, the combination of Carolina's zeal and relentless attacking, fended off time and again by Mrázek, made this game one to remember. Unfortunately for the home crowd, the result is one that they'd rather forget.
Mrázek was magical that night, fending off a barrage of shots by the Hurricanes. He was beginning to be the topic of speculation that he might even replace Howard as the Red Wings' starter. But, Howard would not go quietly and eventually, the play of Mrázek began to falter, culminating in his being moved to the Philadelphia Flyers last season.
Little Mrázek Magic on Broad Street
Mrázek's time in Philadelphia was spotty. He still had the reputation of someone who could rise to the level of being a team's starter, but, not unlike Darling of the Hurricanes, has not been able thus far to carry that mantle. Joe Pergola wrote at Broad Street Hockey on Monday, July 2, giving an insightful look at Mrázek's time with the Flyers.
Pergola began with a great synopsis of the Mrázek saga: "For the last few seasons, Mrázek has been touted as a player who had the potential to be a number one goalie in the NHL but was never able to fully beat out Jimmy Howard in Detroit. Some would say it's because when Mrázek faced competition he would falter. Others would say he was never ready for a starting role, to begin with. More would blame the poor Detroit defense for his lapses."
Does that sound familiar?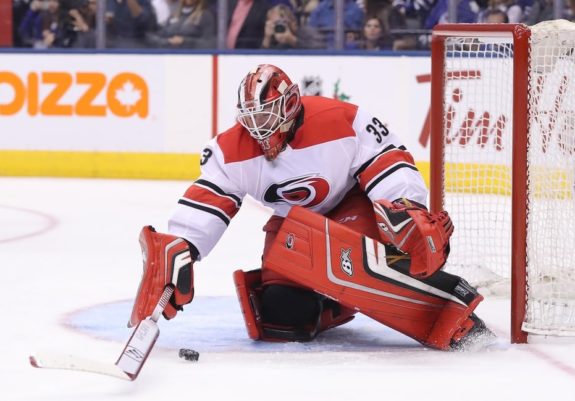 There is so much similarity to Darling—even though he has only tried to be a starter for one season—that it is uncanny. The question for the Hurricanes now is, "Will Mrázek be able to rise above his recent past, regain the former magic that characterized his play a few years ago, and wrestle the starter's job away from Darling?"
Pergola summed up Mrázek in a very accurate fashion: "Petr Mrazek is a certainly athletic, and it can really set him apart from other goalies. However, one of the major flaws is his consistency. One night Petr can really take control of the game and stop everything thrown at him. But, the next night he could be the hockey equivalent to swiss cheese. If he is ever going to take the next step in his career, that is an area that he has to focus on."
Hurricanes fans do not need more swiss cheese. They have had their fill of that over the past two seasons with Eddie Lack and Darling. They need Mrázek to find the magic and deliver it consistently.
Mrázek Looks for Easy Transition to Hurricanes' "D"
Also, on Monday, July 2, Mrázek met with the Hurricanes media via telephone conference call. Since the play of the defense in from of him has at times been blamed for his poor results, I asked Mrázek what he has observed as the biggest difference defensively between the Hurricanes and the Red Wings and Flyers.
Mrázek answered,
"You have to know the defensemen, how they talk to you and how you have to play the puck to them and stuff like that…I'm going to be starting the season with the team and we're going to have the time in training camp to get used to it. The defensemen are really, really good and we all know how good and how important they are for Carolina. I think it's going to be easy."
Whether or not Mrázek will have an easy time transitioning into the Hurricanes' system remains to be seen. Also on Monday, new Hurricanes head coach Rod Brind'Amour was quoted by Chip Alexander in the Raleigh News & Observer as having said, "Hopefully between Petr and 'Darls' one of these guys will get it together and can lead us."
Translation for fans: We sure hope Mrázek can find the magic and lead us to the playoffs. Not that it would not be appreciated if it turns out to be Darling who has a playoff-caliber season. But, at this point all eyes are on Mrázek, looking for the magic and hoping it is there.