This year was one to forget for the Ottawa Senators, finishing second-to-last in the NHL after a promising playoff run the year before. As the free agency period has gotten underway, there are many questions that still need to be answered. The Sens have already addressed one question, placing right winger Alex Burrows on waivers to buy him out and free up some cap room ahead of free agency.
With the team surrounded by rumors, here are the three biggest questions to be addressed this offseason.
What's Happening With Erik Karlsson?
Erik Karlsson is the face of the Senators' organization. For the past nine seasons, he has become one of the best players in the NHL. He has won two Norris Trophies as the NHL's best defenseman, been named to the NHL First All-Star Team four times and has helped the Sens reach the playoffs five times. His 518 points in 627 games don't hurt either.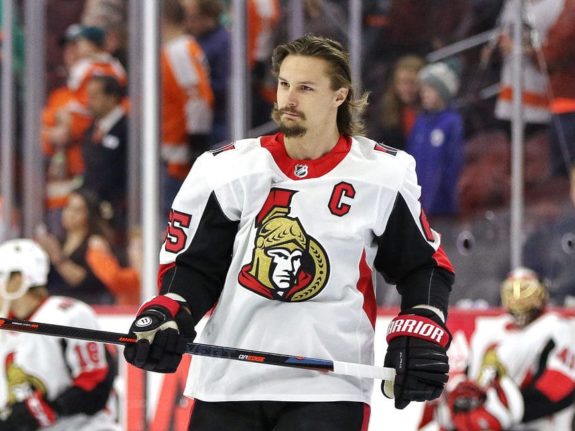 NHL All-Stars are not easy to come by, and it looks like the Sens might lose theirs. Karlsson's contract ends after the 2018-19 season and the club reportedly offered him an $80-million contract extension on July 1. With no deal in place just one day later, the Senators granted other NHL teams permission to speak with the veteran.
There have been numerous teams looking into Karlsson, with the Vegas Golden Knights initially looking to be the front-runner, reportedly willing to take on Bobby Ryan's $7.25 million contract in a trade. That should be an intriguing inclusion for the Sens. After losing John Tavares, the New York Islanders also look to be in talks to acquire the defenseman. The Isles would greatly benefit from landing Karlsson, not just for his skills on the ice, but for a fanbase in need of some good news. In addition to those clubs, the Dallas Stars have come on recently as a frontrunner to acquire Karlsson.
With the 28-year-old's contract nearing its end, the Sens' captain could become the highest-paid defenseman in NHL history. The Swedish defender has become one of the league's best players and with the salary cap going up year after year everyone has eyes on the potential 2019 free agent's negotiations.
Los Angeles Kings rearguard Drew Doughty recently signed his extension worth just under $11 million over eight years, setting the bar for Karlsson in his contract discussions. With the Senators offering $10 million over 8 years, expect interested teams to offer deals similar, if not higher, to Doughty's.
Will Craig Anderson Be the Starting Goalie?
In an unexpected move, goaltender Craig Anderson asked to be traded. While surprising, the 37-year-old's desire is understandable given that the Sens are just starting to rebuild.
More buzz out of Ottawa 👀.https://t.co/d8CUXAkFiR

— Sportsnet (@Sportsnet) June 22, 2018
The fact that his two-year, $9.5-million contract kicks in next season may make it difficult to move him, but many teams are looking for a goalie this offseason, including the Islanders, who have been kicking the tires on the availability of the Sens' most successful goalie of all time. That said, the Islanders did sign Robin Lehner on July 3.
However, Dorion has made it clear in the Karlsson discussions that he won't be making a deal if the return isn't to his liking. Anderson is a clear-cut starter in the NHL, and Dorion will be looking for a fair trade in return. If he can't find a deal, expect Anderson to be wearing red in October.
With many of the free agent goaltenders signing July 1, the options looking thin for Ottawa, especially with Lehner, an ex-Senator, signing with the Islanders after not receiving a qualifying offer from the Buffalo Sabres. Last year, Lehner went 23-26-8 with a GAA of 2.68 and save percentage of .920. While these numbers are not remarkable, they'd do well for a rebuilding team.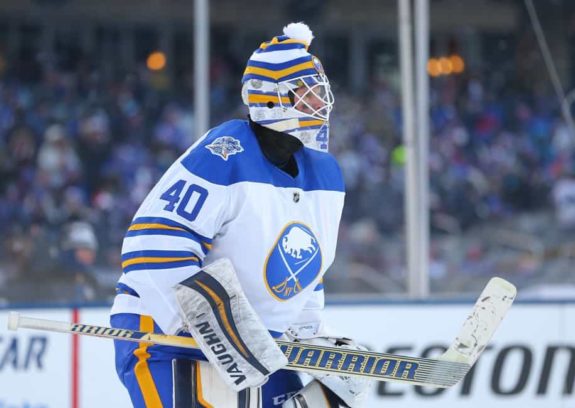 On the trade front, the Red Wings are reportedly dangling Jimmy Howard who has only one year left on his contract. A trade is even more likely after Detroit signed Jonathan Bernier to a three-year deal. Similar to Lehner, Howard may not be the goalie he once was, but is still a starting-caliber goaltender.
What doesn't appear to be an option, is looking internally. Behind Anderson is Mike Condon, who fans will remember going 5-17-5 last season with a 3.25 GAA. Even for a rebuilding team, those aren't the numbers of a starting goaltender. Whichever avenue Ottawa takes with Anderson, this will be an intriguing story through the offseason if Dorion can make a deal happen.
Can the Sens Move Bobby Ryan?
The Bobby Ryan saga may come to an end this offseason. After an injury-riddled season and a rebuild underway, the Sens should be looking to get out from under the four years and $29 million left on his contract. That is easier said than done though.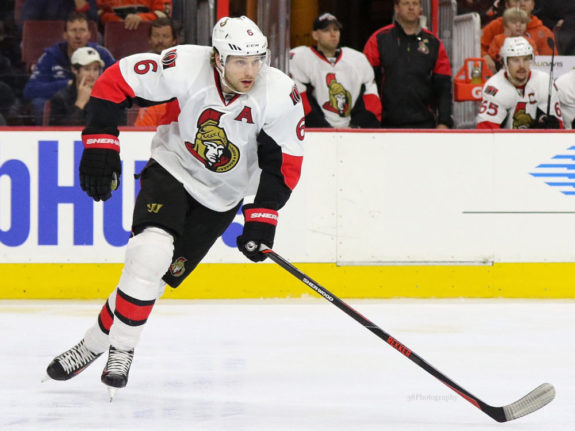 Ryan
looked like an 
All-Star
 with the Anaheim Ducks, putting up at least 31 goals and 57 points in four of his six years there. Those two seasons he scored less were his rookie year and the lockout 2012-13 season. In Ottawa, he hasn't hit either of those numbers, falling to just 11 goals and 33 points last season.
The Sens might have difficulty moving a contract like Ryan's, but if the Toronto Maple Leafs were able to unload David Clarkson, anything is possible. The most likely scenario would be for Dorion to bundle Ryan with another asset or take on a bad contract in return, which isn't ideal (see the Marian Gaborik trade).
As David Pagnotta of The Fourth Period suggests, Ryan could be packaged with Karlsson, with at least the Golden Knights and one more team open to that possibility (while the New York Rangers were initially reported to be interested, they now appear to be out of the equation). This would lessen the amount the other team has to send back but would unload a sizable amount of cap space for the Sens.
As we've mentioned over past few days, VGK, NYR and at least one more team has expressed interest in acquiring both Karlsson/Ryan. There are 6-7 other teams after just Karlsson. Told NYI is among them.

— David Pagnotta (@TheFourthPeriod) July 2, 2018
If Dorion and company are serious about the rebuild and a Karlsson deal happens, it's likely that Ryan is on his way out of the nation's capital with him. Come October, there may be a very different core group in Ottawa.