One day after NHL Free Agency opened and a number of big names came off the board, things became a lot clearer for teams who landed their targets or missed out. Some organizations will need to make moves to clear up space or remove a surplus at certain positions while other organizations now realize how much they've not plugged some glaring holes. Could trades and additional signings be not far off?
Does Signing JVR Mean Simmonds Is Gone?
The Philadelphia Flyers landed one of the most coveted names in free agency when they signed James van Riemsdyk to a five-year. $35 million deal. But, if you ask GM Ron Hextall, that doesn't necessarily change their plans with forward Wayne Simmonds who was rumored to be on the trade block. Simmonds has one year left on his current deal that will pay him $3.975 million and while injuries are a bit of a concern, there are definitely teams would who be interested in acquiring the winger.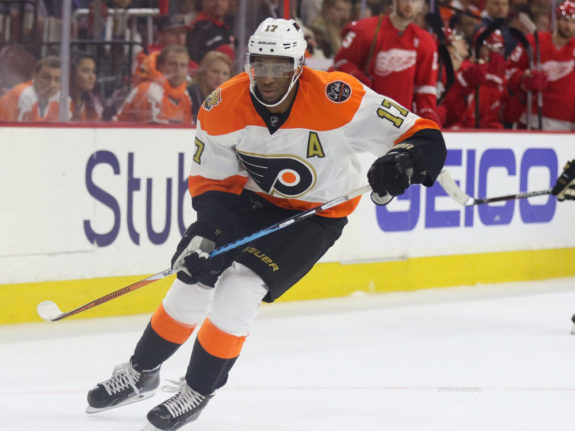 Adam Kimelman reported Flyers that Hextall said the Flyers are still interested in a contract extension for Simmonds and when asked if he'd been talking to Simmond's reps, he responded:
"We'll talk. Where the talks go I have no idea. We'll talk to Simmer's representatives in the next little while here and we'll see where it goes. We're comfortable if we have to go into next year, we're comfortable with that. If we can work something out in the meantime we'd be comfortable with that. Until we talk and seriously talk I don't have anything for you. We like Wayne Simmonds, this doesn't change anything for Wayne. This is a different player than Simmer and we're excited to have James and certainly, we'd like to have Simmer for a long time too."
The Flyers still have about $12 million in cap space left to make deals and signings so there is no financial need to move Simmonds but Hextall says he does have holes he'd still like to fill which include a bottom-six center and a veteran defenseman.
Related: James Neal Signs With Calgary Flames
Ryan Spooner Could be Traded
Re-signing Vladislav Namestnikov could mean Ryan Spooner's days as a New York Ranger are numbered.  The 26-year-old pending RFA is arbitration eligible and scored 16 points in 20 games for the Rangers after coming over to the team from Boston. If he is moved, it is believed the Rangers would like to try and obtain a second-round pick for him.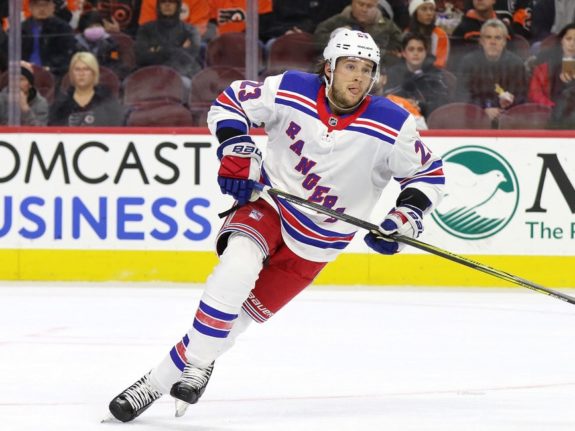 Larry Brooks suggested, "Maybe Spooner goes but that won't materially effect NYR. But otherwise, no need to force a trade. Would caution against moving Vesey, who does have jam to his game and should be in better spot with Quinn here."
There are plenty of teams who missed out on some of the free agent targets they'd set their sites on and Spooner could be an attractive option if the Rangers do, in fact, make him available.
Sharks to Announce Thornton Signing
After missing out on John Tavares, the San Jose Sharks need to refocus and get back to work signing some of their internal talent, among them is Joe Thornton who was speculated as always coming back to the team. Stephen Whyno tweeted, Sharks' GM Doug Wilson said in respect to Jumbo Joe, "Hopefully we'll have some news for you pretty shortly."
Related: Top 40 UFA's: Where They'll Sign
Unsigned Free Agents
Calvin de Haan
Pierre LeBrun has reported that highly sought after defenseman Calvin de Haan is still undecided and is being patient. LeBrun said some of the teams that showed interest in John Tavares showed interest in de Haan. Brian Lawton reported that de Haan has narrowed his list down to four teams – New York Islanders, New York Rangers, New Jersey Devils and the Dallas Stars. He could sign a multi-year deal today. Other reports are that the Maple Leafs, Kings and Canadiens are also interested.
Patrick Maroon
The holdup on a Patrick Maroon deal seems to be his desire to land a big-time contract and cash in on a couple years success with Connor McDavid. Jim Matheson is reporting he can't see Maroon looking for less than David Perron money – maybe three or four years at $4 million.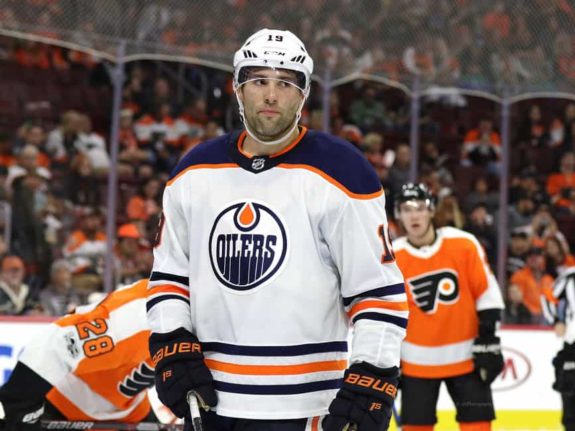 Jeremy Rutherford reported that Blues' GM Doug Armstrong hasn't ruled out St. Louis in all of this but noted the Blues would have to get creative considering they only have $8.4 million in salary cap space with five remaining restricted free agents to sign.
Erik Karlsson Given Offer by Senators
Ottawa Sun reporter Bruce Garrioch noted Senators general manager Pierre Dorion confirmed he'd tabled an eight-year contract extension offer to captain Erik Karlsson on Sunday. He wouldn't discuss Karlsson's reaction to the eight-year offer but early speculation is that it would have had to be somewhere in the Drew Doughty range for Karlsson to have taken a second look. If Karlsson chooses to decline, the Vegas Golden Knights, Tampa Bay Lightning, San Jose Sharks, New York Rangers and Washington Capitals are among the teams interested in Karlsson.