The San Jose Sharks have re-signed forwards Joe Thornton and Tomas Hertl. Thornton's contract will last one year and will pay the veteran center $5 million for the 2018-19 season. Hertl's is a four-year contract.
BREAKING: The #SJSharks re-sign @TomasHertl48 to a four-year contract!

🐢: https://t.co/ObnSNR8xHq pic.twitter.com/y9TEAnQpVc

— San Jose Sharks (@SanJoseSharks) July 2, 2018
This is the second consecutive season that saw Thornton sign his contract with the Sharks on July 2. He did so both years with a team-first attitude in mind as he waited for Patrick Marleau to make his decision – a decision that ultimately involved the long-time Shark joining the Toronto Maple Leafs in 2017, before signing a one-year $8 million contract. This time around, he did so a day after John Tavares signed his contract, also with the Leafs.
Related: Tavares Signs With Maple Leafs
"Joe has become one of the faces of this franchise since his arrival in 2005 and we feel it's only fitting that he will be wearing teal going forward," said general manager Doug Wilson. "He is a generational playmaker and his accomplishments place him amongst the elite players to ever play the game. He has helped lead this team to new levels and continues to be one of the top two-way centers in the League. Nobody loves the game of hockey more than Joe Thornton and his leadership on and off the ice have been instrumental in this franchise's success. We're excited that he has continued his commitment to this organization and the fans in San Jose."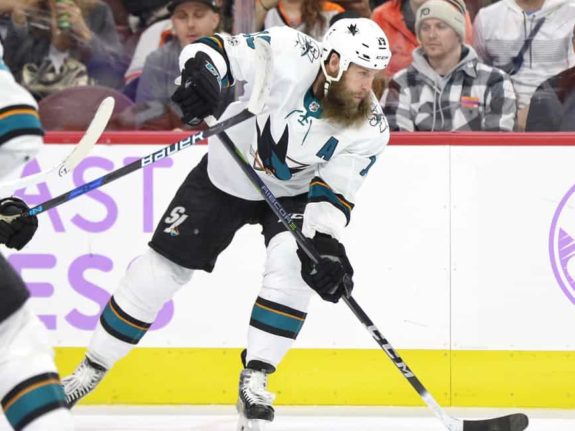 Thornton's place in Shark's history, as well as league-history, are both equally impressive. With 397 goals and 1,427 points in 1,493 games split between the Boston Bruins and Sharks, Thornton has earned himself a spot near the top of the all-time point standings as he is 12th all-time in NHL assists and 16th all-time in NHL points. He also ranks first in assists and points among all players since the 1997-98 season – the year he entered the league.
In terms of Sharks history, he ranks first in assists, points-per-game and plus-minus while also ranking second in points, games played and third in goals.
Hertl's Career is Just Starting
In contrast to the 39-year-old Thornton (whose birthday also happens to be July 2), Hertl is only 24 years old and just completed his fifth season in the NHL.
Related: Sharks Re-Sign Logan Couture
"Tomas took a big step forward last season, both on and off the ice, and we feel that he is just starting to hit his prime," Wilson said of the signing. "He has the ability to be a dominant player in this League and proved during the playoffs that he can take over any given game with his combination of skill and strength. His capability to play both center and the wing gives our team some flexibility, and he has one of the most infectious personalities in our dressing room. We're excited he made this commitment to our organization."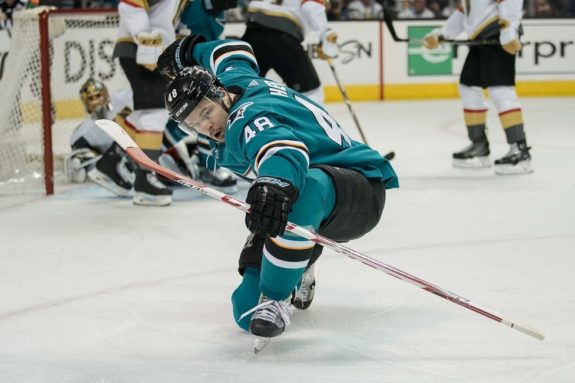 In 328 career games, Hertl has scored 81 goals and 170 points and has been a mainstay in the Sharks lineup since 2013. Taken in the first-round in 2012, the Sharks are now set to keep Hertl all the way through the 2021-22 season and re-convene from there when he has a chance to earn another contract. At that point, however, Hertl will be an unrestricted free agent as opposed to the restricted status he had this year.