The winds of change are blowing at gale force in the Carolina Hurricanes' locker room. Sunday saw Cam Ward blown out of the only team he has ever played for, landing in the midwest with the Chicago Blackhawks. He signed a one-year deal for $3 million. It's an epic event that has some Hurricanes fans happy and some not so happy.
Re: Cam Ward's departure
Have nothing but admiration and respect for Ward. He played his whole career in Raleigh and was a constant for our squad many fruitless years. His success in net ebbed and flowed in recent years. A lot of that wasn't his fault imo

— Kirk O'Steen (@KirkOSteen) July 2, 2018
Getting Rid of Ward is Epic
Reams have been written about Ward. I have contributed a great deal to the lexicon of Ward, the good and the not so good. He came on the scene in the 2005-06 season as a rookie, filling in for the injured Martin Gerber. He carried the team to the playoffs and eventually to victory in the Stanley Cup Final.
As I pointed out in May when making the assertion that Ward's jersey will hang in the rafters of the Hurricanes' home arena, "Not only does Ward have the distinction of winning the Cup as a rookie goaltender, but he also won the Conn Smythe Trophy, awarded to the most valuable player in the Stanley Cup playoffs. Once again, he is in elite company. The Stanley Cup Journal lists only three other goaltenders that have won the Conn Smythe as a rookie. They are Ken Dryden in 1971, Patrick Roy in 1986 and Ron Hextall in 1987." His career started out in stellar fashion, the stuff of legend, but fortune would not sustain that start.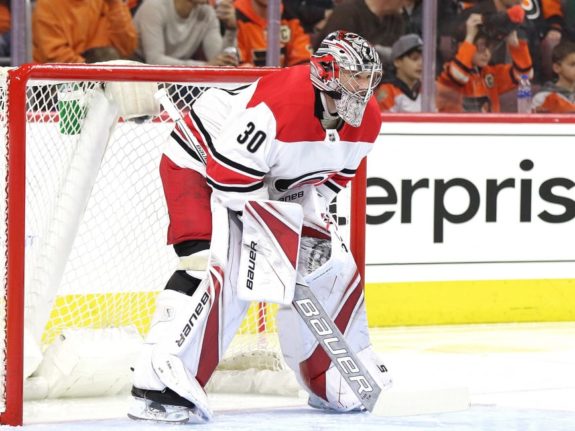 Ward had the misfortune of playing on a sub-par team for the past 12 years. The Hurricanes only made it to the playoffs once in that time — in 2009. It was not Ward's play, or lack thereof, that propelled the team to mediocrity. A combination of poor coaching and poor management decisions kept him from being in the position to carry the team through the playoffs once more.
Ward was the ultimate team player. He not only tolerated, but accepted with grace, the decision of former general manager Ron Francis to bring in Scott Darling to be his replacement. He did not complain or hang his head. In fact, when he was called on to essentially resume his role as starter after Darling's horrific start last season, Ward downplayed the notion he was trying to return as the starter. He supported Darling every step of the way last season, making the decision to blow him off to the Blackhawks all the more difficult to understand.
There are social media pundits who regularly attack Ward and are delighted he is gone. But, his career 318 wins  (27th on the list of all-time wins leaders) 2.70 goals-against average and .909 save percentage show that he has been an above-average goaltender throughout his career. His departure is an epic loss for the Hurricanes. It may have been a necessary move, but he is a player worthy of the thanks and respect from Hurricanes fans.
WHAT A SEQUENCE!#WardSaysNo #Redvolution pic.twitter.com/Fc6EPeAguz

— Carolina Hurricanes (@Canes) November 19, 2017
Ward and the Blackhawks
Ward did not necessarily want to go to Chicago, but being the consummate professional, he has accepted change and is already talking the talk we would expect of him. Mark Lazerus wrote in Saturday's Chicago Sun-Times that Ward is ready to do whatever is needed. Lazerus quoted Ward as saying Sunday, after signing a one-year, $3 million contract with the Blackhawks, "I'm definitely going into it with the mindset that I'm there to support Corey,'' Ward said. ''I think very highly of Corey as a goaltender. I look forward to meeting him and being a partner with him. Certainly, I'm in that support role that, when called upon, I will try to do the best I can.''
Lazerus also quoted Blackhawks general manager Stan Bowman as giving the rationale for their wanting Ward: "Being a No. 1 goalie in the NHL, it's not easy, There's a lot of examples around the league of guys that were great in a limited role, and once you put them in that No. 1 role, it's not easy to do. For that reason, we were looking to try to bring someone in that has a pedigree of being able to handle that.''
Ward is definitely that player, and the concern the Blackhawks have with the health of their starting goalie, Corey Crawford, is lessened a bit knowing that Ward can step in if necessary.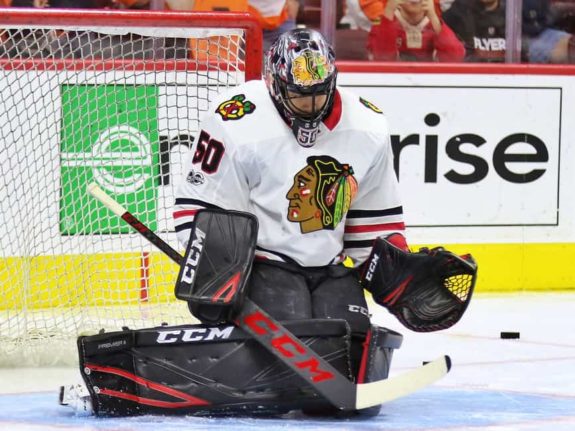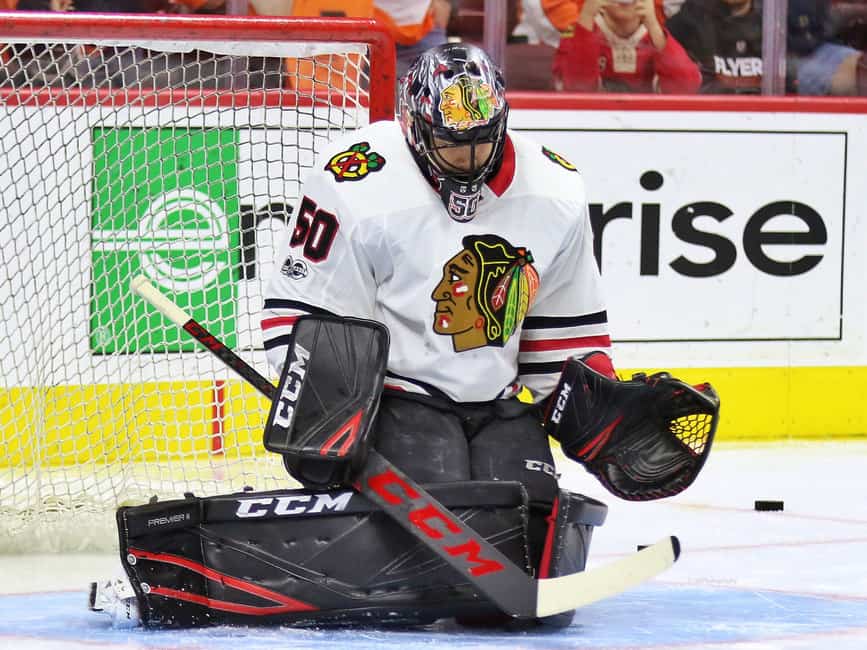 Business is business. The business of hockey saw the winds of change blow through the Hurricanes' locker room, pick up Ward, and drop him in the 'Windy City." Ward is the backup for the Blackhawks, a team that very well might make the playoffs. The irony of Darling having been there, in Raleigh now, and Ward now being there, is thick. Sometimes life is stranger than fiction, and those who respect what Ward has meant to the Hurricanes might just smile contently if he is a part of a Blackhawks' playoff run.
A well-deserved hat-tip to Ward and a heartfelt thank you for all you have meant to the Hurricanes and the community.
Mark lives in the Raleigh, NC area and covers the Carolina Hurricanes.