When he has finally hung up his skates and pads, put away the blocker and big glove, Cam Ward should be seriously considered for a spot in the rafters at Raleigh, North Carolina's PNC Arena, the Carolina Hurricanes' home venue. More specifically, his jersey should be. The longtime Hurricanes goalie has put together a career in the NHL that merits, at the very least, a retired number and the appreciation of the fans for his longtime steadfastness in-goal.
While the first response to that statement from some might be laughter and a hearty, "No way," taking pause to look at his career might evoke a different response. At the very least, Ward has earned the right to have serious consideration given to honoring him.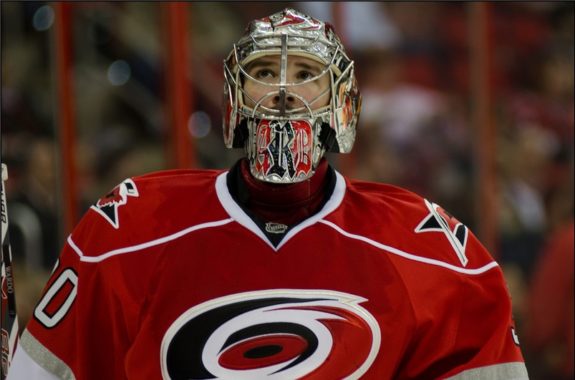 The Ward-haters are likely throwing things at this point, but there is a case to be made that is based solely on his body of work, not the skewed emotions of a disgruntled fan of a team that has not made the playoffs since 2009. Objectivity is difficult to attain for the most impassioned fans, but such a look at "Wardo's" career might just change some minds about his worthiness to be considered worthy of having his number retired by the Hurricanes.
Ward's Longevity
Ward has endured. In and of itself that does not make a player automatically included among a sport's elite. But, the circumstances under which he has endured, and the numbers he has maintained are noteworthy. Ward has been the backbone of a defense that has seen multiple coaches and systems come and go, yet he has not wavered even a little.
The story is well-told of Ward coming onto the scene in 2006 in the biggest of ways on the grandest of NHL stages. Drafted in 2002, Ward earned a spot on the 'Canes in the 2005-06 season as the backup to goaltender Martin Gerber. Along the way, Gerber went down because injury, and Ward got the call. He was the backbone of a team that went on to win the Stanley Cup.
Until this past season, he has never looked back. He has been the Hurricanes' starting goalie ever since. Even though Scott Darling was brought in during last summer to be the new starter, Ward had to step up and assume that role as a result of Darling's horrific play. Always the professional, Ward never complained publicly about being replaced by Darling or about having to step in for Darling. He has been a reliable workhorse for the Hurricanes for the past 12 years.
Ward the Rookie
At the time the Hurricanes won the Stanley Cup in 2006, Ward was only the fourth rookie to have earned that distinction. At the Hockey Hall of Fame's Keeper of the Stanley Cup Journal, the other three are listed as "Frank McCool of the Toronto Maple Leafs in 1945, Montreal's Ken Dryden in 1971 and Patrick Roy of the 1986 Canadiens." Of course, Antti Niemi and Matt Murray have since joined that elite club. To be one of a handful of players to win a Stanley Cup as a rookie goaltender is pretty special, and a huge plus in Ward's favor.
Not only does Ward have the distinction of winning the Cup as a rookie goaltender, but he also won the Conn Smythe Trophy, awarded to the most valuable player in the Stanley Cup playoffs. Once again, he is in elite company. The Stanley Cup Journal lists only three other goaltenders that have won the Conn Smythe as a rookie. They are Ken Dryden in 1971, Patrick Roy in 1986 and Ron Hextall in 1987.
The unfortunate thing for Ward when considering a conversation about whether or not he should be honored is that the Stanley Cup and the Conn Smythe Trophy are accolades from 12 years ago. In a world that is often moved by a, "What have you done for me lately?" mentality, Ward's accomplishments may have been too early in his career for him to merit consideration by the team as one of its best players.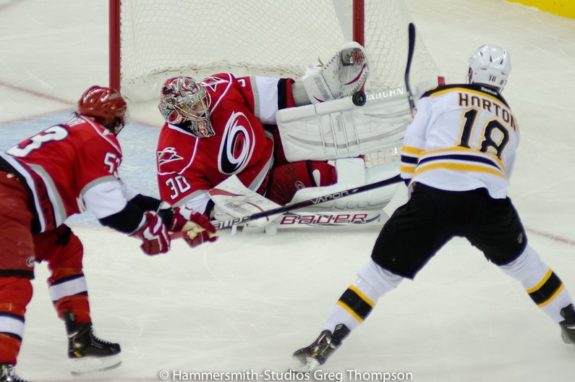 Ward's Wins
Ward surpassed the 300-win mark this past season, a benchmark that spawned talk of his possibly meriting Hall of Fame consideration. He finished the 2017-18 season with 318 wins and counting. Ward said in no uncertain terms at the end-of-season interviews that he wants to keep playing. With current GM Don Waddell saying that it is unlikely that the tandem of Ward and Darling will be in-house next season, one wonders where Ward will notch his next batch of wins.
Clearly, he should stay with the Hurricanes. The team could trade for another backup, but why? From all indications, Ward wants to stay in Raleigh, so why trade him, a known commodity that could provide above-average backup goaltender play, for an unknown? If the tandem is not to be back as Waddell has indicated, it would be best if the team could move Darling and bring in a legitimate starting goaltender.
As a bonus, Ward has scored, which is rare for a goalie. According to the Hurricanes' website, "On Dec. 26, 2011, Ward became the first goaltender in Hurricanes history to score. He was credited with a goal after he was the last Carolina player to touch the puck before an errant pass went the length of the ice into an empty net near the end of a 4-2 victory against the New Jersey Devils."
Ward has proven through his longevity, his awards and his ongoing win total that he is a goaltender whose career is worthy of being honored and given a place of perpetual remembrance in having his number retired. His career save percentage of .909 and goals-against average of 2.70 speaks to his consistency in the face of playing on a mediocre team that has not made the playoffs since 2009.
There are those Hurricanes fans who will not be happy until he is gone. And, their attitude is "good riddance!" But, given the totality of his career, his longevity with the team, his having surpassed 300 wins and his consistency, Ward has earned at least a conversation about being honored by the Hurricanes when he is done..
Mark lives in the Raleigh, NC area and covers the Carolina Hurricanes.