On a somber day for the New York Islanders, who saw franchise center John Tavares walk away to sign a seven-year pact with his hometown Toronto Maple Leafs, the club is left to pick up the pieces.
Naturally, new general manager and former Leafs GM Lou Lamoriello looked to his old club (the same as Tavares' new one) to add a new player: Leo Komarov. Not exactly Tavares…
Per TSN's Bob McKenzie, the Islanders have signed Komarov to a four-year contract that carries an average annual value (AAV) of $3 million.
Leo Komarov to the NYI, four years, AAV of $3M. Yearly breakdown is $4M, $3.5M, $2.5M and $2M.

— Bob McKenzie (@TSNBobMcKenzie) July 1, 2018
Komarov Signing a Questionable One
One danger for the Islanders in the immediate aftermath of losing Tavares was the possibility of having a kneejerk reaction to that devastating development and doling out some regrettable contracts to other free agents.
This is nothing against Komarov—a physical, agitating forward who can chip in somewhat offensively—but committing $3 million per year for four years to a 31-year-old bottom-six-level player does not seem to be the most prudent move. Sure, the Islanders have a lot of cap space, including the huge void left by Tavares' absence. But they already have nearly $7 million per season committed to fourth-liners Cal Clutterbuck and Casey Cizikas for the next three years. Adding a similar player in Komarov brings that total to almost $10 million per year—more than 12 percent of their cap space.
With Tavares gone, the Islanders need to save their cap space for top-six forwards who can produce offensively and blueliners who can help the team defend better—not grinding, depth players who have likely already peaked. Komarov tallied 19 points (seven goals and 12 assists) in 74 games for the Maple Leafs last season. In each of the two seasons before that, he broke the 30-point plateau, with 19-17-36 in 2015-16 and 14-18-32 in 2016-17.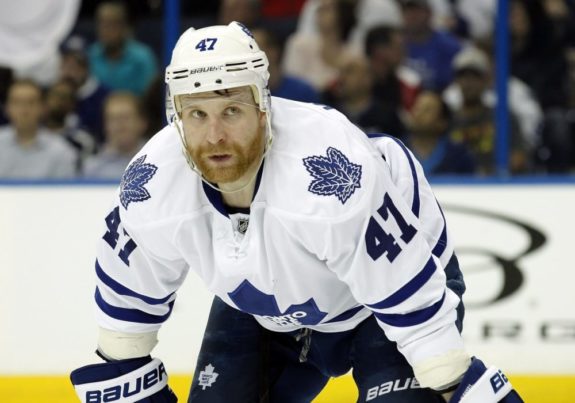 Komarov, who was born in Estonia but grew up in Finland and has represented the latter nationally, saw his shooting percentage dip to 6.1 percent last season after averaging a figure in double digits over the course of his entire career, which has been spent solely with the Leafs up to this point. So, at first glance, some of the decline in his offensive totals might be attributable to bad luck.
On the other hand, though, Komarov has gradually become a bit more of a liability on the ice over the years, and not only for his aggressive nature that sometimes crosses the line. Komarov has also seen his team's share of high-danger chances while he is on the ice decrease over the past three seasons. While this number was a solid 52.03 percent in his career-best offensive season of 2015-16, it was a much less impressive 48.28 percent in 2017-18. Beyond that, other Leafs forwards were more effective playing without Komarov last season than they were playing with him.
Komarov is trending in the wrong direction, and with him now on the wrong side of 30, the Islanders might not have been wise in committing these years and dollars to him. He could still be reasonably effective in the right role with the right deployment, but it's all about value and what the Islanders really need: offense to make up for the loss of Tavares, as well as better defense and goaltending than they had last year when they hemorrhaged goals.
Good for Komarov for securing the term and dollars, but this contract has the potential to look like a bad one for the Islanders in the not-too-distant future.
Tom has been with The Hockey Writers for almost four years. After previously covering the LA Kings and the New York Rangers, Tom now covers the Anaheim Ducks.
While in college at Clemson University, the 2016 college football national champions, Tom wrote game summaries and feature articles for the official team website of the Greenville Drive, a Class-A minor-league baseball team and affiliate of the Boston Red Sox. Tom is happy to be able to continue to fulfill his passions for sports and writing with THW.