In the midst of a rebuild, the New York Rangers have been quiet to this point during the July 1 free agent frenzy. They have, however, announced the re-signing of restricted free-agent (RFA) forward Vladislav Namestnikov.
OFFICIAL: #NYR have agreed to terms with restricted free agent forward Vladislav Namestnikov on a two-year contract. pic.twitter.com/prOyeC7osf

— New York Rangers (@NYRangers) July 1, 2018
Per The Athletic's Pierre LeBrun, the two-year deal carries an average annual value (AAV) of $4 million. In addition to bringing back Namestnikov, the Rangers also signed unrestricted free-agent (UFA) defenseman Fredrick Claesson, formerly of the Ottawa Senators, to a one-year deal worth $700,000.
Namestnikov Back With the Rangers
As the Rangers took a firm stance as sellers at the trade deadline, Namestnikov was one of the pieces that came back when they sent Ryan McDonagh and J.T. Miller to the Tampa Bay Lightning. The 25-year-old center/winger had been enjoying a career-best campaign with the high-scoring Lightning, scoring 20 goals and 24 assists in 62 games with them as a beneficiary of playing on a line with superstars Steven Stamkos and Nikita Kucherov.
After joining the transitioning Rangers, Namestnikov struggled to match that level of production. He scored just two goals and added only two assists in 19 games on Broadway. Given his scoring woes, albeit in a somewhat limited sample size, it seemed plausible that the Rangers could look to trade Namestnikov rather than commit to him going forward.
Instead, the Russian-born forward is staying in New York, at least for now. By not going beyond two years, the Rangers are still affording themselves some long-term flexibility.
Despite his inability to produce meaningful offense in his short time with the Blueshirts so far, Namestnikov still has the potential to do so, and beyond that, he is an effective two-way player. In 81 combined games with the Lightning and Rangers, he posted a very respectable 5-0n-5 Corsi-for percentage (CF%) of 51.35 percent, and a relative CF% of plus-2.44. On a Rangers team that has been horrific in terms of puck possession seemingly forever, Namestnikov should at least add value in that regard if not eventually on the scoresheet as well.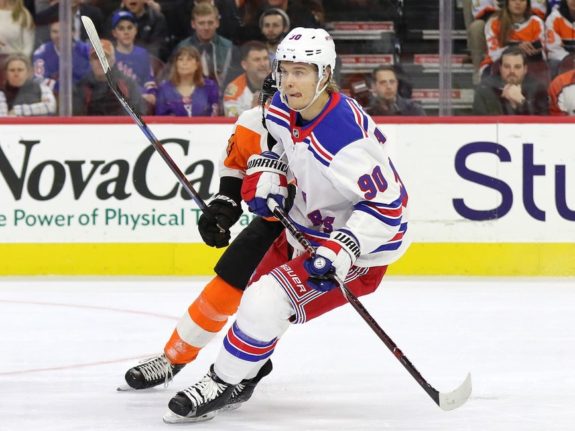 Namestnikov's versatility also gives the Rangers some insurance; if 2017 first-round picks Lias Andersson and Filip Chytil struggle and/or need more time to adapt to the NHL as centers next season, then Namestnikov can slot in there. Otherwise, he can play on the wing.
Ryan Spooner is another player the Rangers acquired in their trade-deadline sell-off who can also play center or wing. Also like Namestnikov (prior to his new contract), Spooner is an RFA. Unlike Namestnikov, however, Spooner was very effective offensively for the Rangers, scoring 16 points in 20 games. That said, his possession metrics were not nearly as strong despite a more favorable zone-start ratio.
Even though it's still possible that the Rangers re-sign Spooner, the re-signing of Namestnikov might indicate a willingness to move on from Spooner and try to acquire pick(s) and or younger asset(s) for the 26-year-old to aid in the rebuild. Time will tell how the Rangers plan to proceed with him.
Rangers Add Defenseman Fredrik Claesson
In addition to re-upping Namestnikov, the Rangers dipped into the UFA market in minor fashion, bringing aboard defenseman Fredrik Claesson on a low-cost, low-risk one-year contract.
OFFICIAL: #NYR have agreed to terms with free agent defenseman Fredrik Claesson on a one-year contract. pic.twitter.com/GEGrumlH0L

— New York Rangers (@NYRangers) July 1, 2018
The 25-year-old Swede is an unflashy, reasonably steady defenseman. He spent some time as superstar defenseman Erik Karlsson's partner in Ottawa, complementing Karlsson's dynamic offensive game with a safer, more stay-at-home style. Claesson appeared in a career-high 64 games last season, picking up one goal and six assists along the way.
As the Rangers continue their transition to become a perennial contender once again, Claesson can at least offer them some depth in the short-term.
Tom has been with The Hockey Writers for almost four years. After previously covering the LA Kings and the New York Rangers, Tom now covers the Anaheim Ducks.
While in college at Clemson University, the 2016 college football national champions, Tom wrote game summaries and feature articles for the official team website of the Greenville Drive, a Class-A minor-league baseball team and affiliate of the Boston Red Sox. Tom is happy to be able to continue to fulfill his passions for sports and writing with THW.