The Buffalo Sabres development camp wrapped up at Harborcenter on Saturday. It was an exciting week for fans who filled the arena every day. On several occasions, general manager Jason Botterill, assistant GM Steve Greeley and Rochester Amerks GM Randy Sexton mentioned that development camp is designed to help get to know prospects, not to evaluate their skill. Point is: no one is securing a roster spot in June for opening night.
Here are my takeaways from the week:
1. The Sabres Swedish Influence
Poang, Malm, Kallax and Ektorp. They have a lot in common with Dahlin, Olofsson, Pilut and Asplund. In many ways, the Sabres' development camp resembled an IKEA catalogue. Both contain innovative products from Sweden, one in the form of smooth-skating hockey players, the other in the form of flat-packed furniture. Both are rather inexpensive options, at least in the short-term. And neither come with fool-proof instructions to maximize their value.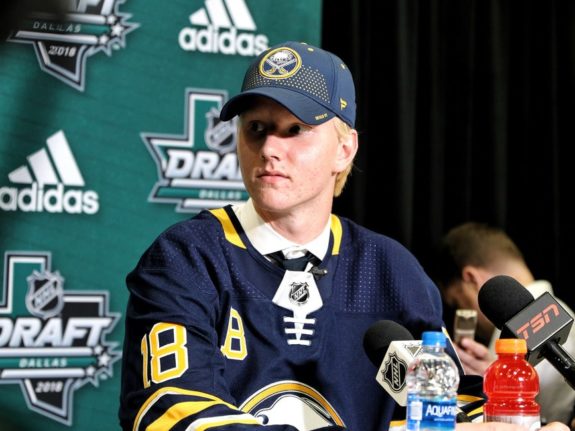 Of the 42 prospects in Buffalo for the development camp, ten are Swedish. The count is 11 if you include the team's second-round pick, Mattias Samuelsson. His father, Kjell grew up in Sweden but moved to the U.S. to follow his dream of playing in the NHL.
"You can look around the National Hockey League, so many Swedish defensemen have stepped in and played extremely well," said Botterill following the draft in Dallas. "Good mobility, good hockey sense, they know how to move the puck, and those are the attributes we're looking for in our organization."
The most recent crop of Swedes were drafted a few weeks ago at the 2018 Draft, including a trio of defensemen: No. 1 overall pick Rasmus Dahlin, Linus Lindstrand Cronholm and William Worge Kreu. Botterill has also signed forward Victor Olofsson, defenseman Lawrence Pilut and Rasmus Asplund.
The Swedish invasion didn't start with Botterill. Many can be traced back to Tim Murray. He's the one who drafted Alex Nylander and Rasmus Asplund. Going back to 2012, Darcy Regier drafted Linus Ullmark with pick No. 163 in the sixth round.
2. Dahlin's Impact
Friday's skills practice featured a lot of stickhandling in tight spaces and passing drills. It wrapped up with a 3-on-3 scrimmage with the nets moved up to the blue lines. It was fast-paced and fun with Dahlin making an impact. Literally. He caught Matej Pekar with his head down and flattened him with a huge hit.
"[The hit] was great," said Pekar. "An hour later we sat at dinner laughing at it because it was all over the media, even Czech National team was posting it, so it was kind of funny."
some"fins" about to happen #Sabres #Dahlin pic.twitter.com/rDLvcHCJxm

— Jenna Harner (@JennaHarner11) June 29, 2018
Dahlin ended the scrimmage session with a perfect cross-ice pass to Brendan Guhle who was wide open and easily redirected the puck in the net.
3. Matej Pekar
If you hate Boston Bruins agitator Brad Marchand, you're probably going to quickly fall in love with Matej Pekar, the Sabres' fourth-round pick this year. The Czech native responded well to the clean, open-ice hit he received from Dahlin and stirred things up with both Dahlin and Casey Mittelstadt in Saturday's 3-on-3 French Connection Tournament.
Pekar knows his strengths and brings an infectious attitude to the ice. "I love to be the annoying guy. An annoying rat. I love getting under guys' skin," said Pekar, grinning ear-to-ear. "I know a lot of people don't like [Marchand], but it's my game. I'm not a super-skilled guy that just can dangle all over five guys and score a goal. In order to create some offense, I got to play like that."
4. Pilut Taking Flight
Lawrence Pilut, the Swedish Hockey Leagues' 2017-18 Defenseman of the Year didn't disappoint in his first development camp. The 22-year-old blueliner displayed terrific awareness on the ice, with slick skating and impressive passing. The highlight was a sick pass to Ivan Chukarov for a tap-in goal on Friday. Chukarov, a defenseman, was drafted in the seventh round in 2015.
Pilut was signed as a free agent in May by Botterill. Highly sought after, he chose the Sabres because the organization had shown interest in him all of last season. "It started pretty early last season," said Pilut. "I had a good discussion with Steve Greeley and it felt like it's a good opportunity here since it's a young team and it's a hungry team here, so I want to be a part of it."
5. Sick Mitts and Others
Perhaps lost in some of the Dahlin hoopla was Casey Mittelstadt. He's good. Really good. He scored the game-winning goal in a sudden death shootout to bring home the French Connection Tournament trophy. He was a standout the entire week.
Rasmus Asplund also had a promising camp. It was only a week of drills and a scrimmage, so it's impractical to draw too many conclusions but if he can standout like he did in training camp and in game situations, he will be in Buffalo sooner than later.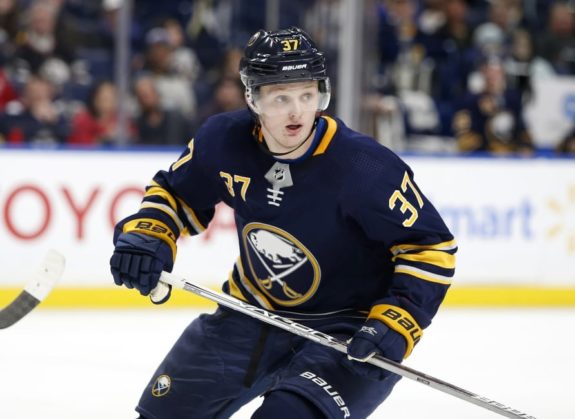 Victor Olofsson (seventh-round 2014) showed some NHL-level skill with a snipe-show release to his shot.
Team Martin won the 2018 French Connection Tournament. Their roster included Mittelstadt, Pilut, Miska Kukkonen, Eric Cornel, Chukarov, Joe Snively, Andrew Peski, Brett Murray, and goalie Jonas Johansson.
Guhle, participating in his fourth camp, was the recipient of this year's Craig Ramsay Leadership Award, given annually to the player deemed as the hardest worker for the week.
For a look at all of the goals from Saturday's French Connection Tournament, click here.
Related: Buffalo Sabres 2018 Draft Review
6. No Nylander
Conspicuously absent this week was the Sabres' 2016 first-round pick, Alexander Nylander. He did not participate in on-ice sessions due to a minor injury. He did, however, take part in many of the off-ice conditioning and team meetings.
"I think [Alex] is actually stepping up at this camp right now and taking guys under his wing with all the Swedish players that we drafted," said Chris Taylor, the head coach of the Rochester Amerks who is running development camp. "He's being a mentor to those kids. That's a first-step right there; he's not worrying about himself. He's looking after these young guys coming in for the first time.
You see him up there watching practice, some guys wouldn't even watch practice. He's sitting with the young guys at the tables when we're eating and stuff like that. It's good to see. That's maturity level and I can tell he really wants it. He's working hard. I can't wait for training camp for him."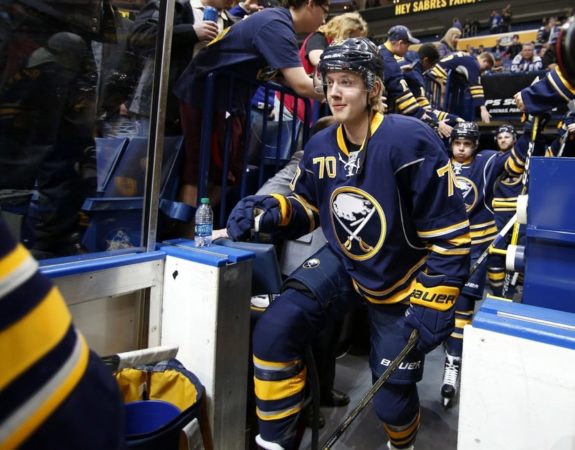 Nylander missed more than a month at the start of last season with a lower-body injury.
Other players on the development camp roster who did not skate include Marcus Davidsson, Casey Fitzgerald, Cliff Pu and Maxwell Willman. "Certainly nothing with any of these guys that we're terribly concerned with," said assistant GM, Greeley. "At this time of year you want them healthy for September, you want them healthy for training camp. So everything at this point is just precautionary. All these guys are here, doing everything off the ice. We're just being cautious."
Jeff has been covering the NHL for over a decade for various sites. He's been with The Hockey Writers as a lead Sabres writer three years, while also writing a satire column called "Off the Crossbar."