The Pittsburgh Penguins have signed defenseman Jack Johnson to a five-year deal worth $16.25 million, the team announced Sunday at the start of free agency. The deal comes with an annual cap hit of $3.25 million and will keep Johnson under contract through the 2022-23 season. It was originally reported to be in the work by Mark Madden and was confirmed by the Penguins
The Penguins have signed defenseman Jack Johnson to a five-year contract for an average annual value of $3.25 million. Welcome to the team!

Full details: https://t.co/7DvtHtp8zM pic.twitter.com/ZqxmDGD1T7

— Pittsburgh Penguins (@penguins) July 1, 2018
This deal also comes just a week after the Penguins cleared up cap space by sending Conor Sheary and Matt Hunwick to the Buffalo Sabres, though it was reportedly agreed upon just hours after the trade took place.
A veteran of 12 seasons in the NHL, Johnson has played in 788 games split between the Los Angeles Kings and Columbus Blue Jackets since being drafted third overall in the 2005 NHL Entry Draft. With 66 goals and 278 points in that time as well as a very impressive five goals and 21 points in 23 playoff games, Johnson has proven that he has the ability to chip in some offense from the back-end.
An Interesting Deal for Johnson
This contract is an interesting one given Johnson's age at 31 years old – set to turn 32 half-way through the 2018-19 season and the fact that he's a comparable player to Hunwick who will now be paid more money for a longer term. Still, the Penguins likely saw something in Johnson that made him a can't-miss player given his experience in the league.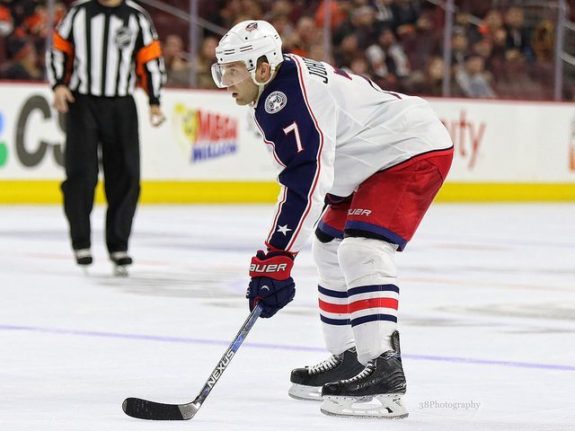 With his last seven seasons coming as a member of the Columbus Blue Jackets, the Penguins are also very familiar with  Johnson and his role on the blue-line. With that knowledge, the Penguins elected to reach out and make a substantial contract offer to the veteran defender who should slot in somewhere on the Penguins' bottom-pairing barring any major changes to the Penguins defensive group over the next few weeks.
While Johnson has had some successful seasons offensively as mentioned, his most recent three seasons have been a little disappointing as he's only tallied 14 goals and 48 points in 219 games, including three goals and 11 points in 77 games in 2017-18.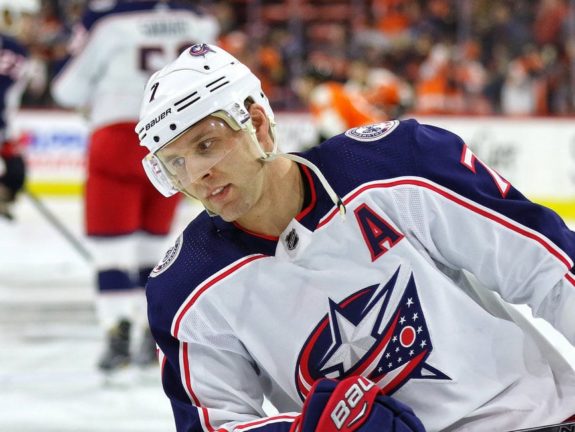 Johnson isn't a top-four defender by any stretch of the imagination at this point in his career and if the Penguins can use him properly in their system, he has the potential to be a very solid player who can impact the game in some way shape or form. Signing him to a five-year deal at the money they did to play in a bottom-pairing role is interesting but the Penguins have earned the benefit of the doubt when making roster decisions as they won two consecutive Stanley Cups in 2016 and 2017 and were legitimate contenders once again in 2018 before losing to the eventual Stanley Cup Champion-Washington Capitals.
Brandon Share-Cohen has covered the NHL and various professional sports for seven years. Working with The Hockey Writers, Brandon works extensively on covering the Boston Bruins in addition to his role as the News Team Lead.