This weekend, top-ranked North Dakota entertains the seventh ranked Minnesota-Duluth Bulldogs in an important two-game conference series. This is the first series for both teams in 2015.
This series will have national implications in the Pairwise Rankings. A sweep for either team would be huge.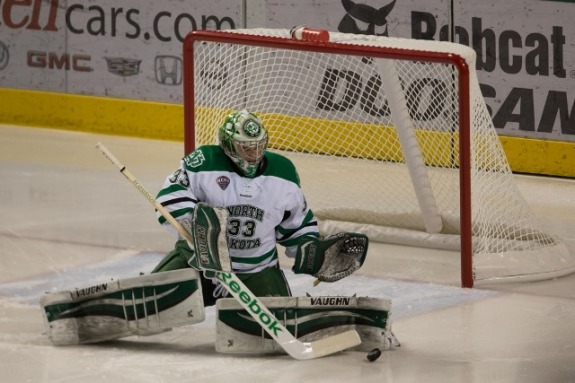 Series history
All-time UND leads the series against the Bulldogs 139-76-9 (.641). In Grand Forks, UND leads the series 77-32-3 (.701) In Duluth, UND leads the series 57-39-5 (.589). At neutral sites, the series is tied 2-2-1 (.500). Under head coach Dave Hakstol, UND leads the series 22-8-3 (.712). Last 10 games against the Bulldogs, UND leads the series 6-3-1 (.650).
Tale of the tape
#2 North Dakota (13-4-2, 6-3-1 NCHC) vs. #7 UMD (12-6-0, 7-3-0 NCHC).
Date: January 9-10, 2015
Game Time: Friday 7:37 p.m. CT, Saturday 7:07 p.m.CT
Location: Ralph Engelstad Arena, Grand Forks, ND
Last time out: UMD split with Michigan Tech (3-1 W, 4-3 L)
Last time out: UND split with Denver (1-4 L, 3-1 W).
UMD Offense: 8th Nationally
UMD Defense: 20th Nationally
UMD PWR: 3rd
UND Offense: 14th Nationally
UND Defense: 17th Nationally
UND PWR: 7th
TV: Friday – Midco Sports Network, My9 TV (Duluth viewing area)
TV: CBS Sports Network, DirecTV (channel 221), DISH Network (channel 158)
Live Streaming: NCHC.TV – Friday
Key players to watch
North Dakota – Forwards: Drake Caggiula (8g-14a—22pts), Michael Parks (6g-14a—20pts), Mark MacMillan (8g-7a—15pts), Luke Johnson (4g-5a—9pts), Brendan O'Donnell (5g-2a—7pts). Defense: Jordan Schmaltz (3g-11a—14pts), Paul LaDue (3g-6a—9pts), Tucker Poolman (5g-2a—7pts), Gage Ausmus (2g-1a—3pts). Goalies: Zane McIntyre (13-4-2, 1.95 GAA, .929 SV%), Cam Johnson (0-0-0, 5.54 GAA, .765SV%).
UND Injuries: Troy Stecher (lower body injury), Colton St. Clair (upper body injury) and Trevor Olson (mono) are out indefinitely.
Dave Hakstol says Troy Stecher, Colten St. Clair & Trevor Olson are unavailable this weekend. Olson (undisclosed) out an "extended period."

— North Dakota MHockey (@UNDmhockey) January 7, 2015

Minnesota-Duluth – Forwards: Dominic Toninato (13g-5a—18pts), Austin Farley (7g-8a—15pts), Tony Cameranesi(4g-9a—13pts), Alex Iafallo (3g-10a—13pts), Karson Kuhlman (5g-6a—11pts). Defense: Andy Welisnki (6g-7a—13pts), Carson Soucy (2g-4a—6pts), Nick McCormack (0g-4a—4pts). Goalies: Kasimir Kaskisuo (11-4-9, 2.12 GAA and .920 SV%), Matt McNeely (1-2-0, 2.37 GAA and .905 SV%).
Special teams
Minnesota-Duluth – The Bulldogs penalty kill is ranked 37th in the nation (62/76, 81.6%). The Bulldogs power play is ranked 17th in the nation (18/90 20.0%).
North Dakota – UND's penalty kill is ranked 17th in the nation (66/75, 86.9%). UND's power play is ranked 10th in the nation (18/84, 21.4%).
Hakstol on the Bulldogs
There's a lot of respect between both programs and this weekend's series should be an exciting, fast paced series.
When asked about the matchup, head coach Hakstol said, "This series…will have a ton of pace to it and a lot of play making up and down the ice. So, we'll be ready for that."
UMD has a solid top-six forward group, and Coach Hakstol was asked about UMD's talented forwards.
"They're a good group," Hakstol said. "They make a lot of plays. They play with a lot of speed – just a good group of forwards."
Series prediction
My prediction: a series split. I know this sounds safe, but this prediction makes sense.
Since the 2010-11 season, UND has a 7-3-1 record against UMD. Two of those wins by the Bulldogs have been in Grand Forks, ND.
During that time, UND has had only one series sweep, last season in Duluth. In the last six games, UND is 4-1-1 against the Bulldogs.