In our second installment of team-by-team previews we take a look at the Chicago Black Hawks – a team with the potential to be an NHL powerhouse.
It was only a scant three seasons ago when the Chicago Black Hawks came out of nowhere to win their first Stanley Cup since the 1937-38 season. At that time they were seen as a team on the rise, destined to be winners of multiple championships, possibly on the cusp of a dynasty. The Toronto Maple Leafs scuttled those dynasty dreams, and after two consecutive first round playoff dismissals, the crew from the Windy city now looks to reclaim Lord Stanley's mug. Do they have the horses to do it?
Last Season
The 1963-64 season really can't be described as a complete write-off for the Hawks. They led the NHL in goals scored, tied for the lead in wins and were second in goals against, allowing only two more scores over the course of the season than first-place Montreal. The extreme disappointment of a first round playoff loss to the Detroit Red Wings, however, left a bitter taste and cast a pall over what had been a fairly good season overall.
Chicago coach Billy Reay had many weapons at his disposal and made good use of them all. Stan Mikita and Bobby Hull provided firepower unequaled by any NHL club. Mikita led the NHL in scoring with 39 goals and 50 assist for 89 points, just two more than Hull, whose 43 goals was tops in the league. Chicago placed five players on the NHL first all-star team, including Mikita, Hull, right winger Kenny Wharram, defenseman Pierre Pilote and goalie Glenn Hall. Pilote was named the NHL's best defenceman, while Wharram won the Lady Byng Trophy. So where did it go wrong for the Hawks?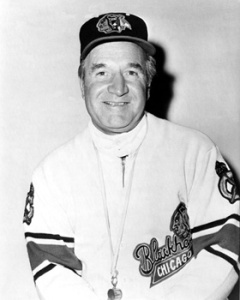 It certainly wasn't goaltending. Hall played 65 games and was outstanding. Young Denis DeJordy spelled Hall for six contests and while he was fairly raw, the minimal contribution he made didn't hurt the club.
Some point to a lack of depth up front beyond the Hawks big four of Hull, Mikita, Wharram and Bill (Red) Hay. Left wing Ab McDonald managed only 14 goals (although his 32 assists was an above-average total). Eric Nesterenko scored only seven times, and Chico Maki had a paltry eight goals. Ron Murphy was a disappointment as he found the back of the net just 11 times.
Another criticism was the Hawks lack of speed on defence. While Pilote was the league's best blue liner, his supporting cast didn't feature anyone who could adequately share the load. Elmer "Moose" Vasko, one of the league's biggest men, is also one of the slowest. Al MacNeil is a mediocre NHL talent at best. The players who filled the other two spots are hardly household names. Wayne Hillman, Howie Young (who is well-known but not for his hockey skill) and Aut Erickson are not players who would instill team confidence or cause worry to opposing forwards. Even Reggie Fleming was employed on the blue line far more than should have been necessary and this cost the Hawks in the long run. It became apparent in the playoffs that Pilote, Vasko and MacNeil had just worn down from over-use and weren't able to cope well enough with Detroit's front-end power.
Off-season acquisitions
After last season's playoff disappointment, Chicago General Manager Tommy Ivan didn't waste any time identifying the club's shortcomings. He constructed a plan to address the areas he felt needed attention and went to the June league meetings in Montreal looking for willing trading partners.  He found such a partner in the Boston Bruins.
Ivan knew he needed at least one defenceman – a strong mobile type who could generate a bit of offense as well.  Boston's Doug Mohns would fill the bill perfectly, in Ivan's estimation.  So, he engineered a trade with the Bruins to bring Mohns to Chicago.  In return, Chicago sent left winger McDonald and the truculent Fleming, a crowd favourite, to the Bruins.
Not satisfied with adding just one Boston blueliner, Ivan pulled off another deal with the Bruins.  He sent unhappy forward Murray Balfour east to Boston, along with a young minor leaguer, Mike Draper.  The most recognizable name coming back to Chicago was popular Jerry Toppazzini, but the more important piece of the transaction was another defenceman, 26-year-old Matt Ravlich.  Ravlich was a former team mate of Hull and Mikita in St. Catharines of the OHA Jr. A league, and has been a standout in the AHL the past three years with the Providence Reds.  Ivan feels that Matt is ready for full-time employment in the NHL.
Toppazzini had already passed through league waivers, so he was nothing more than a throw-in, albeit a throw-in with big-league credentials.  Jerry was, as of this writing, in the Hawks training camp, but he was still unsure whether he would play this season or hang up his skates for good.
Rookies to watch
Aside from the two trades with Boston, the Hawks may made additions involving several youngsters that they feel are ready for prime time and will likely see action with the big team, possibly on a full time basis.
Twenty-year-old Fred Stanfield had a spectacular season with St. Catharines last year.  He scored 109 points, including 34 goals and appears worthy of a promotion.  He's listed as a left wing who is also proficient in the middle and his versatility might fit very well in the Chicago line up.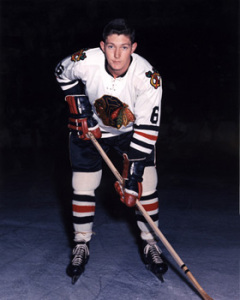 Another 20-year old is burly Ken Hodge, Stanfield's line-mate at St. Kitts.  He's a right-winger with a big shot and an ever bigger frame.  He's 6ft., 2-in,  around 200 lbs. and is not shy about standing his ground in front of the net. Hodge's skating needs work and that may necessitate another  year of seasoning in Junior A.
Even younger than the previous two, but with a much more high profile pedigree is Bobby Hull's 19-year-old sibling Dennis. The younger Hull also had an outstanding year in St. Catharines, scoring 48 goals and adding 49 assists.  He has the big shot, like his older brother, and is a good skater. He might not be as explosive as Bobby, but the younger Hull has good hockey sense and isn't afraid to go to the net.  Scouts rate him as an outside chance to suit up on the left side behind brother Bobby this season.
The Hawks have one rookie defenceman they are hopeful can help this year. He is another 20-year-old, London native Doug Jarrett.  Also a St. Catharines graduate, he likely will start with St. Louis in the CPHL, but his work in training camp guarantees him at least a look at some point this season.
How they'll do this year
Tommy Ivan is an astute General Manager – of that there is no doubt.  He has been able to build the Black Hawks  from long-time also-rans to Stanley Cup winners, keeping them in contention since their breakthrough 1960-61 season.  Ivan seems to know just what buttons to push and when to push them.  That's why there is a good feeling about Chicago's prospects for this season.
Case in point – last season it became apparent that, other than Pierre Pilote, the Hawks' blue line deficiencies kept them from playoff success.  Ivan addressed that situation quickly by going out and getting Mohns from Boston – easily the best and most mobile defenceman available.  The price he paid for Mohns was not onerous, the Hawks will barely miss the two players sent packing. Bringing in Ravlich, another defender with considerable potential, and at 26, ready to assume the mantle of full-time duty, is just the type of move that will keep the Chicago club in contention.
Goaltending won't be a problem as long as  Hall remains healthy at age 32.   DeJordy is slowly gaining experience, but whether he has the stones to replace Hall, one of the NHL's best, remains to be seen.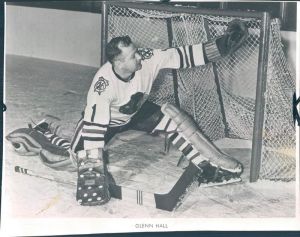 Up front, Chicago has firepower unmatched in this league.  Bobby Hull shoots harder, faster and more accurately than anyone on the planet.  His centreman Red Hay dishes passes with pinpoint accuracy.  Mikita is poised to lead the NHL in scoring again, and if Ivan can find a left winger to join "Stash" and Kenny Wharram (Freddie Stanfield, anyone?) then two of Chicago's three lines will be truly fearful for the rest of the league.  The only factor that may dim this enthusiasm is how well Wharram recovers from that fractured skull. Reports out of St. Catharines have him doing well in his convalescence.
So, these are the key factors for Chicago's success this year:
Glenn Hall must continue to be Glenn Hall – playing almost all games and playing them well
Stan Mikita and Bobby Hull have to remain atop the league scoring list
Ken Wharram gets back to last season's all-star level of play
Most importantly, Mohns and Ravlich bring the defensive mobility and skill Ivan envisioned when he made the barters with the Bruins
None of the above are unreasonable expectations, and neither is the belief that Chicago will be at or near the top of the NHL standings when springtime arrives.