What are the players from the 1996-97 Detroit Red Wings Stanley Cup championship team doing these days? Well, most are in Toronto for the 2017 Centennial Classic Alumni Game.
But this past week, the Red Wings welcomed their former champions back to Joe Louis Arena for a ceremony celebrating their 1997 Stanley Cup victory – Detroit's first Cup since 1955. Twenty years later, all players involved are now retired from the game they love and enjoying life after hockey.
#Hock9y7own pic.twitter.com/UMtoprycEb

— Detroit Red Wings (@DetroitRedWings) December 28, 2016
But what does "life after hockey" consist of for Detroit's former heroes? Let take a look and see what the players of the 1996-97 Red Wings team are doing now that their NHL careers are over.
Front Office Careers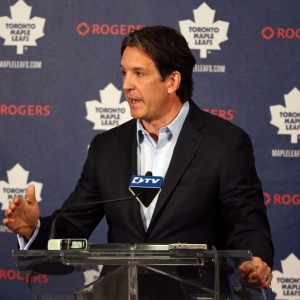 Among the 1997 Stanley Cup team, a few former Red Wings pursued careers in hockey management after their playing days. Most notably, Brendan Shanahan and Steve Yzerman run the Toronto Maple Leafs and the Tampa Bay Lightning, respectively. Shanahan is Toronto's President and has overseen their recent rebuild. Yzerman, on the other hand, has built the Lightning into a contender as their Vice President & General Manager. Detroit's former captain also employs fellow 1997 Stanley Cup champion Jamie Pushor as a Pro Scout.
In Detroit, a few former champions serve on Ken Holland's staff. Kris Draper is the Special Assistant to the General Manager and helps the management team evaluate players of all levels. Additionally, "Grind Line" linemate Kirk Maltby is employed as a Pro Scout with the Red Wings. His responsibilities include evaluating players for potential trades and signings plus helping scout upcoming opponents.
Two other former Red Wings serve as the Director of Player Development for their current teams – Martin Lapointe for the Canadiens and Tim Taylor for the St. Louis Blues. Both are responsible for helping turn their team's prospects into NHL players.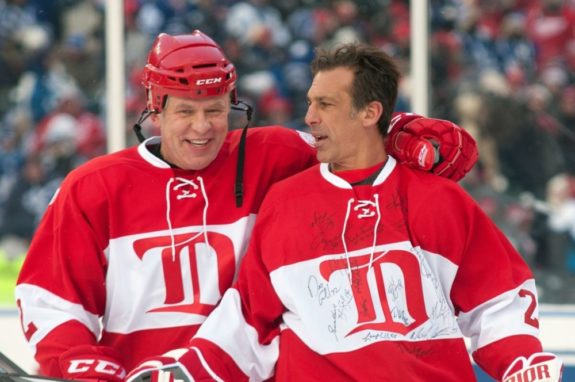 Overseas, two members of the famed Russian Five govern one of the KHL's top teams: CSKA Moscow. Slava Fetisov is the club's President and has hired Sergei Fedorov as the General Manager to build a champion. Both Fetisov and Fedorov played for the CSKA Moscow "Red Army" before defecting to the NHL.
Coaching the Next Generation
While some former Red Wings are making high-level organization decisions, others took up careers helping current players on a day-to-day basis.
After retiring from the KHL following the 2014-15 season, Slava Kozlov was hired to become an assistant coach for his former club, Moscow Oblast Atlant. He coached the team last year before they ceased operations prior to the start of this season. In addition, stay-at-home defenseman Bob Rouse recently coached the Chilliwack Bruins of the BCHL before their organization folded.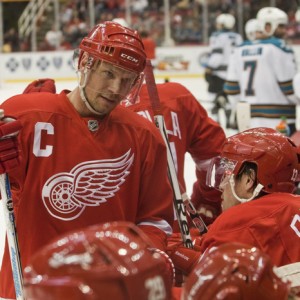 Known as "The Perfect Human" during his days in Detroit, Nicklas Lidstrom is still living up to that nickname after announcing his retirement. Like Kozlov and Rouse, Lidstrom is also an assistant coach, helping out on a part-time basis with his kids' teams. Additionally, Lidstrom advised Team Sweden prior to this year's World Cup of Hockey and dabbles in real estate as well. He works for and co-owns a real estate asset management company over in Sweden.
What? Did you expect Lidstrom to sit around and do nothing in retirement?
In The Media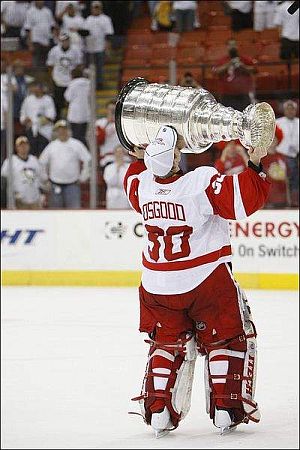 As most Hockeytown fans know, Chris Osgood is currently an in-studio analyst for Fox Sports Detroit and will step in on occasion as the television color commentator when Mickey Redmond takes road trips off. Osgood's vast hockey knowledge and technical analysis of goaltenders make him a great TV personality.
Besides Osgood, a few other members of the 1996-97 Red Wings joined the media after retiring to cover the game. Larry Murphy now works as a part-time analyst on NHL Network after a stint with Fox Sports Detroit. Mathieu Dandenault does the same with Canada's TVA Sports. And Aaron Ward previously was a sportscaster with TSN, but is now involved with SMT, a sports media technology company in the U.S.
The Business Side
Instead of continuing their careers in hockey, some former Red Wings decided to pursue business-related dreams. "The Professor" Igor Larionov is now a player agent for The Will Sports Group and has represented NHLers like Alex Galchenyuk and Nail Yakupov. He works as a wine merchant as well and has his own brands of Australian and Californian wines.
Similarly to Larionov, Doug Brown, Joe Kocur, Mike Vernon, and Kevin Hodson began office jobs after their hockey careers were over. Brown is currently a Managing Director for a consulting firm. Vernon—like Lidstrom—is in the real estate industry out in British Columbia. After he hung up his skates, goaltender Kevin Hodson went back to school to earn a Bachelor's degree in Business Administration. He's now a financial advisor for RBC Dominion Securities.
Kocur's "office job" differentiates a bit from his white-collar former teammates. He's the President of the Detroit Red Wings Alumni Association and runs the Joe Kocur Foundation for Children. Kocur helps organize alumni events to raise money for local Detroit charities.
…And The Rest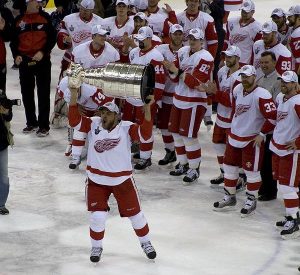 A fan-favorite during his playing days in Detroit, Darren McCarty has become a community ambassador for the Red Wings. He frequently participates in fan-relations events and Kocur's alumni games. He also published another book recently, My Last Fight: The True Story of a Hockey Rock Star.
In his native Sweden, former Red Wings winger Tomas Sandstrom became a firefighter in Malmo. Sandstrom was acquired from Pittsburgh for Greg Johnson halfway through the 1996-97 season and fed the pass to McCarty that lead to his famous game-winning goal in Game 4 of the 1997 Stanley Cup Finals.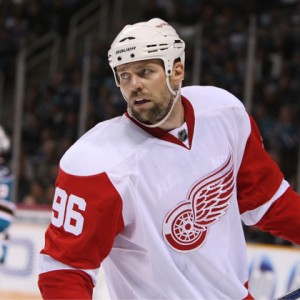 Elsewhere in Sweden, Tomas Holmstrom is taking it easy after years of screening goalies and mucking it up with opposing defensemen. He lives in Michigan part of the year and visits the Red Wings from time-to-time.
Finally, Vladimir Konstantinov continues to recover from the horrific injuries sustained in the limousine accident shortly after the 1997 finals. While he is in fantastic condition for someone who experienced the brain trauma that he did, Konstantinov still struggles with mental aspects we take for granted. In an interview with NHL.com, his wife, Irina, detailed that Konstantinov "can't process idealistic feelings about life, like love of country or happiness that his child is graduating."
However, Konstantinov still remembers his playing days and old teammates well. He frequently stops by Joe Louis Arena to chat with the current team from the stall the Red Wings organization still maintains for him.