This is the one we've all been waiting for. The Columbus Blue Jackets and Minnesota Wild meet Saturday night in a historic regular-season matchup of teams with double-digit winning streaks. The Blue Jackets have won 14 straight, while the Wild have won 12 straight. Two teams enter. Only one will continue their streak.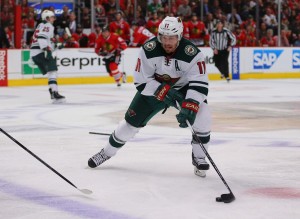 Last time out, the Blue Jackets marched into Winnipeg and skated away with a 5-3 victory over the Jets to extend their winning streak to 13. Alexander Wennberg notched his first two-goal game of his career, while Brandon Saad, Nick Foligno and Lukas Sedlak added single goals. Their five-goal outburst launched them to number one in the NHL in goals/game at 3.44.
On Friday, the Blue Jackets sent Markus Hannikainen back to the Cleveland Monsters. That leaves 12 forwards on the roster for this game. Don't expect any lineup changes. Of course, expect Sergei Bobrovsky to get the start. John Tortorella will speak to the media at about 4:45 eastern.
The Wild last played on Thursday when they scored two in the third period to outlast the New York Islanders 6-4. Mikko Koivu, Ryan Suter and Markus Granlund each recorded two points, while Devan Dubnyk extended his personal winning streak to 10 games. He allowed four goals in a game for just the first time this season on Thursday. Like the Blue Jackets, why change what's working? Expect a similar lineup for the Wild, including Dubnyk in net.
---
Columbus Blue Jackets at Minnesota Wild
 Xcel Energy Center – 6:00 p.m. EST
TV Broadcast Channels: Fox Sports Ohio/Fox Sports Go, Fox Sports North and NHL TV
Radio Broadcast Channels: CD 102.5 FM and KFAN 100.3
Columbus Blue Jackets: 25-5-4, 54 points.
Road Record: 11-2-3
Hot Players: Sergei Bobrovsky, Alexander Wennberg, Nick Foligno, Sam Gagner
Key Injuries: David Clarkson (on LTIR)
Projected Lines:
Forwards
Brandon Saad-Alexander Wennberg-Nick Foligno
Boone Jenner-Brandon Dubinsky-Cam Atkinson
Matt Calvert-William Karlsson-Josh Anderson
Scott Hartnell-Lukas Sedlak-Sam Gagner
Defense
Zach Werenski-Seth Jones
Jack Johnson-David Savard
Markus Nutivaara-Ryan Murray
Goaltender
Sergei Bobrovsky (Projected Starter)
[irp]
Minnesota Wild: 23-8-4, 50 points.
Home Record: 13-3-0
Hot Players: Devan Dubnyk, Eric Staal, Mikko Koivu
Key Injuries: None
Projected Lines:
Forwards
Zach Parise-Eric Staal-Jason Pominville
Jason Zucker-Mikko Koivu-Mikael Granlund
Nino Niederreiter-Erik Haula-Charlie Coyle
Chris Stewart-Tyler Graovac-Jordan Schroeder
Defense
Ryan Suter-Jared Spurgeon
Jonas Brodin-Matt Dumba
Marco Scandella-Christian Folin
Goaltender
Devan Dubnyk (Projected Starter)
---
Game Notes
[miptheme_dropcap style="normal" color="#222222″ background=""]1)[/miptheme_dropcap] The Blue Jackets enter this historic matchup with many streaks on the line. They have a 14-game winning streak, a 16-game point streak, a seven-game road winning streak and a 10-game road point streak. Sergei Bobrovsky has won 12 straight games and has points in 14 straight games.
[miptheme_dropcap style="normal" color="#222222″ background=""]2)[/miptheme_dropcap] The Blue Jackets have enjoyed some success in Minnesota in recent memory. Although they lost 3-2 last October 22, the Blue Jackets are 3-1 in their last four games at Xcel Energy Center and 6-3 in their last nine games there. A win Saturday would tie the franchise record for most consecutive road wins with eight.
[miptheme_dropcap style="normal" color="#222222″ background=""]3)[/miptheme_dropcap] The Wild enter this historic matchup on a 12-game winning streak. Goaltender Devan Dubnyk leads the NHL in both goals-against average and save percentage. He has a goals-against of 1.67 and a save percentage of .944. He has a record of 19-6-3 on the season, including 10-0-0 during the Wild's 12-game winning streak.
[miptheme_dropcap style="normal" color="#222222″ background=""]4)[/miptheme_dropcap] This is the first time in major professional sports history (MLB, NBA, NFL, NHL) that two teams have entered their game with winning streaks of 12 or more games (per the Elias Sports Bureau). The previous high was dueling 11-game streaks in the NBA when the Lakers and Trail Blazers played on February 29, 2000.
---
This game comes down to one simple thing. Who's gonna blink first? With both teams playing as well as they are, the first mistake could prove fatal. One or two goals might just be enough given the way the goalies are playing.
Bobrovsky is 5-2 all-time against Minnesota with a 1.68 goals-against average and a .938 save percentage. Dubnyk is 9-4-2 all-time against Columbus with a 2.18 goals-against average and a .926 save percentage. Whoever is most opportunistic will keep their winning streak alive.