On New Year's Eve, notable Detroit Red Wings and Toronto Maple Leafs alumni will participate in the 2017 Rogers NHL Centennial Classic Alumni Game as a precursor to the 2017 Scotiabank NHL Centennial Classic in Toronto.
This will be the second (or third) installment of an alumni showdown between the Red Wings and Maple Leafs, two of the NHL's Original Six. The two teams' former stars also faced off prior to the 2014 Bridgestone NHL Winter Classic, with the Red Wings winning both alumni gamed held (each team had a large alumni base hoping to participate, so two games were played).
As the NHL celebrates its 100th season, we'll get an opportunity to once again experience the talent of yesteryear, with the likes of Mats Sundin, Brendan Shanahan, Darryl Sittler and Chris Chelios taking the ice.
Detroit Red Wings Alumni Roster
| | | |
| --- | --- | --- |
| LW | C | RW |
| Brendan Shanahan | Kris Draper | Tomas Holmstrom |
| Slava Kozlov | Igor Larionov | Martin Lapointe |
| Kirk Maltby | Joe Kocur | Darren McCarty |
| Dino Ciccarelli | Doug Brown | Mickey Redmond |
| | | |
| --- | --- | --- |
| LD | RD | G |
| Nicklas Lidstrom | Larry Murphy | Chris Osgood |
| Paul Coffey | Chris Chelios | Manny Legace |
| Jiri Fischer | Mathieu Dandenault |  Kevin Hodson |
Notable Non-Participants: Steve Yzerman, Sergei Fedorov, Pavel Datsyuk, Dominik Hasek.
Toronto Maple Leafs Alumni Roster
LW

C

RW

Wendel Clark

Mats Sundin

Mike Gartner

Dave Andreychuk

Doug Gilmour

Steve Thomas

Gary Roberts

Darcy Tucker

Tie Domi

Gary Leeman/

Rick Vaive

Darryl Sittler

Lanny MacDonald/

Tiger Williams
| | | |
| --- | --- | --- |
| LD | RD | G |
| Tomas Kaberle | Bryan McCabe | Felix Potvin |
| Al Iafrate | Dmitri Yushkevich | Curtis Joseph |
| Dave Ellett | Borje Salming | Mike Palmateer |
| Danny Markov | Bob McGill | |
Notable Non-Participants: Steve Sullivan, Glenn Anderson, Jamie Macoun.
Mixed Emotions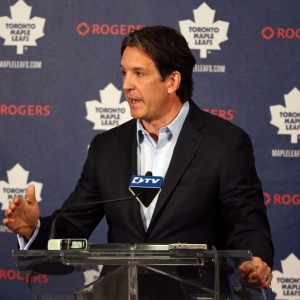 When the alumni teams square off, 10 players on the two rosters will have been affiliated with both teams at one point in their respective careers. On the Red Wings alumni team, Larry Murphy is the lone player to have played for the Maple Leafs. In addition, current Maple Leafs President Brendan Shanahan will be suiting up for his former team.
On the Toronto roster, seven players also spent time in Detroit. Wendel Clark, Steve Thomas, Tiger Williams, Darryl Sittler, Borje Salming, Bob McGill, Danny Markov, and Curtis Joseph also suited up for the Red Wings at one point. With the exception of "Cujo," the seven other Maple Leafs alumni with Red Wings ties only played one season in Hockeytown.
Tune In
On New Year's Eve, be sure to tune in at noon to catch a glimpse of hockey's past. It will be quite a treat for fans of all ages to see these players skate for another game. In addition, The Hockey Writers' Andrew Forbes will be representing THW at the Centennial Classic. Be sure to give him a follow on Twitter for up-to-the-minute stories from Toronto.