Canada played their second game of the 2017 World Junior Championships against Team Slovakia, who was playing in their tournament opener. This game was almost a carbon copy of the Latvia-USA game that was played a day earlier. Unfortunately for the Slovaks, that led to a 5-0 loss.
In the first period, Slovakia was actually playing pretty well. They were playing Canada pretty tight and it looked like that it would be a close game had they played all three periods like that. It was scoreless after one but it would not stay like that for long once the second period began.
Well That Was Quick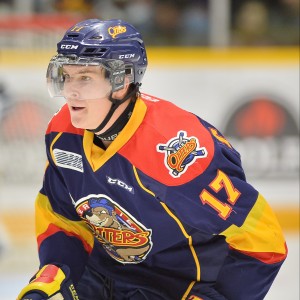 The game totally changed once play started in the second. In an 11-minute span starting at the 5:30 mark, Canada scored four goals. With scoring by Jeremy Lauzon, Taylor Raddysh, Anthony Cirelli and Thomas Chabot, the game was now totally in Canada's control. Slovakia could not do anything. That 4-0 lead became 5-0 as Michael McLeod, Canada's 13th forward at the WJC, scored at the 2:59 mark of the third period.
You might notice that there has been nary a positive thing said about Slovakia other than the first period. That's because all the Slovaks could muster is six shots on goal: two in the first, one in the second and three in the third. Let's just say that is not in the recipe for success, especially in a short tournament like the World Juniors.
The great thing for Canada is that they got goals from both their 13th forward and seventh defenseman in this game. A team is going to have success when they can get scoring depth from the deepest of depth players. Of course, in a tournament like this, you're depth players are still pretty good.
Chabot was named player of the game for Canada (How was it not Lauzon? Give the guy some credit.) with one goal and one assist. Slovakia captain Erik Cernak (teammate of Dylan Strome and Raddysh) got the nod for his team.
Michael McLeod Speaks
McLeod and Slovak Marian Studenic spoke to the media after the game.
On accepting the roles you're given on WJC team.
"You see the fans in this rink, you know what this tournament is all about: it's about winning. You got to buy in even though you're playing a few shifts a period… It's team Canada, we're trying to win Gold here. A lot of guys are gonna have to do that and I'm fine with it."
On playing in front of friends and family.
"Yeah, I got tons of family here and my friends came to see me so that's one the best things that's on my mind."
Marian Studenic Speaks
On his first WJC experience.
"I think it was an important game. Canada is strong on the puck, strong at a 50/50 balance and it's hard to play against them."
On possibly getting drafted.
"Yeah, that's my goal for the season. It's going to be hard. I must work hard and it's a long way for me."
On what the team has to do to bounce back.
"Tomorrow will be another hard game against the USA. They have the same team, like Canada. They play the same hockey. We'll be focused on tomorrow's game."
On playing Canada.
"It's really hard. They're good at 50/50 balance. They're creativity is really good. It's hard to play 60 minutes against this team."
As Studenic said, Slovakia will be in action against the Americans on Wednesday. Canada has an off-day before playing Latvia on Thursday.