While the New Jersey Devils and the rest of the NHL (and its fans) wait for Zach Parise and Ryan Suter to decide where they will spend the next chapters of their careers, the Devils re-signed two key pieces of their team — inking Martin Brodeur and Johan Hedberg both to two-year deals on Monday afternoon. Both netminders played well enough during 2011-12 to guide New Jersey to a 102-point regular season and the franchise's fifth appearance in the Stanley Cup Finals.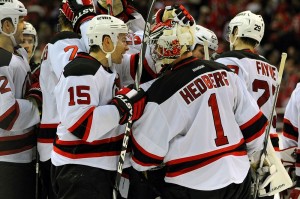 Before last Friday, many doubted Brodeur would ever don another NHL sweater besides the one with the horns and tail, but some of that doubt turned to disbelief when he hired an agent for the first time since 1995-96. Brodeur wanted a two-year deal, and it was believed the Devils didn't want to offer that second year at first — leading to the agent hire. As he told reporters on Monday, "They didn't want to give me a second year before July 1," said the 40-year-old goalie,  "and that's why I went into free agency." He didn't want to endure another year of constantly answering questions about his future, and the two-year deal will silence the media — for a year. "If I was going to commit, especially with a possible lockout looming around the league, I wanted to get that extra year." In 59 games this past season, the future Hall-of-Famer posted a 31-21-4 record with a 2.41 GAA, 3 shutouts and a .908 save percentage, which he followed up with a 14-9 record in the postseason as he and New Jersey fell two wins short of their fourth Stanley Cup.
Throughout the process, Brodeur kept in constant contact with his teammates, as he told reporters Monday afternoon. "I had a lot of good feedback from my teammates. Clarky (David Clarkson) was probably more nervous than I was about it. It was a process that I was a little bit forced into it because of the year of the contract that was offered to me, but again I can't say enough about the Devils, what they did tweaking that first year different ways to try to answer some of the questions I had. They really worked hard at it and that extra year was important and they finally gave it to me." He also mentioned he has talked to and will continue to talk to Parise, hoping to convince him to return to New Jersey.
For Hedberg, the security of a two-year deal was also key — as this will allow his family to finally move out of Atlanta and into New Jersey. The Moose was looking for that second year because he was apart from his wife and daughters who were still living in Atlanta the last two seasons while he was playing on one-year contracts. Now, that they know he'll be in one place for two years, they can commit to moving up and putting the kids in new schools."I'm happy," Hedberg said via telephone from Sweden. "I'm very excited to get a chance to keep going. I've been feeling pretty good these past two years and I'm excited to keep going.  So, I'm very happy that made a commitment to bring me back and we'll try to do it again like we did this year." Hedberg was excellent when called upon last year for the Devils: in 27 appearances he was 17-7-2 with four shutouts, a 2.23 GAA and a .918 save pct.
The Moose also mentioned he hoped that Parise would be back and that he is confident that New Jersey GM Lou Lamoriello could find a way to make it happen. "It's above my head (the team's financial situation) and nothing I really worry about. In Zach's case, I know that he's been enjoying his time with the team and you never know what you're going to get. The grass isn't always greener on the other side. That's all I can say."
Lamoriello still has some work to do, in the form of getting Parise and Bryce Salvador re-signed, but securing both goaltenders could impact both players' decisions — positively and/or negatively. Brodeur's deal is worth $9 million dollars and Hedberg's is worth $2.8m; both also have full no-trade clauses. It's believed that the Devils still have the money to sign Parise, but he he spurns them and signs elsewhere, where does Lamoriello turn? One scenario could involve trading for Anaheim's Bobby Ryan, who is from Cherry Hill, NJ and fed up with being dangled in every Ducks trade rumor– perhaps sending a package of  Henrik Tallinder and a forward or two to free up more money to bring Salvador back. Another option could be signing two lesser free-agent forwards such as any combination of Alexander Semin, Peter Mueller, Wojtek Wolski, Mike Knuble or dare I say Jaromir Jagr and/or Jamie Langenbrunner. Anything is possible at this point, and it seems that the free-agent market is definitely on hold until Parise decides what franchise to sign on the dotted line with.
Dan Rice can be reached via Twitter: @DRdiablo321 or via email: drdiablo321@yahoo.com