On Monday afternoon the Dallas Stars and Buffalo Sabres made one of the biggest trades of the offseason thus far, with Stars forward Steve Ott and defenceman Adam Pardy being sent to the Sabres in exchange for center Derek Roy.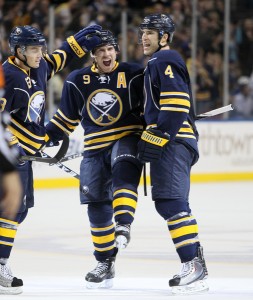 Little over a week ago the Stars dealt longtime offensive center Mike Ribeiro to the Washington Capitals for rookie Cody Eakin and a 2nd round pick, leaving a significant hole up the middle for Dallas. Much speculation followed, with Stars fans wondering if a new second line center would be acquired through free agency, trade, or if one of the team's youngsters (such as Eakin) would be given a shot at the role.
The answer came Monday, with the acquisition of Roy.
For those struggling to keep track of the recent game of center musical chairs, the Stars essentially replaced the 32 year-old Ribeiro for the 29-year old Roy, a turnover that stays true to Dallas GM Joe Nieuwendyk's plans to create a younger nucleus of talent.
Roy is a fast, skilled and determined point producer, but is coming off a recent rough season, where he only scored 44 points and was a -7 in 80 games for an overall underachieving Sabres team.
However, he has registered 81, 70 and 69 point seasons in his career so far, and spent much of last season still recovering his game from a severe torn quad tendon that cost him most of his 2010-2011 season. At age 29, Roy is still young enough to put up substantial offensive numbers, but it's still not fully seen if he'll be able to regain the form he had prior to the injury.
Despite the risk, the Stars were in dire need of offensive skill and finesse up front, struggling to score goals for most of last season and having the NHL's worst powerplay. And considering their lack of appeal compared to other, more prominent free agent suitors Dallas had little choice but to go the trade route.
While the addition of Roy (as well as the signing of veteran Ray Whitney yesterday) helps to fix the team's scoring and powerplay woes, trading Ott only exacerbates another festering issue within the organization: the ability to defend and kill penalties.
Ott, along with departed free agents Radek Dvorak, Sheldon Souray, and Adam Burish, all played important roles on Dallas' penalty kill last season. Similarly, Dallas' checking line of Dvorak, Eric Nystrom and Vernon Fiddler was exposed as a liability on multiple occasions.
Roy played a steady 1:42 minutes per game of penalty kill time last season, but that's still lower than Ott's 1:45 and Dvorak's 1:49. The Stars signed big defenceman Aaron Rome on Sunday to replace some of the snarl lost by Souray, but Souray averaged 2:24 of penalty kill time, while Rome averaged only 0:41.
Ott was Dallas' top checking forward, and would have been an ideal fit on the shutdown line alongside Fiddler and Nystrom, but his departure still leaves one of Dallas' biggest weaknesses from last season remaining unchecked. If the Stars decide to trust Fiddler, Nystrom and an unproven youngster like Tom Wandell or Tomas Vincour to shut down opposing top lines that could open up a serious can of worms for the team.
That being said, free agency is only two days in, and there's a long offseason still ahead before the season starts, so Dallas will have ample time to address their shutdown and penalty killing needs. The team's number one priority after last season was to revamp the offense, and the Stars seem to have done that with the addition of Whitney and Roy, but it remains to be seen whether that focus will be a great enough overall addition to counter the loss of help in other areas.